The Dutch director, whose Basic Instinct opened the Cannes Film Festival in 1992, discusses his Competition title Elle.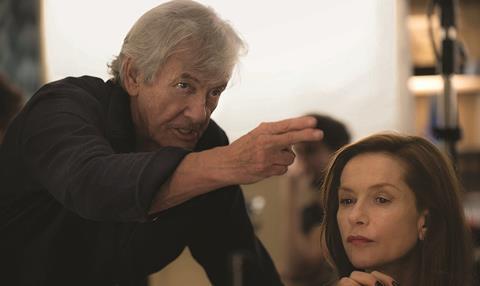 Paul Verhoeven is back in Cannes with his new feature Elle, which stars Isabelle Huppert and is screening in Competition.
It's Verhoeven's first French film but the flamboyant Dutch director of Basic Instinct, Total Recall and Showgirls has a long association with the festival.
Screen: How does it feel to be in Competition at Cannes?
Paul Verhoeven: Basic Instinct opened the festival in 1992. The opening night was the moment that Sharon Stone became a star. Basic Instinct was like a bomb hitting Cannes. People were really taken aback.
Do you enjoy taking part in the press jamboree that is part of a festival like Cannes?
You're not looking forward to that but it is part of the deal. I learnt that from Arnold Schwarzenegger when we were doing Total Recall. I said, "Okay, we've made the movie – the PR is not important."
Arnold said, "You are fully wrong. There are two things: making the movie and doing the publicity. They are as important." Since then, I think of it as a necessary evil.
How was working with French producer Said Ben Said on Elle?
Said is a very strong personality. He is somebody who has real opinions. Most of the time, his opinion on things that weren't working well was excellent. My relationship with Said has been perfect because I trust him. If he says we cannot do something because it will be too expensive, I will follow him.
How was it working with Isabelle Huppert?
She is not just a superior actress but she is very audacious. She fully trusted me and I trusted her. I gave her a lot of freedom. If she improvised, I let her go and used most of that. I strongly believe that it would have been very difficult to find somebody else in the world who could do what she did.
Elle features a brutal rape. Was that challenging to deal with?
I tried to make the rape really shocking. It was very precisely choreographed. Of course, I relied very heavily on the intuition of Isabelle. If something bothered her, I would think, "Okay, she is the character [so] she knows better than I." I would follow her.
Would you describe Elle as a revenge film or a feminist film?
It is certainly not a revenge film. The man who attacks and rapes her is masked so she doesn't know who that is. About two-thirds into the film, she finds out. Then, you would expect in an American way, it would be a revenge movie but she doesn't take revenge. She goes in a completely different direction.
You shot Elle digitally with two cameras. Did that give you more scope to improvise?
The two [digital] cameras is a way to solve the problem that the amount of days allowed to shoot a movie has been really reduced in the last 10 years. We shot Basic Instinct on 80 days. Now people think they are on a luxurious schedule if they have 35 days. Fortunately, on Elle, we had 52 days - but that's still 30 days less than Basic Instinct.