EXCLUSIVE: Afghan War film Hyena Road is understood to be among a band of Canadian films in the frame to open the 40th anniversary edition of the Toronto International Film Festival (TIFF).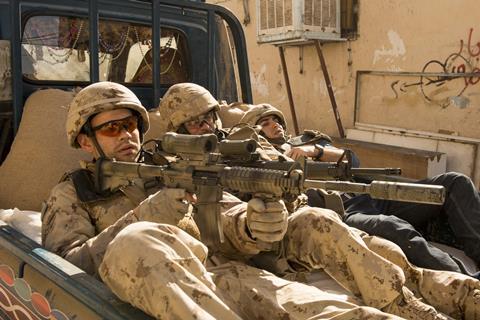 Jean-Marc Valleé's Demolition, Atom Egoyan's Remember and Deepa Mehta's Beeba Boys are also regarded as strong contenders, if ready in time, for the prestigious berth.
While a Toronto International Film Festival (TIFF) spokesperson said it ran against policy to comment on speculation prior to the programme announcement and there is no mandate for a Canadian film to open the festival, Canadian industry insiders are feeling bullish that a home-grown film will fly the flag.
And with more than three months to go before the 40th edition begins on September 10, speculation is already mounting that Hyena Road could become the opening night selection, which would mark the second time a film directed by Paul Gross has done so after his First World War drama Passchendaele kicked off TIFF in 2008.
Elevation Pictures has booked an October 9 opening weekend slot for Hyena Road, a Rhombus Media and Triple 7 Films production in association with Buffalo Gal Pictures and GTR Entertainment.
When reached at his Toronto office, Rhombus Media founder Niv Fichman, who has a long track record of Toronto entries including Passchendaele, Enemy, Blindness and Antiviral, declined to comment. Similarly, no comment was forthcoming from Elevation Pictures.
Rossif Sutherland (pictured at left) stars in what is said to be a breakout performance alongside Gross, Christine Horne, Allan Hawco and Clark Johnson in the story of a sniper, an intelligence officer and a legendary Mujahideen warrior whose lives intersect in the theatre of war.
More contenders
There was no comment either from eOne regarding the prospects for Remember, in which Christopher Plummer plays a man haunted by the Holocaust who sets out to confront the former Nazi guard that killed his family.
Similarly Mongrel Media declined to comment on Beeba Boys, Mehta's gangster film follow-up to TIFF 2012 entry Midnight's Children about Indian immigrant gang culture on Canada's West Coast.
VVS holds Canadian rights to Demolition, the comedy-drama starring Jake Gyllenhaal as a grieving investment banker. Awards specialist Fox Searchlight holds US rights.
Besides the bevy of Canadian contenders, two of the more likely US candidates include Trumbo, Jay Roach's biopic of the blacklisted screenwriter Dalton Trumbo starring Bryan Cranston, which eOne will release in Canada.
eOne also handles Canadian distribution on Spotlight, Thomas McCarthy's all-star chronicle of the Boston Globe investigation into the Catholic Church abuse scandal. eOne licensed international territories too, as it did on Trumbo, and had no comment to make on either film.
TIFF is scheduled to run this year from September 10-20. Submissions close on Friday and programmers will announce the line-up this summer.