Youth film festival to screen documentary He Named Me Malala at 80 locations across the UK.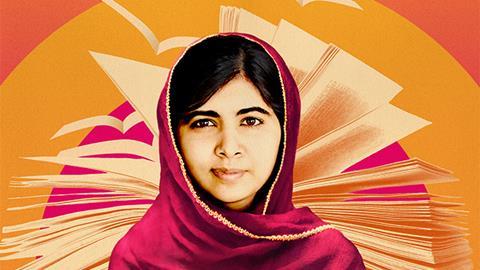 The UK's Into Film Festival (Nov 4-20) is to host a "pupil premiere" of Fox Searchlight's film He Named Me Malala, which will include a satellite-linked Q&A with the documentary's subject, Malala Yousafzai.
The free festival, aimed at youngsters aged 5-19, will screen the film at 80 locations across the UK on the opening day (Nov 4) and will give pupils an opportunity to ask questions of the 18-year-old Pakistani schoolgirl.
Davis Guggenheim's documentary explores the events leading up to the Taliban's attack on Yousafzai for speaking out on girls' education and the aftermath, including her speech to the United Nations.
The festival, which places a strong emphasis on educator value, has announced it will screen more than 150 films and host 2,700 screenings at more than 520 cinemas across the UK during this year's edition.
The 2014 edition engaged more than 372,000 young people and educators.
Celebrity supporters include Carey Mulligan, Eddie Redmayne, Michael Sheen and Sir Ian McKellen.
This year's programme also includes a preview screening of Suffragette followed by an exclusive Q&A with the filmmakers; a preview screening of Danny Boyle's Steve Jobs; and a series of 3D screenings of Everest.
The festival's three headline themes are 'Identity', 'Wellbeing' and 'Achievement', with strands including Cultural Perspectives, Express Yourself, Love, Stop and Think, Celebrating British Film, and Against all Odds.
Within these a raft of classic and popular titles – encompassing foreign language, adaptations of novels and plays, documentaries and blockbusters - will attempt to broaden young people's horizons and spark discussion about a broad range of issues.
Films are accompanied by bespoke teaching resources to encourage discussion about the themes within them and promote traditional and visual literacy.
Filmmaker Q&A sessions will take place and will give young people the opportunity to put their questions to guests such as Suffragette actress Romola Garai, Aardman founder Peter Lord, Terry Jones, director James Marsh, composer Lorne Balfe, director Damon Gameau, editor Chris Wyatt, producer Cairo Cannon, casting director Shaheen Baig, actor Celyn Jones, costume designer Jane Petrie and head of BBC Films Christine Langan.
There will also be a range of notable speakers from organisations such as BAFTA, The Industry Trust, The Critics Circle, The BBFC and Magic Light Pictures who will host talks to contextualise screenings and workshops on themes ranging from animation and reviewing, to copyright and film classification.
In addition, filmmaking workshops will offer students the opportunity to make their own short film and have it showcased as part of the festival.
The Into Film Festival is supported by Cinema First, and hosted by nationwide film education charity Into Film, which is supported by the BFI through Lottery funding.