James Schamus delivers masterclass in Doha, touching on the need to build a movie-going culture in the Gulf and how Crouching Tiger, Hidden Dragon established the modern international blockbuster.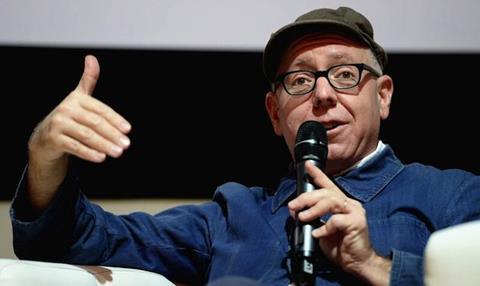 James Schamus said the Gulf region could learn from China's theatrical growth, during his masterclass at the Doha Film Institute's Qumra festival on Saturday.
The American producer, writer, distribution executive and director was asked about last week's deal for Doha-based beIN Media Group to acquire Miramax and said it "could be a great deal" depending on the price paid.
He noted that much of the 600-plus films in the Miramax library would be locked into licensing deals already around the globe, but depending on when those deals are up for renewal and what other rights can be exploited, "if the price point was right, it's a great way to get into the game because you are sitting on top of so much intellectual property."
"Just being integrated into the deal structures and understanding the economics, from the end point where the money is coming from to the rights holder, is a good idea," he added.
Looking at Hollywood interest in territories like China, India and the Middle East, Schamus observed: "The less successful pattern is to find a Hollywood producer who flies in on his private jet and give them hundreds of millions to make movies. This is a very different version, this is owning intellectual property - it's a good first step."
Scrutinising China's cinema boom could be one route for the Gulf: "The next step is to build a cinema culture that makes movie-going a practice in the [Gulf] region far more than it is now - movie exhibition and movie-going as a power lever."
He said television would be a key space to watch in the Middle East. "My intuition says new media, television in particular, is going to be a space that is very dynamic once it breaks open, here in the Gulf or elsewhere."
Schamus is getting up close and personal with several projects from Qatar and beyond during his week at Qumra. He is mentoring 10 filmmakers working on five DFI-backed projects: Mohamed Al Ibrahim's Bull Shark; Hamida Issa's To The Ends Of The Earth; Sherif Elbendary's Ali, The Goat And Ibrahim; Mohanad Hayal's Death Street; and Karim Moussaoui's Till The Swallows Return.
Early career
In an on-stage interview with his fellow Columbia University professor Richard Pena, Schamus recalled that, growing up in Los Angeles, he was a "geek" who stayed in on Friday nights to watch black-and-white films on TV and skipped school to go see films such as George Lucas's narrative feature-directing debut THX 1138.
He recalled the days of starting Good Machine with Ted Hope in New York in 1990: "We decided we were going to make no-budget movies. Back then it was so macho: 'I made my movie for $5,000.' 'Well, I made mine for $4,000.'"
It was Hope who tried to approach a young Ang Lee after seeing Lee's 1982 NYU graduation short, Shades Of The Lake. Good Machine was rebuffed by Lee's agent, but by chance, after winning a Taiwanese screenwriting competition, Lee approached Good Machine to help him make his first feature, 1992's Pushing Hands, with the $300,000 prize money.
The relationship with Lee continued with Berlinale Golden Bear winner The Wedding Banquet and 1994's Eat Drink Man Woman. Schamus, who was one of the writers of that script in addition to associate producing, said he was having trouble tapping into the mentality of the Chinese family in the film until he changed all the names in his draft script into Jewish names.
"In my mind I changed them into a big Jewish family… Ang read the script and said, 'Wow, this is really Chinese,'" Schamus recalled with a laugh.
For 2001's multiple Oscar winner Crouching Tiger, Hidden Dragon (which screened at Qumra), Schamus still marvelled at how cast and crew pulled off technical challenges such as the famous treetop swordfighting scenes.
"It had been wet and rainy. We spent a lot of time making sure those guys were safe," he remembered. "There was a lot of very specialised work done to prepare. They were physically at the top of trees, 60 feet up, and controlled on the ground by people with pulleys and ropes. The true ballet was going on down on the ground."
Speaking about Crouching Tiger, which is still the highest-grossing foreign-language film in US history, he thought about the "false dichotomy of authentic/local and transnational/global." The production was initially attacked by some for not being an 'authentic' Hong Kong-style martial-arts film, but Schamus pointed out the false logic in that.
"Hong Kong cinema as we know it was a cinema itself that was actually a hybrid, it was a regional cinema. Even the key players were originally from Shanghai or Singapore; it was a very interesting mix. So already you see this hybridity and trans-national ethos in the supposedly pure local culture that we were 'destroying' with Crouching Tiger."
He said at the post-film Q&A that "the new global blockbuster shares a direct lineage with Crouching Tiger."
The Focus days
When Focus Features was created in 2002, Schamus said, "We got to work as financiers, producers, distributors and sales agents all combined in a very specific construct that attached itself to the studio system."
"So we were working in the studio system but in many ways as an autonomous construct, [so] we were able to leverage the studio relationship in different ways."
He noted that although Focus was often compared to Fox Searchlight, "their business was completely different to our's. We looked the same and functioned much the same ways in the domestic theatrical market as specialty distributors, but aside from that there were completely different economics."
For instance, Searchlight could access Fox's TV output deals globally.
"We had our own independent sales company based in London and we had to pre-sell our films to distributors in international territories before we made them. We were driven primarily by the international marketplace. Most of our films could not be primarily US-driven."
The formula worked. "At Focus Features, we made a profit every year," he said of his 13 years at the studio. Focus projects during his time included Moonrise Kingdom, Lost In Translation, Eternal Sunshine Of The Spotless Mind and The Pianist.
See also Screen's interview with Schamus about his new projects.