Love is the Perfect Crime and The Notebook among competition titles.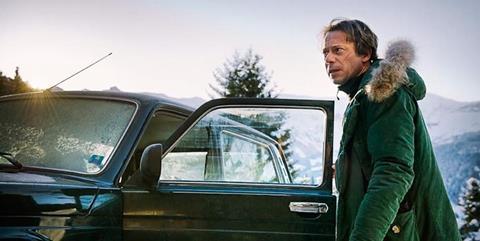 Scoll down for competition line-up
France's end-of-year, alpine Les Arcs European Film Festival has unveiled the line-up for its fifth edition (Dec 14-21).
In a joint statement, the event's Paris-based co-founders Pierre Emmanuel Fleurantin and Guillaume Calop, who both hail from Les Arcs, said: "Les Arcs is celebrating its fifth year. It's been five years of cinephile pleasures, surprises, discoveries, snowflakes, faith, hard work and storms - both figuratively and literally."
A total of 12 titles selected by artistic director Frédéric Boyer will compete for the festival's top prize, the Crystal Arrow. The international jury will be announced at a later date.
The contenders include French Arnaud and Jean-Marie Larrieu's Love is the Perfect Crime, which also opens the festival, Hungary's foreign language Oscar submission The Notebook by Janos Szasz, Pawel Pawlikowski's Ida and Bosnian Jamila Zbanic's For Those Who Can Tell No Tales about a tourist who discovers her charming hotel was the site of war crimes.
Zbanic, whose previous film includes the Berlin Golden Bear winner Grbavica, will also be the first recipient of Les Arcs' new Femme de Cinéma honorary award for a female director, producer or actress deemed to be "particularly emblematic of European cinema".
The award will be presented to Zbanic on Dec 15 by Philippe d'Ornano, the president of French luxury cosmetics and perfume group Sisley which is sponsoring the initiative.
Yugoslav focus
As previously announced, the festival's country focus is devoted to the cinema of the former Yugoslavia, or more specifically works by filmmakers hailing from Croatia, Slovenia, Serbia, Bosnia and Herzegovina and Macedonia. Films from Montenegro and Kosovo did not make it in to the selection.
The showcase ranges from Alexandar Petrovic's 1967 Cannes Grand Prix winner I Even Met Happy Gypsies, a melodrama revolving around gypsy life featuring a cast of Roma actors, through to Emir Kusturica's 1985 Palme d'Or winner When Father was Away on Business, to Bosnian Danis Tanovic' No Man's Land and Maja Milos' more recent tale of disenfranchised youth Clip.
Co-Production Village
A selection of upcoming projects by filmmakers from the former Yugoslavia will also be included in the selection of the festival's Co-Production Village (Dec 14-17).
The fifth edition of the co-production event will present 25 projects this year, selected from 250 submissions.
The selection, overseen by co-production market maven Vanja Kaludjercic who also heads up Paris Project, is due to be announced on Nov 14.
The Work in Progress section, presenting 12 European films in post-production that still need finance, a sales agent or a distributor, will take place on Dec 15. That selection will also be unveiled on Nov 14.
Screening room
For the first year running, the festival is providing a screening room at the heart of the village where sellers and producers can hold private screenings of their new films and an online video library.
Other festival sidebars include the Panorama section, aimed at European films that have achieved box office success at home but have yet to secure a French distributor.
The line-up includes Finnish Aku Louhimes' 8-Ball, about an ex-junkie trying to rebuild her life after a spell in prison; Spanish Ballus Neus hybrid picture The Plague, following five people whose lives cross in Barcelona; and Slovakian Rotterdam Tiger Award winner My Dog Killer.
Previews
The festival will also preview a number of upcoming releases for France including Philomena, Mr Morgan's Last Love and Nicole Garcia's Going Away (Un Beau Dimanche), which will close the festival.
There will be special screenings for The Notebook, which will be at the heart of a "cinema-debate" around issues of identity and European culture, and Austrian Martin Kren's The Station.
DIRE Days
As in previous years, the festival will host the DIRE days (Dec 17-21) organised by the independent French distributors network, during which each of the members will screen an upcoming release to exhibitors and also discuss the challenges behind releasing European films in France.
This year's edition will feature three workshops revolving around the subject of new digital and web tools for promoting films.
It won't all be about cinema. As per tradition, festival attendees from the professionals to jury members will be able to take part in the annual the European Cinema Ski Cup and Dire Cup. Last year, Arte Cinema's Remi Burah clinched the top prize.
Les Arcs 2013 Competition titles
Those Happy Years
Daniele Luchetti (Italy)
Cannibal
Manuel Martin Cuenca (Spain)
Love is the Perfect Crime
Arnaud and Jean-Marie Larrieu (France)
The Notebook
Janos Szasz (Hungary, Germany, Austria, France)
L'expérience Blocher
Jean-Stéphane Bron (Switzerland-France)
Ida
Pawel Pawlikowski (Poland)
I Am Yours
Iram Haq (Norway)
For Those Who Can Tell No Tales
Jasmila Zbanic (Bosnia-Herzegovina)
Of Horses and Men
Benedikt Erlingsson (Iceland)
Class Enemy
Rok Bicek (Slovenia)
We Are the Best!
Lukas Moodysson (Sweden, Denmark)
Starred Up
David Mackenzie (UK)