Clouds of Sils Maria director to receive Master of Cinema Award.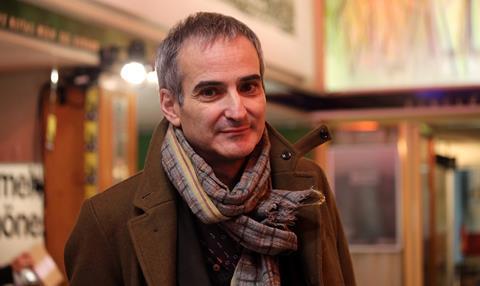 French director Olivier Assayas is to receive the Master of Cinema Award at this year's Mannheim-Heidelberg International Film Festival (Oct 9-24) following previous recipients such as Wim Wenders, Atom Egoyan and Zhang Yimou,
Festival director Michael Kötz said: "Assayas' directorial work has an intelligent depth to it which make his films more captivating with every viewing. He has a unique and distinctive style that is all his own."
Assayas has directed films including Carlos – Der Schakal, Irma Vep and Clouds of Sils Maria.
The award will be presented to Assayas on Oct 10 before a screening of his 2012 film Après Mai – Something in the Air.
World/international premieres
Kazakh filmmakers Ruslan Magomadov and Serik Abishev's Once at an Orphanage will have its world premiere in the festival's 22-title International Competition for the Grand Newcomer Award Mannheim-Heidelberg.
Iranian director Vahid Qazimirsaeid's Road to Shahriyar, Belgium's Raf Reyntjens' Paradise Trips, and French filmmaker Ada Loueilh's Papa Lumière – So Long Africa are among five international premieres screening in the competition, while European premieres have been programmed of films from Uruguay (Clever by Federico Borgia und Guillermo Madeiro), Bangladesh (Jalal's Story by Abu Shahed Emon) and The Netherlands (12 Months in 1 Day by Margot Schaap), among others.
"Every film in the Competition distinguishes itself by telling its story with a very personal touch – authentic and believable – and the fact that none of the films deny where the come from," Michael Kötz noted. "Each of them are infused with the culture, the people and the country of their origin."
World cinema
In addition, this year's Golden Palm winner Dheepan by Jacques Audiard will be one of 17 films screening in the festival's World Cinema showcase with such titles as Nanni Moretti's Mia Madre, Naomi Kawase's An, and Léa Pool's La Passion d'Augustine.
OTHER FESTIVAL NEWS
US in Wroclaw
New projects by Sasha Gordon and Shaz Bennett are among the final six selected from 50 US independent features to participate in the fifth edition of the US in Progress co-production forum, which will be held from Oct 22-23 as part of Wroclaw's sixth American Film Festival (Oct 20-25).
Leading European buyers and festival programmers will be coming to Wroclaw for the project presentations and one-to-one meetings with the filmmakers.
2015's line-up of projects, which are all in their final editing stages, includes:
Actor Martinez by Mike Ott and Nathan Silver
Alaska is a Drag by Shaz Bennett
Americana by Zachary Shedd
It Had to Be You by Sasha Gordon
The Alchemist Cookbookby Joel Potrykus
The Loner by Daniel Y Grove
The projects will all have a chance of winning in-kind awards of post-production service packages worth a total $40,000 as well as prizes offered by Cannes' Producers' Network and Polish broadcaster Ale kino+.
Danila Kozlovsky opens Message To Man
Danila Kozlovsky, popularly known as 'Russia's answer to Brad Pitt' and the star of such films as Dykhless, will present a musical concert to kick off this year's Message To Man International Film Festival (Sept 25 – Oct 3) in St Petersburg.
The free open-air event on the Palace Square opposite the world famous Winter Palace is being held as part of the celebrations for the festival's 25th anniversary.
According to the festival's organisers, the main competition jury will be headed by the Filipino director Brillante Mendoza, with Vladimir Posner serving as chairman for the critics jury.
90 films from 45 countries will screen in the programme which includes competition sections for feature films, documentaries and experimental cinema.
A planned screening of Gaspar Noe's 3D film Love 3D at the festival appears to have been scotched by the decision of Russia's Ministry of Culture to deny an exhibition certificate to Premium Film for the film's theatrical release in Russia.
The film is still on the Message to Man website but there are no screening dates listed as is the case for other programmed films.
The ban on Noe's film being shown in regular cinema screenings in Russia from October 1 had apparently been taken because the Ministry regarded a number of scenes to be pornographic with explicit sexual content.
Meanwhile, Premium Film's offer to have a ¨softer¨ version for Russia was not deemed acceptable by the Ministry officials.
However, film festivals in Russia are exempt from having to apply for exhibition certificates which are required for any film's subsequent public screenings
Noe's film, which premiered in Cannes last May, is reported to have been shown in a special ¨surprise¨ screening during June's Moscow International Film Festival, which would explain why it was not listed in the festival's programme booklet at the time.
Russia's Minister of Culture Vladimir Medinsky, known in some quarters as Putin's ¨culture cop¨, is scheduled to attend Kozlovsky's open-air show on Friday evening.