Mexican feature Perpetual Sadness and Israeli drama Next to Her take top prizes at Greek festival.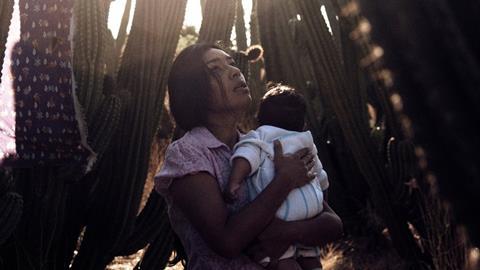 Scroll down for full list of winners
Mexican director Jorge Perez Solorzano's Perpetual Sadness (La Tirisia) was named best film at the 55th Thessaloniki International Film Festival (Oct 31 - Nov 9) winning the Golden Alexander.
It beat competition from 13 other first and second films screened in this year's international competition section.
The film deals with the stoicism and the sadness shared by women in a remote village facing the departure of their sons in search of work. World sales are handled by Media Luna.
It marks the second consecutive year that a Mexican production has won top honours at Thessaloniki. Last year, Diego Quemada-Diez's Golden Dream (La jaula de oro) scooped the top award as well as best director.
Some 10 Mexican features have played in competition at the festival since 2000, winning cropping 12 principal awards.
Israeli feature Next to Her (At li layla), by editor turned director Asaf Korman, was awarded the special jury prize Silver Alexander.
The film, about two sisters sharing the same apartment, won at the Thessaloniki Agora "Works in Progress" last year and and premiered in May at Cannes' Directors Fortnight.
Films Boutique is handling world sales.
A second special jury prize - the Bronze Alexander - went to Bulgarian Greek co-production The Lesson (Urok) by Kristina Grozeva and Petar Valchanov, which won the Kutza award for best new director when it premiered at San Sebastian.
The film, which centres on a teacher driven to desperate measures to avoid financial ruin, also won the best screenplay award for Grozeva and Valchanov. Wide Management handle worldwide sales.
Ukrainian Myroslav Slaboshpytskiy was named best director for The Tribe (Plemya), in which a deaf mute teenager struggles to fit into the boarding school system.
World sales on the film, which debuted at Cannes, are handled by Alpha Violet.
The international jury comprised Austrian director Götz Spielmann (President), Lebanese/Canadian Toronto programmer Rasha Salti, Serbian film critic Miroljub Vučković, Polish Era New Horizons film festival artistic director Joanna Lapinska and Greek/German producer Thanassis Karathanos (TwentyTwenty Vision).
Festival highlights
Among this year's highlights were the recital by German actress/singer Hanna Schygulla and masterclasses from US director Ramin Bahrani and Serbian director Zelimir Zilnik. All three received special tributes from the festival.
There were also retrospectives based around a century of Greek cinema and Hungarian director Kornél Mundruczó, whose Cannes award-winning White God opened the festival.
The closing film was Roy Andersson's Venice Golden Lion winner A Pigeon Sat On a Branch Reflecting on Existence.
Next year's festival will run from Oct 30 to Nov 8.
International jury awards
Golden Alexander: Theo Angelopoulos award to the best film
La Tirisia (Perpetual Sadness) by Jorge Perez Solano (Mexico).
Silver Alexander: Special jury prize
At Li Layla (Next to Her) by Asaf Korman (Israel)
Bronze Alexander: Special jury prize for originality and innovation
Urok (The Lesson) by Kristina Grozeva and Petar Valchanov (Bulgaria, Greece)
Best director
Myroslav Slaboshpytskiy for The Tribe (Plemy) (Ukraine)
Best actress
Brooke Bloom in She's Lost Control by Anja Marquardt (USA)
Best actor
Sverrir Gudnason in Blowfly Park (Flugparken) by Jens Östberg (Sweden)
Best Screenplay
Kristina Grozeva and Petar Valchanov for Urok (The Lesson) (Bulgaria, Greece)
Artistic achievement
Risttuules (In the Crosswind) by Martti Helde (Estonia) 2014
Side Awards
Audience awards (Fischer)
Foreign film in competition
Corrections Class (Klass Korrekzii) by Ivan I. Tverdovsky ( Russia-Germany)
Greek film-Michael Cacoyiannis award (all sections)
Dark Illusion by Manos Karystinos
Open Horizons section
The Little Death by Josh Lawson (Australia)
Balkan Survey section
Tri dritare dhe nje varje (Three Windows and a Hanging) by Isa Qosja (Kosovo, Germany)
Fipresci
Foreign film in competition
Goodnight Mommy (Ich seh, ich seh) by Veronica Franz and Severin Fiala (Austria)
Greek film-Michael Cacoyiannis award (Greek films 2014 section)
Norviyia (Norway) by Yiannis Veslemes
Special mention
Polk by Nikos Nikolopoulos and Vladimiros Nikolouzos.
Greek Parliament Award for human values
Corrections Class (Klass Korrekzii) by Ivan I. Tverdovsky ( Russia-Germany)
Agora awards
Crossroads Co-production Forum
The 2/35 co-production award (full post production image and sound worth up to Euros 100,000) to the project:
Kids from the East by Aramisova, Produced by: Michal Kračmer, Cinedix, (Czech Republic/Slovak Republic)
CNC Development award - Euros 7,000 to the project:
Tailor by Sonia Liza Kenterman, Produced by: Fenia Cossovitsa (Greece)
ARTE International award – Euros 6,000to the project:
Tramontane by: Vatche Boulghourjian, Produced by: Georges Schoucair, Abbout Productions, (Lebanon)
Works in Progress
GRAAL co-production award- image post-production up to Euros 70.000- to the film:
Suntan, by Argyris Papadimitropoulos, Produced by Phaedra Vokali, Marni Films, Argyris Papadimitropoulos (Greece)