Rutger Wolfson, festival director of International Film Festival Rotterdam (IFFR), tells Wendy Mitchell how the event stays true to its cinephile roots while also having an openness to changing forms and digital models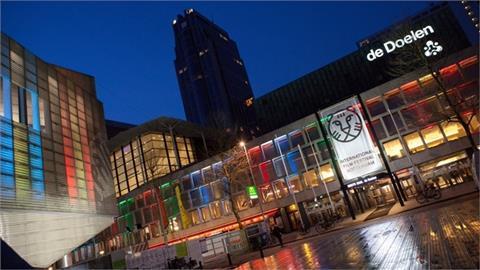 We might as well address the elephant in the room - International Film Festival Rotterdam festival director Rutger Wolfson will step down from his post after this year's festival (Jan 21-Feb 1).
But that's not the main story to be told about the 2015 event. As Wolfson says: "I'm truthfully excited about this festival; it's going to be a high point."
He said he announced his departure in late December so speculation would not distract from the event as the festival celebrates its 44th edition.
Wolfson is proud this year's festival has "extremes", from big international directors such as Germany's Christian Petzold (presenting Phoenix) to the Signals programme, which features Bruce McClure's film projectors installation.
The festival opens with Tom Harper's political drama War Book and closes with JC Chandor's A Most Violent Year.
"I love that the festival is broad in its programming; there's nothing middle of the road but it's pretty open," he says.
"Rotterdam has always had a broad cinephile perspective and we have managed to broaden that perspective a little bit, instead of clinging onto a rigid or conservative idea of what film is or should be."
Other broadened perspectives include looking at how films are distributed and how festivals can play a part. New initiatives at Rotterdam 2015 include the launch of IFFR Live!, a series of screenings held at the festival that are simultaneously screened in cinemas and VoD platforms across Europe; and Tiger Release, which will help films in the festival's official selection be made available on VoD platforms via Infostrada.
"Tiger Release and IFFR Live! really address the most problematic issue in the film industry right now, which is finding an audience for your film," Wolfson says. "As a festival we can redefine our role to help a film find its audience."
As usual the Tiger Awards Competition presents a global survey of 13 first and second features, including the world premieres of Martin Radich's dark UK thriller Norfolk; Dog Lady from Argentina's Laura Citarella and Veronica Llinas; Danish director Jeppe Ronde's Welsh teen-suicide drama Bridgend; the Limburg-set Dutch drama Gluckauf by Remy van Heugten; and Videophilia (And Other Viral Syndromes), a Lima-set story of teen misfits and online conspiracy theories by Peru's Juan Daniel Fernandez Molero.
Special themed programmes this year include the 24/7 attention economy, modern propaganda and the confusion about the ideology of feminism.
"That's exciting for such a big festival to be involved with those themes," Wolfson says.
New developments
As for Wolfson himself, he leaves the post after eight years, one year earlier than his contract was set to expire.
"The festival is in a good place at the moment - we're financially stable and [managing director] Janneke Staarink is doing a great job. The transition to a new director could be very smooth, so it feels like the right time to go."
The festival's advisory board will begin the process of looking for a new festival director after the 2015 edition closes.
Wolfson joined the festival board in 2004 and was named festival director in 2007. Coming from an art background, his tenure saw the festival further explore the connections between the art and film worlds.
"Where these two fields overlap or touch is interesting to me," he says. "I like that we not only investigated this new development showing films made by artists but we got practical in ways to connect visual artists to make a feature film. These worlds are usually pretty divided."
Looking back over his tenure, Wolfson adds: "The spirit of the festival is still very much the same - the love for cinema, the interest in new talent, the support we give film-makers. But the world has evolved and the industry has evolved, and we've managed to stay innovative."
Tiger competitors 2015
* World premiere
Above And Below (Switz-Ger)
Dir: Nicolas Steiner
Another Trip To The Moon (Indo)
Dir: Ismail Basbeth
Bridgend* (Den)
Dir: Jeppe Ronde
Gluckauf* (Neth)
Dir: Remy van Heugten
Haruko's Paranormal Laboratory* (Jap)
Dir: Lisa Takeba
Impressions Of A Drowned Man* (Cyp-Gr-Slov)
Dir: Kyros Papavassiliou
Dog Lady* (Arg)
Dirs: Laura Citarella and Veronica Llinas
Norfolk* (UK)
Dir: Martin Radich
La Obra Del Siglo (Cuba-Arg-Ger-Switz)
Dir: Carlos Quintela
Parabellum* (Arg-Aust-Ur)
Dir: Lukas Valenta Rinner
Tired Moonlight* (US)
Dir: Britni West
Vanishing Point (Thai)
Dir: Jakrawal Nilthamrong
Videophilia (And Other Viral Syndromes)* (Peru)
Dir: Juan Daniel Fernandez Molero