The story of a circus bullet man who visits his home town in Sangue Azul (Blue Blood) emerged as the big winner as the 16th Rio de Janeiro International Film Festival came to a close on October 8.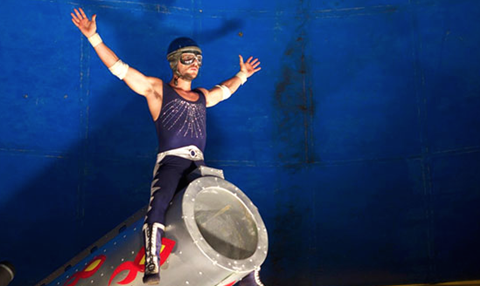 The drama, shot by Lírio Ferreira – best known for Árido Movie – took three prizes for best feature, best director and best supporting actor for Romulo Braga.
The Redentors, the awards inspired by the statue of Christ The Redeemer, were handed out for the Premiere Brasil category at a ceremony held at the festival's downtown Armazem 6 dockland pavillion.
Among the fiction features, Chico Teixeira's Ausencia (Absence) and Gregorio Graziosi's Obra took two prizes each. A drama about a boy in transition to adulthood, Ausencia earned best actor for Matheus Fagundes and special jury prize.
Obra, which follows the path of a man in search of his dark origins, won prizes for best cinematography for Andre Brandao and for best Latin American film from the FIPRESCI jury.
Bianca Joy Porte was named best actress for her portrait of an ex-addict going back home in Daniel Aragao's Prometo Um Dia Deixar Essa Cidade (I Swear I'll Leave This Town). The best supporting actress prize went to Fernanda Rocha for her work in O Ultimo Cine Drive-In (The Last Drive-in Theater) directed by Ibere Carvalho.
In the documentary category, Theresa Jessouroun's À Queima Roupa (Point Blank) earned two prizes for its examination of violence and corruption in the Rio police, collecting both the best film and best director awards.
Brazilian director Karim Aïnouz lead the jury at the Rio International Film Festival, which also included Brazilian producer Andrea Barata Ribeiro, Italian screenwriter Maurizio Braucci, Brazilian actress Malu Mader and UK producer Mike Downey.
Full list of winners:
JURIED AWARDS
Best Fiction Feature
Sangue Azul (Blue Blood), Lírio Ferreira
Best Director
Lírio Ferreira, Sangue Azul (Blue Blood)
Special Jury Prize
Ausencia (Absence)
Best Actress
Bianca Joy Porte, Prometo Um Dia Deixar Essa Cidade (I Swear I'll Leave This Town)
Best Actor
Matheus Fagundes, Ausencia (Absence)
Best Supporting Actress
Fernanda Rocha, O Ultimo Cine Drive-In (The Last Drive-in Theater)
Best Supporting Actor
Romulo Braga, Sangue Azul (Blue Blood)
Best Cinematography
André Brandao, Obra
Best Editing
Luisa Marques, A Vida Privada Dos Hipopótamos (I Touched All Your Stuff)
Best Screenplay
Murilo Salles, O Fim e os Meios (Means To An End)
Best Feature Documentary
À Queima Roupa (Point Blank), dir Theresa Jessouroun
Best Director, Documentary
Theresa Jessouroun, À Queima Roupa (Point Blank)
Best Short
Barqueiro (Boatman), dirs José Menezes and Lucas Justiniano
Special Lifetime Achievement Award
Actor Othon Bastos
NOVOS RUMOS (NEW TRENDS) AWARDS
Best Feature Film
Castanha, dir Davi Pretto
Best Short
O Bom Comportamento (The Good Behaviour), dir Eva Randolph
Special Jury Prize
A Deusa Branca (The White Goddess), dir Alfeu França
PUBLIC AUDIENCE AWARDS
Best Fiction Feature
Casa Grande, dir Fellipe Gamarano Barbosa
Best Feature Documentary
Favela Gay, dir Rodrigo Felha
Best Short
Max Uber, dir Andre Amparo
FIPRESCI AWARD
Best Latin American Film
Obra, dir Gregorio Graziosi
Latin American Personality Of The Year
Director Guillermo Arriaga (Mexico)