ARTE International Prize up for grabs at Crossover Market.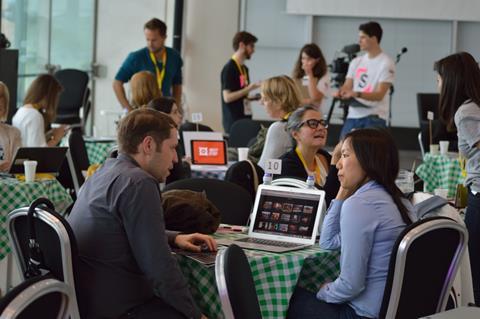 Sheffield Doc/Fest (June 5-10) is to introduce a new ARTE International Prize at its Crossover Market. The development award worth €1,500 will be presented to a project pitched in the Crossover Market that shows "a promisingly original approach to interactive storytelling".
All Crossover Market projects are eligible, and the winner will be announced by representatives from European network ARTE and Crossover Labs at the Interactive at Sheffield Drinks at the Interactive Exhibition, in the Millennium Gallery at on June 7.
Lili Blumers, online commissioner at ARTE France, said: "We would like to focus on how the use of emerging technologies and online tools can deliver a compelling storyand on the way linear content is translated into an interactive storyworld. We are keen that the award should help development, for example of a prototype."
Mark Atkin, Director of Crossover Labs and Acting Director of the Sheffield Doc/Fest, said: "We are delighted that ARTE has the vision to join with us to create this award. It can be hard to attract financing for interactive work without a prototype these days and this award will help the winner create the assets that can help them attract further funding.
"It's exactly what this nascent industry needs right now. This is not a commission, but it doesn't mean that any of these, or any other project in the market, can't be commissioned by ARTE in the future. And, of course, having a vote of confidence from ARTE will help them no end as well."
Shortlisted projects are:
China Smacks
United Kingdom // Dir. San San F Young // Prod. San San F Young
China Smacks is a web series, real life game and film of very human stories from within the 600 million of China's engaged digital community, both online and offline.
Islands
Australia // Dir. Oscar Raby // Prod. Katy Morrison
In the 21st Century, what does it mean to be isolated? Islands is a series of short Virtual Reality experiences recorded with those who live in the world's isolated places. Oscar Raby picked up the Audience Interactive Award at Doc/Fest in 2014 and has been commissioned by Doc/Fest and Site Gallery to produce Hola World, a new virtual reality experience in the Virtual Reality Arcade this year.
The National Facility for the Regulation of Regret
United Kingdom // Dr. Rachel Genn // Rebecca Mark-Lawson
The digital piece will curate and exhibit stories and objects from characters in a quasi-institution: The National Facility for the Regulation of Regret (NFRR). These fictional characters have regret-related disturbances, narrated by their personal possessions.
Natural Reality 2:1
United Kingdom // Dir. Dorothea Gibbs // Prod. Rupert Lloyd
An immersive virtual reality film experience with binaural audio. Playing with frame rates to control the passing of time, this experience plunges the user into a contemplation of nature, human relationships and technology's role in the interruption of these two vital elements of life.
Unfilmables
United Kingdom // Dir. Tim Travers Hawkins // Prod. Tom Costello
Dark-net libertarians, political prisoners, journalists in hiding, anonymous activists, subversive street artists, eco-terrorists, hacktivists… Unfilmables is a series that deliberately seeks out unfilmable situations and characters, telling these stories in an immersive and interactive way through secret voice recordings, cinematic visuals and animation.