EXCLUSIVE: Titles include the next film from Orion: The Man Who Would Be King director Jeanie Finlay and a street dance documentary from 45 Years producer Tristan Goligher.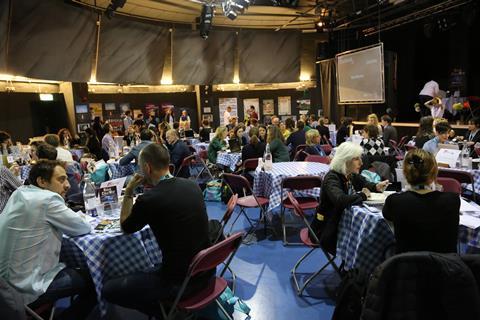 Scroll down for full list of projects
Sheffield Doc/Fest (June 10-15) has revealed the titles that will pitch for funding at the 11th edition of its MeetMarket initiative.
A total of 64 filmmaker teams from around the world will pitch to international and UK decision makers for research, development and production funding. Around 300 decision makers from 24 countries are expected with execs from Google and Netflix for the first time.
Titles include Luxury Bitches, the new documentary from Orion: The Man Who Would Be King director Jeanie Finlay that examines the rise of plus size bloggers, produced by Al Morrow (Deep Water, The Great Hip Hop Hoax) and Glimmer Films.
Producer Tristan Goligher (45 Years, Weekend) will bring The Pioneers: The Story of Street Dance about the forgotten legacy of street dance, directed by Tessa Morgan (more projects of note below).
At the Alternate Realities Market, which includes digital titles, a further 25 interactive projects will pitch in one-to-one meetings to a range of specialist decision makers.
A total of 30 countries will be represented across both markets, which will run June 13-14.
The marketplace will also include 11 pitches and filmmaking competitions, with prize money totalling more than $700,000 (£488,000). These include the first Whicker's World Foundation Funding Award, the BFI Film Fund Pitch, the Channel 4 First Cut Pitch and The Guardian Documentaries Pitch.
MeetMarket
Last year's Doc/Fest's MeetMarket comprised 1,400 meetings, which resulted in an estimated $18m (£12.1m) worth of deals. This year the Doc/Fest film programme will include 11 films, which have come through the MeetMarket.
Among the 64 projects pitching at this year's MeetMarket are:
fashion and art director Bruno Aveillan with producers Thibaut Camurat and Loic Bouchet, (Les Bons Clients, France) will pitch Rodin, Divino # Inferno, the story of one of French sculptor Auguste Rodin through his masterpiece, The Gates of Hell;


producer S. Leo Chiang and director Yang Sun (Walking Iris Media, China) will pitch Ma Liang's Time Machine which explores the themes of memory and time, and examines the lasting impact of the Cultural Revolution;


Iris producers, Jessica Wolfson and director Paul Lovelace (Lost Footage Films, US) will pitch Did It! From Yippie to Yuppie: Jerry Rubin, An American Revolutionary, an exploration of 1960s activist Jerry Rubin;


Katrine A. Sahlstrøm and director Katrine Philp (Good Company Pictures, Denmark) will pitch In the Closed Room, a David and Goliath battle against the conservative justice system in the US;


producers Susan Littenberg & Amanda Spain, and director Dava Whisenant (Cactus Flower Films, Inc., US) will pitch The Industrial Musicals Movie about David Letterman's obsession with rescuing one of Capitalism's strangest creations, the corporate musical, from obscurity;


producer Frank van den Engel and director Jeroen Berkvens (Zeppers Film, Netherlands) will pitch Daughters of Soul, in which the daughters of Nina Simone, Bill Withers, Sly Stone, Chaka Khan and Donny Hathaway speak about their complicated youths for the first time;


producer Lindsey Dryden will bring Canary In A Coal Mine (working title) with co-directors Patricia E. Gillespie & Jennifer Brea (Little By Little Films Ltd, UK): when doctors insisted that Brea's condition was psychosomatic she picked up her camera to document her own story and the stories of four other patients struggling with the world's most prevalent orphan disease;


producer Amir Amirani and director Paul Burgess (PBTV LTD, UK) bring Protest Inc,which exposes the crisis in global activism and the threat to democracy when dissent has no place;


director Tessa Morgan with producer Tristan Goligher (Fully Fledged Films & The Bureau Film Company, UK) with The Pioneers: The Story of Street Dance about the forgotten legacy of street dance, how young people, at the centre of political unrest, started a creative movement that became a global phenomenon;


producer Abigail Harding and director Anastasia Kirillova bring Bar Answer which presents a comment on the state of modern-day relationships by delving into an investigation of the Wakaressaseya, so-called 'agents of troubled love', whose work reveals what human beings are prepared to do when love turns into desperation;


producer Al Morrow will return with two projects (as well as the world premiere of Sour Grapes in the film programme): with director Jeanie Finlay (Glimmer Films, UK) and Luxury Bitches, about the rise of the plus size bloggers and the politics and value of fat;


producers Catherine Allan & Nikki Parrott and director Victoria Mapplebeck (Tigerlily Productions, UK) will pitch Text Me, bringing to life the secrets and stories cradled in our mobile phones connecting us with our present, future and past;


producer Peter Day and director Jane Hilton (Faction Films Ltd, UK) with The Last Lion Tamer, the story of the Chipperfield family's struggle to continue a 300-year circus tradition, in the face of adversity, indifference and hostility;


Producer, director Maya Gallus (Red Queen Productions, Canada) will bring A Female Gaze a character-driven documentary exploring the question of 'the gaze' itself, because a woman behind the camera tells a very different story than a woman in front of the camera.
Alternate Realities Market
A parallel version of MeetMarket, the Alternate Realities Market offers a pitching opportunity for projects led by digital or interactive media.
Among the 25 projects to pitch this year are:
Leah Borromeo and Katharine Round (Disobedient/ Forma Arts, UK) with Climate Symphony – Katherine Round produced The Divide which screened at Doc/Fest 2015;


Christine Cynn (co-producer on Act of Killing), Robert Freiert, Tishna Molla and Kristian Mosvold's with We Are The Gun;


Fernando De Jesus, Sarah Arruda, Claire Cook and Sam Smail (Thinking Violets, UK) with The Boy in the Book: A Choose Your Own Documentary;


Jamie Lochead (Windfall Films, UK) will pitch Victoria's Cancer Diaries featuring news presenter Victoria Derbyshire;


Betzabé García (Venado Films, Mexico) with #Mickey, developed from Docunexion 2015, a training programme between Mexican and UK filmmakers which began at Doc/Fest 2015.
Sheffield Doc/Fest Marketplace is managed by Anna Parker and executive produced by Karolina Lidin.
Full list of projects
MeetMarket
1968 - The Awakening // Germany // Gebrueder Beetz Filmproduktion // Prod. Christian Beetz, Dir. Steffan Strandberg
A Female Gaze // Canada // Red Queen Productions // Prod. & Dir. Maya Gallus
The Acali Experiment // Sweden // Fasad Production // Prod. Vibeke Vogel & Ingmar Trost, Dir. Marcus Lindeen
Agora II – Trapped // Greece // Small Planet // Prod. Anastasia Skoubri, DIr. Yorgos Avgeropoulos
Amal // Egypt // ArtKhana // Prod. & Dir. Mohamed Siam
Amazons // Germany // BOEKAMP & KRIEGSHEIM GmbH // Prod. Stefano Strocchi, Dir. Alba Sotorra
Amsterdam, London, New York: The Magnificent Three // France // Terranoa // Prod. Iliade Productions, Dir. Frédéric Wilner
Bar Answer: The Agents of Troubled Love // United Kingdom // Tigerlily Films // Prod. Abigail Harding, Dir. Anastasia Kirillova
Beirut, La Vie En Rose // Spain // Highvideo // Prod. Albert F. Arcarons, Dir. Èric Motjer
Bobbi Jene // Denmark // Sonntag Pictures // Prod. Sara Stockmann, Dir. Elvira Lind
Bruce Lee & The Lost Boys // United Kingdom // Grain Media Ltd. // Prod. Andrea Cornwell, Dir. Joost Vandebrug
Bullock Rock // United Kingdom // Besom Productions Ltd. // Prod. Margo Harkin, Dir. Joel Conroy
By A Thread // Israel // Medalia Productions ltd // Prod. Hilla Medalia, Dir. Tamir Elterman & Rina Castelnuovo
Canary In A Coal Mine (working title) // United States // Little By Little Films Ltd // Prod. Lindsey Dryden, Dir. Patricia E. Gillespie & Jennifer Brea
Catching The Moment: Life Through the Lens of Terry Jones // United Kingdom // Roast Beef Productions // Prod. Mike Lerner & Aleksandra Bilic, Dir. Joe Cohen
Chopped // State of Palestine // IDIOMS Film // Prod. Casey Asprooth-Jackson, Dir. Karam Ali
Confessions of a Military Dictatorship // Denmark // Bullitt Film ApS // Prod. Vibeke Vogel & Stefan Kloos, Dir. Karen Stokkendal Poulsen
Daughters of Soul // Netherlands // Zeppers Film // Prod. Frank van den Engel, Dir. Jeroen Berkvens
Defender of the Faith // Germany // Lichtblick Media // Prod. Katharina Bergfeld, Dir. Christoph Röhl
Destination Berlin // Jordan // Made In Palestine Project // Prod. Rashid Abdelhamid, Dir. Khaled Jarrar
Did It! From Yippie to Yuppie: Jerry Rubin, An American Revolutionary // United States // Lost Footage Films // Prod. Jessica Wolfson, Dir. Paul Lovelace
The Dogs Will Eat Them Later // Sweden // Blake Street Films AB // Prod. Jonathan Saruk, Dir. Mike Shum
Dollar Heroes // Germany // a & o buero filmproduktion // Prod. Tristan Chytroschek & Won Jung Bae, Dir. Tristan Chytroschek
The Feeling of Being Watched // United States // Watched Film LLC // Prod. & Dir. Assia Boundaoui
Fly, Rocket, Fly! // Germany // Lunabeach TV und Media GmbH // Prod. Markus Hilß, Dir. Oliver Schwehm
Gladiators: A Different World // Lithuania // Studo Nominum // Prod. & Dir. Arunas Matelis
The Grand Experiment // Canada // HitPlay Productions // Prod. & Dir. Nadine Pequeneza
The Great Game // Denmark // Haslund Film // Prod. Michael Haslund-Christensen, Dir. Andreas M. Dalsgaard
Hijab Nation // Indonesia // DesaKota Productions // Prod. & Dir. Daniel Ziv
iHuman // Norway // Flimmer Film AS // Prod. Jonathan Borge Lie & Lars Løge, Dir. Tonje Hessen Schei
In the Closed Room // Denmark // Good Company Pictures // Prod. Katrine A. Sahlstrøm, DIr. Katrine Philp
The Industrial Musicals Movie // United States // Cactus Flower Films, Inc. // Prod. Susan Littenberg & Amanda Spain, Dir. Dava Whisenant
It's Not Yet Dark // Ireland // Kennedy Films // Prod. Lesley McKimm & Kathryn Kennedy, Dir. Frankie Fenton
Kim Dotcom: Caught in the Web // New Zealand // Monsoon Pictures International Ltd // Prod. Alexander Behse, Dir. Annie Goldson
Last Breath // United Kingdom // Met Film Production // Prod. Alex Parkinson & Al Morrow, Dir. Richard Da Costa
The Last Lion Tamer // United Kingdom // Faction Films Ltd // Prod. Peter Day, Dir. Jane Hilton
The Lawyer And The Warlord // United Kingdom // Mosaic Films // Prod. Andy Glynne & Lucy Baxter, Dir. Lisa Clifford
Looking Through The Pyramids // France // LUCKY YOU // Prod. Sophie Parrault, Dir. Florence Tran
Luxury Bitches // United Kingdom // Glimmer Films LTD // Prod. Al Morrow, Dir. Jeanie Finlay
Ma Liang's Time Machine // China // Walking Iris Media // Prod. S. Leo Chiang, Dir. Yang Sun
Milk Drop: The Camel Milk Revolution // Italy // Stefilm International s.r.l. // Prod. Stefano Tealdi, Dir. Clio Sozzani
Of Gold, Dust & Breath // South Africa // Breathe Films // Prod. Richard Pakleppa, Dir. Catherine Meyburgh
One Man And His Shoes // United Kingdom // Break Em Films // Prod. Will Thorne, Dir. Yemi Bamiro
One More Jump // Italy // GraffitiDoc srl // Prod. Enrica Capra, Dir. Manu Gerosa
Over The Limit // Poland // Telemark // Prod. Maciej Kubicki, Dir. Marta Prus
The Pacemakers // United Kingdom // ShadowBox Films // Prod. Riete Oord, Dir. Selah Hennessy
The Pioneers: The Story of Street Dance // United Kingdom // Fully Fledged Films Ltd & The Bureau Film Company // Prod. Tristan Goligher, Dir. Tessa Morgan
Pre-Crime // Germany // Kloos & Co. Medien GmbH // Prod. Stefan Kloos, Dir. Matthias Heeder
The President and the Bone Hunter // United Kingdom // Matter Out of Place // Prod. Figs Jackman, Dir. Sebastien Rabas
Protest Inc. // United Kingdom // PBTV LTD // Prod. Amir Amirani, Dir. Paul Burgess
Rodin Divino # Inferno // France // LES BONS CLIENTS // Prod. Thibaut Camurat & Loic Bouchet, Dir. Bruno Aveillan
Sa Femina Accabadora - The Ladies of the Kind Death // Italy // Zenit Arti Audiovisive // Prod. Massimo Arvat, Dir. Fabrizio Galatea
Sakawa // Belgium // Inti Films // Prod. Peter Krüger, Dir. Ben Asamoah
The Sanctions Hotel // Iran // Ariana Films // Prod. Damian Clarke, Dir. Ladan Anoushfar
Saudi Arabia: Dangerous Liaisons // France // Yami 2 // Prod. Christophe Nick, Dir. Claude Trinquesse
Sealers // Norway // Koko Film AS // Prod. Gry Elisabeth Mortensen, Dir. Trude Berge Ottersen
Shadow Flowers // Republic of Korea // Mirror & Story // Prod. Gary Byung-seok Kam, Dir. Seeing-jun Yi
Smart Drugs // Australia // Fathom Films // Prod. Melanie Horkan, Dir. Ann Shin
The Story of a Mobile Phone // Finland // Illume Oy // Prod. Jouko Aaltonen & Marianne Mäkelä, Dir. Arto Koskinen
Text Me // United Kingdom // Tigerlily Productions // Prod. Catherine Allan & Nikki Parrott, Dir. Victoria Mapplebeck
Unconditional Love // Poland // Jacek Blawut Film Production // Prod. Jacek Blawut & Victoria Ogneva, Dir. Rafal Lysak
Untitled Faith Healing Documentary // United States // Independent Filmmakers // Prod. Jesse E Lichtenstein & Shane Dixon Kavanaugh, Dir. Tom Dumican
Verdict // Germany // Perfect Shot Films GmbH // Prod. Michael Bogár, Daniel Sivan, Dir. Julia Eksner
The Whale and the Raven // Germany// busse & halberschmidt filmproduction // Prod. Marcelo Busse & Christian Vizi, Dir. Mirjam Leuze
Whose Game Is It? // Sweden // Deep Sea Production // Prod. Martin Widman & Tell Aulin, Dir. Simon Stanford
Alternate Realities Market
#Mickey // Mexico // Venado Films // Prod. & Dir. Betzabé García
A Mother's Journey // UK // Medical Aid Films // Prod. Catherine McCarthy & Tom Millen, Dir. Phil Harper
A Field Guide to Male Muses // Canada // Helios Design Labs // Prod. Mike Robbins, Dir. Harmke Heezen
Bagdad 3D, the Future of our past // France // Les Films Grain de Sable // Prod. Sallah Edine Ben Jamaa, Dir. Ivan Erhel
The Boy in the Book: A Choose Your Own Documentary // UK // Thinking Violets // Prod. Sarah Arruda, Claire Cook & Sam Smail, Dir. Fernando De Jesus
CALYPSONIANS // Panama // ACCION The Panama Film Company // Prod. Irina Ruiz & Anghelo Taylor, Dir. Ramon Morales & Damien Prouvost
Climate Symphony // UK // Disobedient // Prod. Forma Arts, Leah Borromeo & Katharine Round, Dir. Leah Borromeo
Consequences. A Ten Year Day // UK // Matchbox Media // Prod. Kat Amara-Korba, Amanda Handy, Mark Johnston & Bibiana Melzi, Dir. Jordie Montevecchi
DRIP // UK // Venus Fly Trap Productions // Prod. Toni Brasting & Meg Charlton, Dir. Kate Stonehill
Empath // UK // Splash & Ripple // Prod. Phil Tew, Dir. Rosie Poebright
Finding Abu Rish // Lebanon // Knooz Room // Prod. Alex Pearson, Dir. Tamara Qiblawi
The Journey // Sweden // Rabotat HB // Prod. Margus Õunapuu, Dir. Neil Bell
Migration Watch // Netherlands // Killing Architects // Prod. Josie Gardiner, Dir. Alison Killing
Mneme // USA // FutureBinary // Prod. Jeff LaPenna, Dir. John Capogna
Molecular story // UK // Finger Industries // Prod. Carrie Fletcher, Dir. Jonny Ford
Music from the End of the World // UK // Rubber Republic // Prod. Corwin Bainbridge, Dir. Matt Golding
Nature 365 // Canada // Lowik Media // Prod. Alberto Pascual Rodriguez & Lucie Tremblay, Dir. Laurent Joffrion
Reframing Palestine // Israel // Itay Ken-Tor // Prod. Itay Ken-Tor, Dir. Orna Raviv
Target: BACRIM // UK // The Laborastory / Guerrilla Pictures // Prod. Juan Passarelli & Sven Wolters, Dir. Mathew Charles
Trafficked (working title) // UK // East City Films // Prod. & Dir. Darren Emerson
Untitled ME/CFS VR Project // USA // Canary in a Coal Mine, LLC // Prod. Diana Barrett, Arnaud Colinart, Lindsey Dryden & Amaury La Burthe, Dir. Jennifer Brea
Victoria's Cancer Diaries // UK // Windfall Films // Prod. & Dir. Jamie Lochhead
We Are The Gun // Norway // Bandit HQ // Prod. Robert Freiert, Tishna Molla & Kristian Mosvold, Dir. Christine Cynn
Work in Progress // Canada // Kngfu // Prod. Quentin Noirfalisse, Ghassan Fayad & Etienne Hansez, Dir. Claude Demers
ZERO IMPUNITY // Luxembourg // Prod. Marion Guth & Florent Maurin, Dir, Stéphane Hueber-Blies & Nicolas Blies