The Sundance Film Festival (Jan 21-31) is embracing virtual reality, web and TV series, and world cinema to offer a characteristically eclectic selection of films.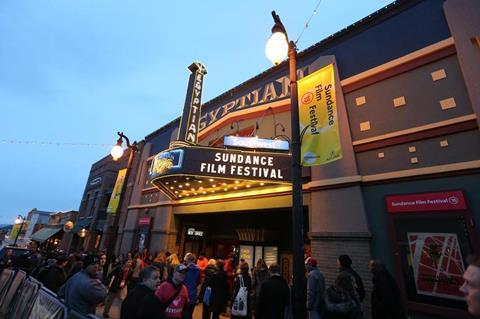 By mid-December the east-facing wall in John Cooper's midtown Los Angeles office is usually rippling with Post-it notes. Not so in 2015. The year is nearly over, which means Sundance is nearly beginning, and the festival director is sitting on his couch opposite a bare edifice.
Cooper says many of this year's selections just "popped". There weren't as many impassioned debates; perhaps programmes were finalised sooner, which would explain the lack of scribbles.
There is a sense of greater expectation in the Wilshire Boulevard enclave this year. Maybe it's the 10-year anniversary of New Frontiers section or an inaugural tented area by Main Street. Or maybe it's the belief among Cooper and director of programming Trevor Groth that this year's selection could prove itself to be as strong as it's ever been.
"There are lots of good new voices," Cooper says of the US Dramatic Competition. "Great writing… grey-area writing where it's not obvious who's good or bad."
He namechecks Chris Kelly's Other People, Andrew Neel's Goat and Chad Hartigan's Morris From America.
Groth agrees, and picks up the thread. "There's some extraordinary film-making like Swiss Army Man coming from these guys who come from the music video world ['the Daniels' Kwan and Scheinert]… They're real visionaries."
While Cooper and Groth maintain that the festival and its selections remain stubbornly hard to categorise, its catholic embrace of the broader visual medium feels right and, one senses, of its time.
Groth is raving about Jessie Kahnweiler's web-series The Skinny and ESPN's documentary marathon OJ: Made In America by Ezra Edelman. "Once I started watching the first section, I was hooked and watched the entire seven-and-a-half-hours straight. The director always envisioned it as a seven-and-a-half-hour film so he's really excited Sundance will allow it to be seen that way."
Sundance has been quick to adopt virtual reality and the form is writ large for the 2016 edition, pulling its New Frontier boundaries from the Claim Jumper building to The Gateway Center to the new village-like tented area that will house Chris Milk's installation Treachery Of Sanctuary. "This year it exploded," says Cooper of virtual reality, brandishing a cardboard VR headset. "We watched days of this stuff."
Groth notes the Vive system will be on show, which takes virtual reality one step further by enabling connected individuals to watch each other move about on their headsets. "For me, the headgear was the beginning of what it would be like and now we're one step closer to being in a virtual reality."
International allure
As a calling card for US independent cinema and documentaries, Sundance has been second to none for years. Now its allure to international film-makers — who once might not have been able to resist the orbit of Berlin — has become increasingly evident.
"World Cinema is as competitive as [US] Dramatic this year," says Cooper. "What we've seen is that all of the European sales reps and directors are thinking about Sundance in a new way."
"A trend we've been seeing the last few years in all the international films we look at is breaking out of conventions and that includes the type of films you see from particular regions," says Groth. "That's what's notable about this year's World Cinema Dramatic Competition."
"People see how Slow West or Frank did at our festival and they see there's a path for the films that they want to make," says Cooper. "They want to be more creative."
Groth acknowledges the vitality that World Cinema selections have always brought to the festival. Some of the picks he and Cooper mention this year include Felix van Groeningen's Belgica (Belgium), Agnieszka Smoczynska's The Lure (Poland), Nicolette Krebitz's Wild and Mirjana Karanovic's A Good Wife.
"Audiences, as they have more opportunities to access films from around the world, are getting hungrier for choice and as they discover something, that can lead them down the path to discover something else," he says. "That's what Sundance can do because they know our history."
Artistic appeal translates into commercial value, and the Sundance-Berlin corridor has become a well-trodden path as sales agents either pick up a film in Park City for EFM or play both festivals.
"It's crucial for us for those films to get the attention going into Berlinale and the market," says Groth. "We see a cause and effect of reviews out of Sundance driving people there. EFM benefits from the heat out of Sundance for sure."
The festival hierarchy has seen evidence of a desire for greater self-expression through its Sundance London and Sundance Hong Kong events. "You get a little more into the communities and you see how people perceive Sundance and how it's become something they dream about or see as a possibility for greater exposure," says Cooper.
The London event, which returns after a hiatus and will take place in early June at Picturehouse Central, is an opportunity to engage with a cine-literate audience that always excites the Sundance hierarchy.
They see the Hong Kong event as a chance to help an enthusiastic young crowd rebuild its artistic credentials and forge an identity that is separate from the financial community.
"They have a great cinema history and there's a hunger to get back," says Groth. "We're [also] establishing relationships with the Hong Kong distributors of the kind of films we show. They're very appreciative of us being there because like everywhere they're competing against the majors… I feel this is a long-term relationship."
Other parts of the world take note. There are no immediate plans to launch Sundance iterations anywhere else, but Cooper and Groth are always having conversations to see where the independent bug can strike next.