SPC has paid low seven-figures for US and Latin America on Land Of Mine, while Magnolia Pictures has acquired US rights to The Wave.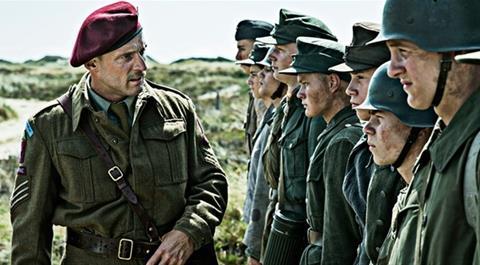 Meanwhile offers are in on Into The Forest, Hardcore, Man Down, Thru You Princess and Miss Sharon Jones!
However it is Martin Zandvliet's WWII thriller Land Of Mine that has arguably been the buzz title of an excruciatingly low-key Toronto.
The Danish-German selection screens again on Sunday and tells of a group of German POWs immediately after the war whom the Allies deploy to defuse minefields on the Danish west coast.
WME Global represented US rights and K5 International the rest of the world on the Nordisk Film Production/​Amusement Park Films historical thriller.
Roar Uthaug's Norwegian Oscar foreign language submission The Wave, dubbed the first Nordic disaster movie, premieres on Wednesday night and sold to Magnolia Pictures following a US deal with TrustNordisk.
The Wave centres on a family in the Norwegian town of Geiranger where the imminent collapse of a mountainside threatens to trigger a tsunami that will give residents ten minutes to escape.
The story is based on the April 7 1934 tsunami in Norway's Tafjord that left 40 people dead.
TrustNordisk previously licensed rights to Square One Entertainment for Germany, Austria and Switzerland, AB Group for France, California Filmes for Latin America, Inter Film for Japan, Key2Media Audiovisual for Spain, Minerva Pictures for Italy and Mongrel Media for Canada.