Dir: Jason Reitman. US. 2009. 108 mins.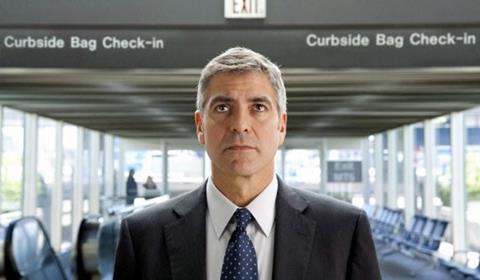 A smart and poignant romantic comedy, Up In The Air has a lot on its mind, and although the film doesn't perfectly execute all of its ambitions, it's one of those rare mainstream Hollywood pictures that addresses contemporary issues gracefully. Anchored by a strong performance from George Clooney, director Jason Reitman's most mature film balances laughs and pathos with its story of downsized workers and love's redemptive power.
Clooney's performance as a man who isn't interested in dull domesticity is flawless
Opening domestically November 13, Up In The Air will have several marketable factors, including positive reviews, Clooney's marquee value and Reitman's cache as the Oscar-nominated director of Juno. In addition, Up In The Air's examination of the current economic downturn and its resulting job losses, gives the film a topicality which might strike a chord with sympathetic audiences.
Ryan (Clooney) is constantly flying across the United States, visiting different companies which have hired him to fire their employees. An avowed loner who's not interested in settling down, Ryan loves the nomadic nature of his work. But chaos threatens when he falls for Alex (Vera Farmiga), a beautiful fellow frequent-flyer, and, at the same time, Natalie (Anna Kendrick), an aggressive young go-getter at his company, convinces management that jobs like Ryan's could be much more cost-effective done via teleconferencing rather than in person.
Up In The Airrepresents a merging of the best qualities of Reitman's previous two films, combining the skewed look at the modern workplace of Thank You For Smoking and the sentimental romance of Juno. But at the same time, this new film is a sizable artistic progression for the young director, doing away with Thank You's glib cynicism and Juno's gimmicky hipness.
Working from Walter Kirn's novel, Reitman and co-screenwriter Sheldon Turner juggle several narrative ideas. On one level, the film is a wised-up romance concerning two grownups whose jobs isolate them from normal life but also join them together in a special way. But Up In The Air also tackles the sober reality of America's shrinking economy and the lives ruined by widespread corporate layoffs. Reitman has mixed drama and humour in his earlier work, but he's never achieved such a tricky balance as he does here, keeping Ryan and Alex's relationship buoyant and sophisticated while eliciting real emotion from scenes of workers learning that they've been terminated.
While those two plot strands are superbly handled, Up In The Air has less success with a storyline in which Ryan shows Natalie the ropes of life on the road, conveniently creating opportunities for her to confront him about his refusal to form meaningful human connections. Additionally, a late twist involving Ryan attending a family wedding seems designed only to teach him the importance of marriage and home.
Despite these drawbacks, Clooney's performance as a man who isn't interested in dull domesticity is flawless. His rapport with Farmiga is sweet and sexy, allowing for no cutesy digressions – these feel like adults with real mileage on their clocks. And Kendrick doesn't overplay Natalie's precocious ambition or insecurity, although ultimately the character does seem more like a device to provoke Ryan's questioning of his priorities.
To sign up for Screen's weekly Reviews Newsletter with all the week's new releases,internationalopenings and full festival reviews delivered free to your mailbox every Friday, please click HERE
Production companies
Paramount Pictures
Cold Springs Pictures
DW Studios
Montecito Picture Company
Rickshaw Productions
Right of Way Films
Worldwide distribution
Paramount Pictures
Executive producers
Ted Griffin
Michael Beugg
Tom Pollock
Joe Medjuck
Producers
Daniel Dubiecki
Jeffrey Clifford
Ivan Reitman
Jason Reitman
Screenplay
Jason Reitman
Sheldon Turner
Based upon the novel by Walter Kirn
Cinematography
Eric Steelberg
Production designer
Steve Saklad
Editor
Dana E. Glauberman
Music
Rolfe Kent
Main cast:
George Clooney
Vera Farmiga
Anna Kendrick
Jason Bateman
Amy Morton
Melanie Lynskey
J.K. Simmons
Sam Elliott
Danny McBride
Zach Galifianakis
Chris Lowell