Susanne Bier to head international competition jury at Zurich Film Festival, which also includes US actor Val Kilmer, Bosnian director Jasmila Žbanić and more.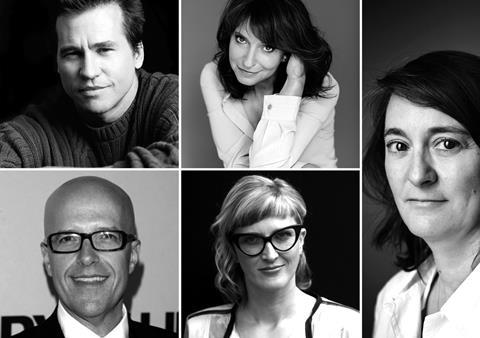 Scroll down for full jury line-ups
Oscar-winning director Susanne Bier is to preside over the international feature film jury at the 10th Zurich Film Festival (Sept 25 - Oct 5).
The Danish filmmaker, who won her Best Foreign-Language Film Oscar for In A Better World in 2011, is currently on the festival circuit with A Second Chance and Jennifer Lawrence, Bradley Cooper drama Serena.
She will oversee a jury that includes US actor Val Kilmer, best known for roles in Heat, Batman Forever and Top Gun, and Bosnian director Jasmila Žbanić, who won the Berlin Golden Bear in 2006 with Grbavica.
Also on the jury is Marie Masmonteil, the French producer of Party Girl, which picked up prizes at Cannes in May, and Jerusalem Film Festival winner Gett: The Trial of Viviane Amsalem, currently playing at Toronto.
Rounding out the jury is Donald De Line, the US producer behind the The Italian Job remake, The Green Lantern and I Love You, Man.
Documentary, Focus juries
ZFF also unveiled its international documentary film jury, to be overseen by Hoop Dreams director Steve James and includes UK documentary maker Nick Broomfield.
The Focus: Switzerland, Germany, Austria jury will be presided over by prolific German producer Stefan Arndt. As the co-founder of X Filme Creative Pool, Arndt has produced Cloud Atlas, Run Lola Run, Good Bye Lenin! and Amour among others.
Each of the juries presents the Golden Eye prize in its respective category during an awards ceremony at the Zurich Opera House on Oct 4.
The awards in the two main categories are each endowed with a CHF 25,000 ($27,000) cash prize; the Focus category is endowed with a CHF 20'000 ($21,000) cash prize.
The winning film from each category also receives an additional CHF 100'000 ($107,000) worth of distribution support.
Jury International Feature Film
Susanne Bier (Jury President) / Director / Denmark
Marie Masmonteil / Producer / France
Jasmila Žbanić / Director / Bosnia
Donald De Line / Producer / USA
Val Kilmer / Actor / USA
Jury International Documentary Film
Steve James (Jury President) / Producer / USA
Greg Gorman / Photographer / USA
Nishtha Jain / Director / India
Nick Broomfield / Director / Great Britain
Jury Focus: Switzerland, Germany, Austria
Stefan Arndt (Jury President) / Producer / Germany
Iris Berben / Actress / Germany
Jan-Ole Gerster / Director and Screenwriter / Germany
Peter Reichenbach / Producer / Switzerland
Anna Thommen / Director / Switzerland