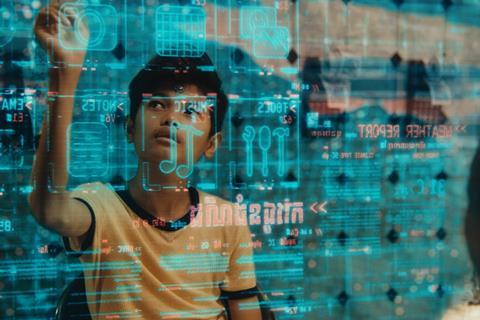 Critics' Week highlights
Curated by new delegate general Beatrice Fiorentino, the 36th edition of Venice International Film Critics' Week has a truly global outlook, despite the majority of the nine selected works — seven playing in Competition, two out of competition — coming from European filmmakers.
The opening film does come from further afield: Karmalink (international sales by LevelK) is the feature debut of California-born, Cambodia-based director Jake Wachtel. The sci-fi movie sees a teen boy in Phnom Penh attempt to unravel his dreams of a past life. Closing the week is The Last Chapter (Altara Films) from Italy-born director Gianluca Matarrese, a drama exploring the memories of a gay man as he faces the final chapter of his life. The film won the top prize at last year's Milan Film Network Industry Days event.
All but two of the Competition titles hail from European directors. Those outliers are exorcism drama Zalava (Touba Film) from Iran's Arsalan Amiri, and Brazilian filmmaker Alex Carvalho's The Salamander (N Filmes).
Spain-Colombia co-production They Carry Death (Bendita Films), from co-directors/writers Helena Giron and Samuel M Delgado, is set during Christopher Columbus's exploration of 1492 and follows three men who flee the ship in the Canary Islands. Also looking to the past is Hungarian director Gabor Fabricius's feature debut Erasing Frank (Totem Films), the story of an outlawed punk band in 1980s Budapest.
Italy's Alessandro Celli looks to the future with Dogworld (Minerva Pictures), in which teenage gangs fight for control of an isolated town. Also dealing with themes of individual survival is Mother Lode (Intramovies) from Italy's Matteo Tortone, the Agora Work In Progress's Eurimages Lab Award winner at Thessaloniki 2019. It follows a young man striking out for the goldmines of the Andes. Meanwhile Detours (Dutch Mountain Film) by Russia's Ekaterina Selenkina explores the story of a Moscow dealer who stashes drugs all over the city.
Giornate degli Autori highlights
This year's 10-film Giornate degli Autori (formerly Venice Days) line-up includes Spanish filmmaker Juanjo Gimenez's Out Of Sync (Frida Films) — which is also playing in Toronto. Also known as Tres, the film follows a troubled sound recordist who finds solace in the studio to the increasing detriment of her mental health. Gimenez was Oscar-nominated for his 2016 short Timecode.
Troubled minds are also at the heart of Madeleine Collins (Charades), from France's Antoine Barraud. César-nominated actress Virginie Efira (Bye Bye Morons) stars as a woman leading a double life, with partners and children in both France and Switzerland.
Fractured lives play a part in You Resemble Me (The Match Factory), the debut feature from Egyptian-American director Dina Amer, which sees the bond broken between two sisters.
Macao director Chen Guan takes inspiration from current troubles in his feature debut Out Of This World (aka Shen Kong, Blue Sea HR&CS), which follows two people attempting to navigate a pandemic in a strange urban landscape. Argentinian filmmaker Ivan Fund also tackles the theme of lives on hold in Dusk Stone (aka Piedra Noche, Elle Driver), which sees a couple trying to come to terms with the disappearance of their son in the sea. Last year the film won the prestigious WIP Latam Industry Award in San Sebastian, which guaranteed a Spanish distribution deal and post-production support.
This year's Competition is overseen by a jury of 27 young cinephiles from every country in the European Union, who will be crowning the GdA Director's Award for best film. Closing the section out of competition — but still in the running for the BNL People's Choice Award — is Francesco Lettieri's Lovely Boy (True Colours), which follows a rising Italian music star who is forced to face his drug addiction.
Playing as a special event, Bianca Stigter's Three Minutes — A Lengthening (Autlook Filmsales) is an essay film narrated by Helena Bonham Carter, building on three minutes of home-movie footage shot in 1938 in a Jewish town in Poland