The 20th edition of the festival includes competition titles '71 and Blind.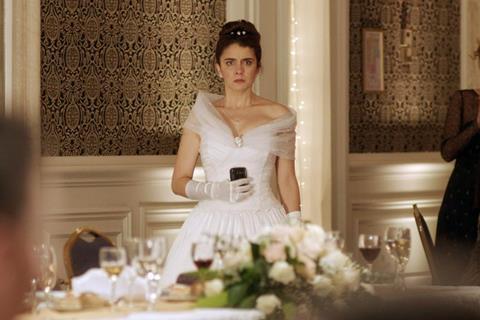 The Athens International Film Festival (Sept 17-28) kicks off its 20th edition today with 241 titles selected by artistic director Orestis Andreadakis.
The festival will open with Damian Szifron's hit Wild Tales, which has proved a critical hit since its world premiere in competition at Cannes, and will close with David Fincher's US crime drama Gone Girl, marking its European premiere.
This year's international competition includes Yann Demange's Berlinale title, '71, and Eskil Vogt's Blind, which has picked up awards in Berlin and Sundance among others.
'71, Yann Demange (UK)
10,000 km, Carlos Marques-Marcet (Spa)
Blind, Eskil Vogt (Nor)
The Canal, Ivan Kavanagh (Irel)
Manos Sucias, Josef Wladyka (US-Col)
The Mend, John Magary (US)
Natural Sciences, Matías Lucchesi (Arg)
Thou Wast Mild and Lovely, Josephine Decker (US)
The Way He Looks, Daniel Ribeiro (Bra)
When Animals Dream, Jonas Alexander Arnby (De)
A five-member Youth Jury, comprised of cinema students, will award the Golden Athena for best film, best director and best screenplay. There will also be an audience award.
Competition: Music & Film
The competition section dedicated to music and film will consider films about musicans and bands including Pulp, Nick Cave, Elliot Smith, Fela Kuti, Slint and Of Montreal.
Director Florian Habicht will present his film about Britpop band Pulp at the festival alongside the group's drummer, Nick Banks.
Pulp: A Film about Life, Death & Supermarkets, Florian Habicht (UK)
20,000 Days on Earth, Iain Forsyth, Jane Pollard (UK)
Breadcrumb Trail, Lance Bangs (US)
Heaven Adores You, Nickolas Dylan Rossi (US)
The Past is a Grotesque Animal, Jason Miller (US)
Beautiful Noise, Eric Green (US)
Finding Fela!, Alex Gibney (US-UK-Nig-Fra)
The British Council's Briony Hanson will preside over a jury that comprises Oliver Baumgarten from the Berlinale, Israeli film scholar Pablo Utin and radio programming director Katerina Kafentzi.
Two more juries, each made up of five local filmmakers, actors and critics, will award trophies to the best debut director and actors in the Greek fiction features section as well as to the Greek Shorts section introduced last year.
Greek premieres
The festival will continue its commitment to national cinema, which began with the introduction of a Greek competition section three years ago.
Such a move challenges national events such as the Greek Short Film Festival (Sept 15-20) and the Thessaloniki International Film Festival. But both have been unable to respond to the challenge as Andreadakis continues to secure national premieres of Greek titles.
One such premiere is A Blast, from director Syllas Tzoumerkas, which received its world premiere at Locarno last month. Another is At Home, from director Athanasios Karanikolas, which won the Ecumenical Jury prize at the Berlinale.
There are a further six premieres of local features as well as a record 65 shorts in competition.
Panorama, Premieres
A total of 23 titles feature in the Premieres strand including Abel Ferrara's Welcome to New York, starring Gérard Depardieu; Alain Resnais' last film Life of Riley; and Alice Rohrwacher's Cannes Jury Prize winner The Wonders.
Michael Dowse will travel to Athens for the premiere screening of What If, his unconventional romantic comedy starring Daniel Radcliffe and Zoe Kazan.
The Greek premiere of Edward Berger's German family drama Jack will be introduced by actress Luise Heyer.
The Panorama Section comprises 11 features including Bill Plympton's Cheatin' and two films indirectly related to Greece: Committed by Greek-Cypriot Stelana Kliris, featuring Melia Kreiling and Orestes Sophocleous; and Red Rose by Sepideh Farsi, shot on location in Athens with a Greek crew.
Irish comedy Gold will be presented by director Niall Heery while Canadian director Don McKellar introduce his comedy The Grand Seduction.
New Architecture strand
New this year, the Architecture & Cinema showcase, curated by Anna Skiada, includes portmanteau Cathedrals of Culture, Nathaniel Kahn's My Architect (2003) and Sidney Pollack's Sketches of Frank Gehry (2007).
It is set to include a roundtable discussion at the French Institute of Athens on cultural buildings and their relationship with the city and cinema. The French Institute will also be hosting a photography exhibition, sponsored by the Niarchos Foundation, entirely dedicated to floor plans.
Documentary, Tributes
Among the other non-competitive strands is the Documentary Section, which includes 11 features such as Nadav Schirman's Israeli spy drama, The Green Prince; Steve James's Roger Ebert film Life Itself; and Sergei Loznitsa's look at Ukrainian civil unrest in Maidan.
US director Jonathan Nossiter will return to the festival to introduce Natural Resistance, his film about winegrowers culture.
Tributes are dedicated this year to the work of the late US director Robert Altman, French/Polish filmmaker Andrei Zulavski, the late British director Derek Jarman and US cult filmmaker John Waters.
There will also be six films dedicated to Australian cinema and a restored print of Tobe Hooper's The Texas Chain Saw Massacre.
The festival will pay homage to one of the most neglected directors in the history of Greek cinema, namely Stavros Tornes, with a full retrospective including his five features and three shorts, as well as Stavros Kaplanidis' tribute doc Stavros Tornes: The Poor Hunter of the South.
Celebrations, Masterclasses
A special event celebrating Cinema Magazine's 25th anniversary and the festival's 20th anniversary, entitled Frame-Light-Motion, will revolve around Kostas Sfikas' Model (1974).
Masterclasses on placing local films in international festivals will be conducted by Cannes Film Festival deputy Christian Jeune and Berlinale Talents' Oliver Baumgarten.
The privately funded event secures part of its finance from the NSRS (National Strategic Reference Framework) European Union programme and also receives backing from several institutions including the Athens Municipality, the Ministry of Culture, The Athens Goethe Institute, the Athens French Institute, the Australian and American embassies and the Greek Film Centre.