Dir: Sam Taylor-Johnson. US. 2015. 125mins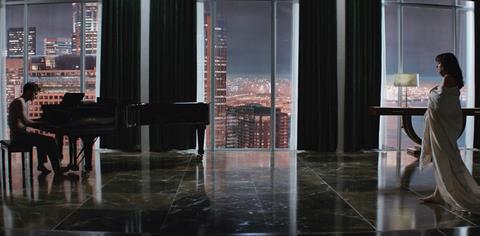 Not unlike the tentative agreement entered into by the film's dominant-and-submissive lovers, Fifty Shades Of Grey makes a pact with its audience: Accept this genuinely sexy, somewhat silly, relatively timid romantic drama on its own escapist terms and you'll find sufficient pleasure. Based on the titillating 2011 literary sensation from author E L James, who brought sadomasochism and bondage into the mainstream, this adaptation commendably pushes the envelope in terms of the amount of onscreen sexual explicitness seen in a major studio release. With that said, though, Fifty Shades still tends to be rather chaste, director Sam Taylor-Johnson giving us an elegant, sanitised version of unconventional sexual proclivities. So, yes, the nudity and bedroom activities are shocking by Hollywood standards, but it's all still wrapped in fantasy.
Sadomasochism and bondage are surely more complicated and less airbrushed than they are in Fifty Shades, but the filmmakers' commitment to allow at least a little kink through Hollywood's closed door gives this imperfect movie a kick.
After its premiere at the Berlin Film Festival, Fifty Shades will open around the world on February 13, with Universal proudly advertising the proximity of the film's release to Valentine's Day. The only date-night movie in the marketplace, Fifty Shades could be a blockbuster, especially for the ravenous fans of the James novel and its sequels. Fetching leads Dakota Johnson and Jamie Dornan are hardly household names, but that shouldn't matter: The book (and its sex scenes) are the star.
Johnson plays Anastasia Steele, a shy, bright college senior who's still a virgin. Helping out her ill roommate, she meets with Christian Grey (Dornan), a young, mysterious, handsome billionaire whom the roommate was supposed to interview for their university newspaper. Though initially nervous, Anastasia (or Ana, as her friends call her) sparks something in Christian, who finds reasons to see her again at her job. Soon, an attraction develops between them, but Christian explains that he doesn't believe in romance or traditional courtship. Rather, he enjoys being a dominant: a sexual partner who controls the terms of a relationship, specifically in the bedroom. For the inexperienced Ana, Christian's boldness is both daunting and exhilarating.
Though the novel was never a critics' darling, Fifty Shades became a phenomenon in part because of its provocative pairing of the rich, enigmatic Christian and the sweet, naïve Ana. Taylor-Johnson (Nowhere Boy) and screenwriter Kelly Marcel (co-writer of Saving Mr. Banks) want it both ways, letting the movie be a sober look at dominant-submissive relationships while also indulging in fizzy romantic wish-fulfilment. (Despite Christian's assertion that he's not interested in romantic gestures, Ana gets flown on a private helicopter and piloted in a glider — that is, when she's not staying in his gorgeous apartment or being whisked around in one of his many sleek sports cars.)
But the film's principal eye candy isn't Christian's luxury items: It's the much-hyped sex scenes. Rated R, Fifty Shades features more nudity and sexual activity than just about any Hollywood movie in recent memory. (Perhaps the film's closest comparisons are films like Basic Instinct or 9 1/2 Weeks.) Shot by Seamus McGarvey and production designed by David Wasco, these sequences have a tasteful, perfume-ad smoothness to them, but that doesn't diminish the heat given off by Johnson and Dornan. Out of the bedroom, the characters' chemistry can be brittle — Christian is hiding secret pains from his past that keep him from being emotionally intimate — but the sex scenes reveal a carnal connection between them, with Taylor-Johnson making the scenes arousing without letting them devolve into soft-porn cheesiness. There's a refreshing matter-of-factness to the sex, despite the kink, that feels nearly revolutionary in comparison to the usually tepid depictions we see from American studio films.
Of course, this being Hollywood, the sex scenes nonetheless reveal an annoying double standard when it comes to the two actors. Johnson is frequently naked, while Dornan's private parts remain safely out of view lest Fifty Shades receive a crippling NC-17 rating. It creates an inequality between the two of them, although Taylor-Johnson uses this to her advantage somewhat. After all, the movie is about Ana being dominated by the more confident Christian, which extends to the amount of clothes she must shed for him.
Johnson, who has appeared in 21 Jump Street and The Social Network, pinpoints Ana's burgeoning sensuality, bypassing the script's waif-becomes-a-sexpot clichés to play the character with more believability than the story might suggest. At its heart, Fifty Shades is a fantasy — the inexperienced young woman gets an education from the potent, hunky older man — but Johnson gives Ana necessary dimension. There's no self-consciousness in her sex scenes, resulting in a rather brave performance in a role that risks humiliation if the execution was faulty.
Just as important, Johnson's light touch helps to puncture some of Dornan's mannered brooding. As much a construction as Ana, Christian is meant to be the unknowable, troubled dreamboat who just needs to find the right woman to change his ways. Dornan provides Christian with pecs, broad shoulders and perfectly sculpted hair, but he's a bit of a stiff, which makes Johnson's more playful turn welcome. In their sex life, Christian is the dominant one, but in the outside world, Ana becomes increasingly more assertive, picking away at his assumption that he has the upper hand. Though the dialogue often isn't very witty or insightful, the characters' flirtatious battle for control outside the bedroom has enough bright spots to compensate for the romance-novel hokum underlying everything.
Although Fifty Shades wants to be an eye-opening look at sex, it's not actually all that daring in practice. Not to give anything away to those unfamiliar with the book, but Ana's initial reluctance at Christian's bedroom proposition proves not to have any dark consequences for her. Furthermore, the film flaunts their antics in Christian's so-called Red Room — mostly, Christian likes tying her down and making her follow his instructions — but, in truth, the story is concerned with Ana trying to break down the wall around him so that he can truly love her. Similar to raunchy R-rated sex comedies, Fifty Shades pretends to be transgressive when it's really an endorsement of traditional, conservative romantic tendencies. But that fact shouldn't diminish the real chances the film takes. Sadomasochism and bondage are surely more complicated and less airbrushed than they are in Fifty Shades, but the filmmakers' commitment to allow at least a little kink through Hollywood's closed door gives this imperfect movie a kick.
Production companies: Focus Features, Michael De Luca Productions
International distribution: Universal Pictures, www.universalpictures.com
Producers: Michael De Luca, E L James, Dana Brunetti
Executive producers: Marcus Viscidi, Jed Brody
Screenplay: Kelly Marcel, based on the novel by E L James
Cinematography: Seamus McGarvey
Editors: Debra Neil-Fisher, Anne V. Coates, Lisa Gunning
Production designer: David Wasco
Music: Danny Elfman
Website: www.fiftyshadesmovie.com
Main cast: Dakota Johnson, Jamie Dornan, Jennifer Ehle, Eloise Mumford, Victor Rasuk, Luke Grimes, Marcia Gay Harden