A report after the packed screening of Leila Doolan's brilliant documentary about Irish activist Bernadette McAliskey at the Galway Film Fleadh.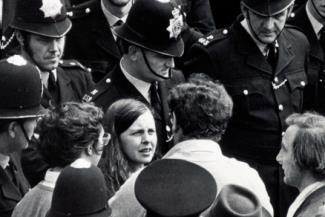 On Saturday evening I was at the packed screening of Galway Film Fleadh co-founder, former producer and journalist Leila Doolan's tremendous documentary Bernadette: Notes On A Political Journey, about legendary Irish activist Bernadette Devlin McAliskey, the youngest woman ever elected to Westminster and a tireless campaigner for Irish republicanism, feminism and socialism.
The queue of people trying to get into the film spilled onto the streets for what must have been one of the buzziest of the Fleadh's screenings.
Described as an Irish Joan of Arc and a mini-skirted Castro, McAliskey won the mid-Ulster by-election in 1969, survived an assassination attempt in 1981 and remains a radical socialist republican.
Made over a period of nine years, the doc is the first major insight into McAliskey's life since 1969 and features the campaigner reflecting movingly on her early life and her prominent role in the republican struggle.
The engrossing and humbling documentary, which moved the audience to tears and laughter, was followed by an almost equally charged debate entitled 'Agitate, Organise, Educate' led by McAliskey in a smaller but similarly packed adjoining studio.
In light of local outfit Subotica's proposed feature biopic about McAliskey, which has Aisling Walsh attached to direct and Sally Hawkins committed to the lead role, I took the opportunity to ask Bernadette for her thoughts on the project… Let's just say she was as staunch in her feelings about the film as she was about the banking system, the peace process and everything else she discussed during the session.
Her opposition to the feature struck me as slightly disappointing considering that we had all just sat through such a brilliant filmic depiction of her life, but nevertheless, I came away from the evening full of admiration for someone whose level of courage, moral fortitude and impressive articulation I had rarely been as close to before.