Dir: Steven Quale. US. 2011. 95mins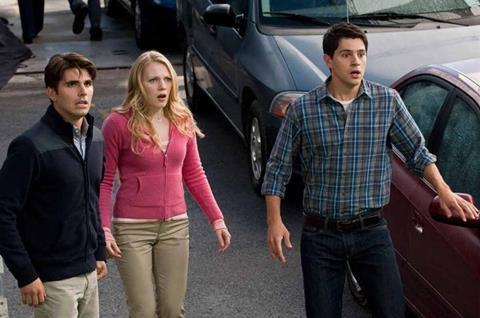 The fifth installment of Warner/New Line's reliably successful Final Destination horror series is something of an upgrade from its four cartoonish predecessors. The main attraction is still a string of inevitable and grisly deaths; but this time the effects are better and there's some actual drama and comedy between the send-offs.
Though the upgrade may not result in a significant box office boost it should at least help number five – shot, like number four, in 3D, and set for North American release on Aug 12 – keep the R-rated franchise going in both the domestic market (where number four topped earlier installments with a $66.5m take) and international territories (where number four nearly doubled the previous franchise high with an impressive $119.7m).
Repeating the basic set-up of its four predecessors, the new film has a group of young office workers heading for a corporate retreat when nice guy Sam (From Prada to Nada's Nicholas D'Agosto) has a premonition of an horrific bridge collapse. Sam and six of his co-workers escape the disaster only to find that Death is still stalking them and knocking them off one at a time in elaborate accidents ending in impalement, skull crushing and, most bizarrely, a very nasty gymnastics accident.
The new twist introduced by screenwriter Eric Heisserer (who wrote last year's A Nightmare on Elm Street reboot) is that potential victims can cheat Death by killing someone else first.
First time feature director Steven Quale (previously known for his effects and second unit work with James Cameron) stages the death scenes with more precision and tension than was delivered in earlier installments. And he makes good use of 3D in the exciting opening bridge sequence and the film's climactic set piece.
Thanks to the franchise practice of killing off all the characters in each film, number five has a new cast mostly made up of young US TV actors. D'Agosto raises the franchise's acting level a bit with his appealing lead performance.
Production companies: New Line Cinema, Practical Pictures, Zide Pictures
International distribution: Warner Bros Pictures
Producers: Craig Perry, Warren Zide
Executive producers: Richard Brener, Walter Hamada, Dave Neustadner, Erik Holmberg. Sheila Hanahan Taylor
Screenplay: Eric Heisserer
Cinematography: Brian Pearson
Production designer: David R Sandefur
Editor: Eric Sears
Visual effects supervisor: Ariel Velasco Shaw
Costume designer: Jori Woodman
Music: Brian Tyler
Website: http://finaldestinationmovie.warnerbros.com
Main cast: Nicholas D'Agosto, Emma Bell, Miles Fisher, Courtney B Vance, Arlen Escarpeta, David Koechner, Tony Todd