Dir: David Barrett. US. 2012. 96mins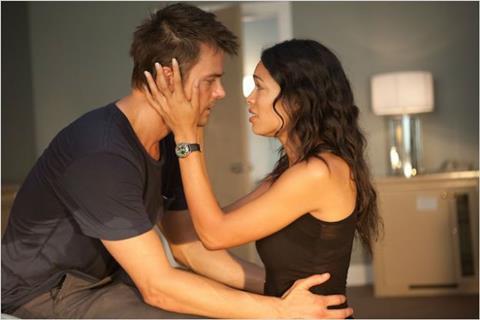 A misfiring violent action-thriller that by-passed theatrical in the US, where it went straight to home entertainment, the well-cast Fire With Fire – which stars Josh Duhamel and Bruce Willis - limps into international cinemas in a half-hearted attempt to piggy-back the success of A Good Day To Die Hard and Duhamel's heightened leading-man credentials, bit is unlikely to make of a dent at the box office.
Vincent D'Onofrio at least offers some chilling sociopath charisma as the spectacled villain.
There are occasional well-staged moments of action, but in essence Fire With Fire is a concept desperately in need of a story, and despite earnest endeavours from solidly impressive co-stars Rosario Dawson, Richard Schiff and – especially – Vincent D'Onofrio as the psycho bad-guy, the film rarely hangs together. It speaks volume that a rather bland Bruce Willis doesn't even get to shoot his gun.
Long Beach firefighter Jeremy Colton (Duhamel) witnesses murders committed by Aryan Brotherhood gang leader Neil Hagan (D'Onofrio) and decides to acts as a police witness despite threats to his life. His identity his changed and he is re-located to New Orleans pending the trial where he happens to fall in love with US marshal Deputy Talia Durham (Dawson), who has been assigned to protect him.
When they are attacked by Robert (McMahon), a hit man sent by Hagan, Talia is injured and Jeremy takes a call from Hagan who says he will kill all of her family and any of Jeremy's friends if he gives evidence. Jeremy decides to head back to Long Beach intent on killing Hagan. Bodies start to fall as Jeremy attacks Hagan's men, with police detective Mike Cella (Willis) – who has his own reasons for wanting to see Hagan jailed or dead – covering Jeremy's rather blundering attacks.
Talia decides to follow Jeremy to Long Beach pursued by hit man Robert. With Hagan realising that Jeremy is on his trail the scene is set for Jeremy to use the skills he learned as a firefighter to finally trap Hagan.
Vincent D'Onofrio at least offers some chilling sociopath charisma as the spectacled villain, but the film struggles to get its characters to all fit together, and while Josh Duhamel does his best as the stoical hero his story arc is more silly than exciting. He manages to get seriously beaten up in every fight scene and yet gets up off the floor to take down the bad-guy. He and Rosario Dawson (so good and yet so poorly used here) work well together, but have little screen time, while Bruce Willis sports an enigmatic half-smile while his character ambles through his few scenes, offering little to the modest drama.
David Barrett offers a few glimpses of a sure directorial hand, but at heart the by-the-numbers story is never properly developed or convincing. Producer Curtis Jackson (aka rapper 50 Cent) crops up in a virtual cameo as a gang boss who helps Jeremy buy a gun, sharing his one scene with an amusingly tough Quinton ' Rampage' Jackson (from The A-Team) and Philadelphia Eagles player Nnamdi Asomugha as his gang enforcers.
Production companies: Grindstone Entertainment Group, Cheetah Vision Films, Emmett/Furla Films
International sales: Voltage Pictures, www.voltagepictures.com
Producers: Randall Emmett, Curtis Jackson, George Furla, Matthew Rhodes, Andrew Deane
Executive producers: Stephen Eads, Stepan Martirosyan, Remington Chase, Ted Fox, Fredrik Malmberg, Daniel Wagner, Jess Rosenthal, Martin Richard Blencowe, Mark Stewart, Anthony Gudas. Michael Corso, Brett Granstaff, Jeff Rice, Brandt Andersen, James Gibb, Zev Foreman, Nadine de Barros, Jenn Lee, Barry Brooker, Stan Wertlieb
Screenplay: Tom O'Connor
Cinematography: Christopher Probst
Editor: Paul Harb
Production designer: Nathan Amandson
Music: Trevor Morris
Main cast: Josh Duhamel, Bruce Willis, Rosario Dawson, Vincent D'Onofrio, Julian McMahon, Quinton ' Rampage' Jackson, Curtis '50 Cent' Jackson, Richard Schiff, Vinnie Jones, James Lesure, Eric Winter