Dir: Juan Jose Campanella. Spain-Argentina. 2013. 106mins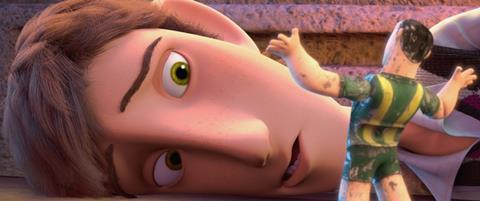 Juan Jose Campanella's first film since taking the Oscar in 2010 for The Secret In Their Eyes is the inventive 3D animated feature Foosball (Futbolin): a premier-league Spanish-Argentina co-production which should follow up its record-breaking run in Argentina with international acclaim.
Technically, Foosball is a surprise and will possibly herald a revival in the fortunes of Spanish animation.
Campanella's feature fields a love for the beautiful game that is all but irresistible. Trailing a weak recent run for animated features, it also has all the fancy technical footwork necessary to dominate the big leagues, despite a slightly stretched 106-minute running time. The film had its world premiere at San Sebastian.
Spanish success seems inevitable with a Christmas release planned through Universal but, with appropriate translations and voice cast, this should storm the pitch in the international family marketplace. Sold already to territories including Korea and Japan, Capanella's $21m feature is, at times, reminiscent of Pixar at its best and pays clear homage to the studio in its fundamental concept of toy figures come to life. An English-language version is set to bow at AFM.
Several key elements immediately mark Foosball out. Firstly, with a teaser set in prehistoric times, Campanella quickly carves out a common playing field for adults and children without patronising or alienating either quadrant. Secondly, Foosball's animation style is both unique and appealing, its elongated human shapes set against the chunky subbuteo figures of the Foosball set.
Finally, Foosball is exciting and surprisingly pacey until its final, stickier, moments. It's even, at times, slightly scary in a Finding Nemo/Bruce-the-shark way, with a rat chase and a gargoyle-filled funfair providing an edgy element which seems to have been focus-grouped out of recent animations.
Told in flashback, Foosball tells the story of Amadeo, a shy boy in a small town who's a whizz with the sebbutio set. At his friend Laura's urging, he trounces the local bully Grosso, the only time the boy has ever been defeated. Years later international soccer star "Ace" Grosso returns to demolish the village, unable to forget his only humiliation. Nothing, it seems, can stand in his way – until the foosball set's plastic figures come to life to help Amadeo save the town and win the girl.
Campanello has a few points to make, however, before Foosball plays some of its more obvious moral cards (stand up to bullies, don't cheat). The fact that the film's villain is an international soccer superstar is telling, and there's a few savage swipes at the win-at-all-costs commerciality which has damaged the game and given a poor example to its younger followers. The villain's team of mega-rich players, for example, have a list of sponsors including Cheaty-Cheaty Bang-Bang (and Warner Sisters).
Technically, Foosball is a surprise and will possibly herald a revival in the fortunes of Spanish animation, as there is little discernable difference between this and the bigger tentpole animations. It's in 3D, which isn't particularly vital, save for one sequence involving a pensioner's false teeth and bouncing bosoms which makes wearing the glasses entirely worthwhile.
Production companies: Jorge Estrada Mora Producciones, Plural Jempsa, Atres Media Cine
International sales: Film Factory Entertainent, www.filmfactory.es
Producers: Jorge Estrada, Juan Jose Campanella, Gaston Gorali. Manuel Polanco, Mikel Lejarza, Merce des Gamero
Executive producers: Diego Rosner, Roberto Schroeder, Gustavo Ferrada
Screenplay: Juan Jose Campanella, Eduardo Sacheri, Gaston Gorali, inspired by Memorias de un wing derecho(Memoirs of a Left Wing) by Roberto Fontanarrosa.
Cinematography: Felix Monte
Editor: Juan Jose Campanella
Director of Animation: Sergio Pablos
Main voice cast (orginal): Raul Rojo, Pablo Aparicio, Vicente Gil, Eduardo Bosch, Luri Golovchenko, Claudio Serrano