Dir: Tim Burton. US. 2012. 87mins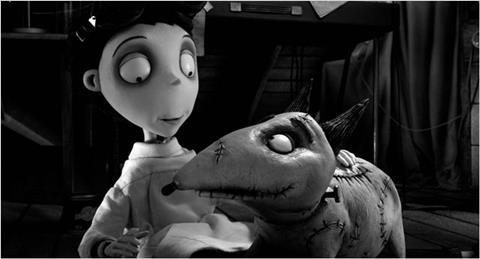 Tim Burton's directing career comes full circle with Frankenweenie, an animated remake of his 1984 live-action short that followed the exploits of a brokenhearted boy who decides to bring his beloved dog back from the dead. And as befitting a film that pays homage to Mary Shelley's Frankenstein tale, this stop-motion effort feels constructed out of bits and pieces, stitching Burton's pet obsessions together with different tones and genres to create a work that's diverting fun in fits and starts but can't quite achieve a coherent whole.
The film's black-and-white look is wondrous, with the animators giving their puppets beautifully soulful eyes and melancholy expressions.
After its premiere at Fantastic Fest, this Disney release will come to theatres October 5, a week after another animated entry, Hotel Transylvania, makes its debut. Frankenweenie's darker, horror-tinged tone will probably scare away younger kids, which means that like the Burton-overseen The Nightmare Before Christmas, this new film should find a more receptive audience with teens and genre buffs. Without any big names in the voice cast, Frankenweenie hopes to gain commercial traction thanks to Burton's involvement, and inflated prices for 3D and IMAX screenings should help Disney's bottom line.
Like Burton's original 30-minute short, which he directed before making his feature debut on 1985's Pee-Wee's Big Adventure, the full-length Frankenweenie instantly establishes the warm rapport between 10-year-old Victor (voiced by Charlie Tahan) and his faithful dog Sparky. A bit of a loner, Victor doesn't really have any friends outside of Sparky, which makes it all the more tragic when the dog is killed by a passing car. Undaunted, Victor (whose last name is Frankenstein) decides to resurrect his pooch by restarting his heart during a lightning storm.
Frankenweenie brings together several of Burton's favourite themes: a fascination with the macabre, the championing of the outsider, a fondness for classic horror, and a bemusement with the artificiality of suburbia. But while the original short mostly served as an amusing riff on old monster movies — Frankenstein, in particular — the stop-motion feature adds an emotional undercurrent by exploring the bond between a boy and his dog and acknowledging the pain of letting go of a loved one.
Initially, the film (with its handmade puppet characters) has a real coming-of-age charm to it, and Tahan lends significant empathy to sweet, lonely Victor. Likewise, his parents (voiced by Catherine O'Hara and Martin Short) are likeable people who care about their misfit son, even though they're not sure if they should encourage his nerdy obsession with science and movies or instead push him to socialize more with others. Even the supporting characters — such as an odd, Vincent Price-like teacher (voiced by Martin Landau) — are appealing caricatures, and the animation team has delightfully envisioned them in loving, sometimes exaggerated ways. (Most everyone in the film is either stick-thin lanky or comically rotund.)
Unfortunately, once Victor reanimates Sparky, Frankenweenie follows in the footsteps of several recent Burton films, swerving from incident to incident without building much dramatic or comedic momentum. Frankenweenie has a terrific premise, but the film is oddly uninterested in digging deeply into the emotional repercussions of Victor's actions. Instead, Victor spends a lot of time hiding the dog from everyone, which results in extensive plot busyness that's only sporadically funny.
Near the end of Frankenweenie, Victor's classmates learn the truth about what has happened and resurrect other dead animals. The unexpected results lead to some nicely dark monster-movie mayhem, bringing to mind everything from Godzilla to Gremlins. (In truth, the movie is filled with horror references, a tip of the hat from Burton to his fellow aficionados.) It's a jarring tonal shift as Frankenweenie transforms into a (tongue-in-cheek) horror movie, and one can imagine that Burton is deeply enjoying the audacity of his strategy.
And indeed it's a fun surprise that serves as a rejoinder to the treacly sentimentality of other animated family films. But the problem is that Burton becomes so distracted by the growing spectacle of his third act — in which Victor, Sparky and the whole town have to defeat the rampaging creatures — that the simple, heartfelt love story between a boy and his pet gets shoved aside.
Still, the film's black-and-white look is wondrous, with the animators giving their puppets beautifully soulful eyes and melancholy expressions. Long-time Burton associate Danny Elfman provides an acceptably spooky score, although like the film itself it does feel like a variation on familiar themes.
Domestic distribution: Disney, www.disney.go.com/movies/
Producers: Tim Burton, Allison Abbate
Executive producer: Don Hahn
Screenplay: John August, based on a screenplay by Lenny Ripps, based on an original idea by Tim Burton
Cinematography: Peter Sorg
Production design: Rick Heinrichs
Editors: Chris Lebenzon, Mark Solomon
Music: Danny Elfman
Website: www.disney.go.com/frankenweenie/
Voice cast: Catherine O'Hara, Martin Short, Martin Landau, Charlie Tahan, Atticus Shaffer, Robert Capron, Conchata Ferrell, Winona Ryder