Dir: Brigitte Sy. France 2010. 100mins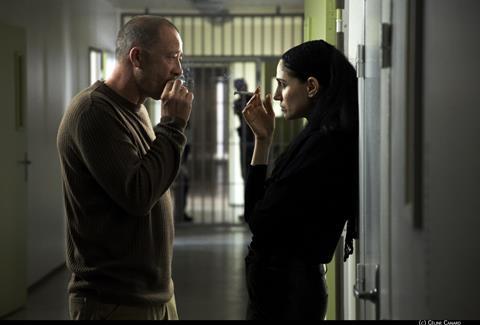 An intense - and intensely personal - drama of love behind bars, Brigitte Sy's Free Hands (Les Mains Libres) has its rougher emotional edges filed down by a knowingly distanced, borderline-Brechtian theatrical approach. This cerebral element could, for some audiences, mar the more immediate appeal of an involving psychological drama culled directly from life.

The always formidable Elkabetz makes Barbara convincing as a mature, sexually charged highbrow heroine
Offsetting this is genuine chemistry between leads Ronit Elkabetz and Carlo Brandt, and up-market Francophile audiences should appreciate a rare chance to see chaste but implicitly torrid interplay between mature and serious adult characters. While sales chances are modest, the film will please festivals, especially those with women's and human rights interests.

While the film itself never explicitly states that this is an autobiographical narrative from first-time feature-maker Sy, she did herself, like heroine Barbara, work as a director inside prisons for several years (her press notes refer to "Barbara, in other words, me"). Early on, an intertitle announces that this story actually happened in a prison near Paris. Barbara is a filmmaker working on a jail project - a drama in which male prisoners enact a script based on their own words.

Free Hands is to a large degree about the development of Barbara's docu-drama, and the reluctance that some participants feel once they find that she has used transcriptions of their personal narratives.

The film's centre, however, is Barbara's burgeoning romance with Michel (Brandt), a middle-aged career criminal serving an 11-year sentence. It's love at first sight as the two start tentatively dancing around each other - almost literally dancing, so stylized is some of Sy's often stagy direction. As the pair begin rather poetically declaring a mutual interest, their relationship starts to feed into Barbara's film - sometimes very directly, and even verbatim, as the play between life and drama is elaborated in an only intermittently intriguing system of mirror play.

The relationship develops promisingly until Michel asks Barbara to help him obtain some money he's owed, a job for which she enlists bosom pal Rita (Lvovsky, bringing the film a welcome glow of relaxed eccentricity). The results test even the patience of the prison's benign authorities, and matters take a dark turn, but not for long. The coda offers a heartening upturn in the characters' fates, although depicted in downbeat style.

The action takes place largely in the jail, except for scenes from Barbara's complex life - including unfinished business with a drug-addicted ex. The simple, matter-of-fact testimonies of other members of Barbara's troupe make compelling viewing. Overall, though, Free Hands is hampered by a sometimes laborious, distractingly theatrical style.

As Michel, the distinctively heavy-faced Brandt incarnates the hard-boiled but tender-hearted con very compellingly. The always formidable Elkabetz makes Barbara convincing as a mature, sexually charged highbrow heroine, but her chic black garb throughout, and tendency to histrionic simmering, give Barbara an often distracting aura of the grande dame, making you wonder whether her Barbara wouldn't be more at home organizing her prisoners in a Lorca production. A moody, accordion-charged score gives the film a sultry, tango-esque charge that will be an additional fillip for Francophile audiences.


Production compan:y Mezzanine Films
International sales: Films Boutique, www.filmsboutique.com
Screenplay: Brigitte Sy, Gaëlle Macé
Producers: Mathieu Bompoint, Claire Trinquet
Cinematography: Frédéric Serve
Editor: Julie Dupré
Production designe:r Françoise Arnaud
Music: Daniel Mille
Main cast: Ronit Elkabetz, Carlo Brandt, Noémie Lvovsky, Camille Figuereo, Adama Doumbia