New films by Liu Hao, Joachim Lafosse and Peter Sollett join line-up.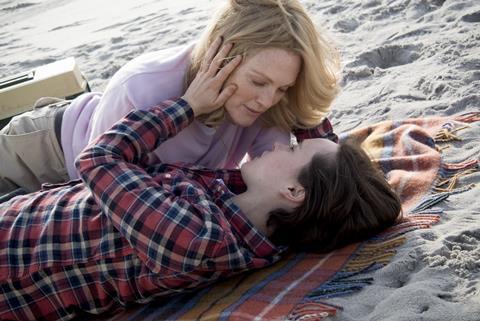 Peter Sollett's Freeheld, starring Julianne Moore and Ellen Page, is one of three new titles to join the Official Selection competition at the upcoming San Sebastian Film Festival (Sept 18-26).
Based on true events, the film centres on US police lieutenant Laurel Hester (Moore) and her registered domestic partner Stacie Andree (Page) who battle to secure Hester's pension benefits when she is diagnosed with terminal cancer.
The film, set to world premiere at Toronto (Sept 10-20), is one of several features announced in Official Selection that will compete for San Sebastian's Golden Shell.
Other new titles in competition include Back to the North (Xiang bei fang), which will see Chinese director Liu Hao return to Seb Sebastian five years after Addicted To Love played in Official Selection in 2010.
The film is about a woman diagnosed with a terminal illness who is concerned that her parents will have no one to take care of them after her death, so persuades them to have another child in spite of the government's one-child policy.
The final film to join the line-up is The White Knights (Les chevaliers blancs) from Belgian filmmaker Joachim Lafosse, about the Zoé's Ark controversy when members of a French charity attempted to fly more than 100 children out of Chad to France.
In addition, the festival has announced that the New Directors section will close with Thieves Honour (Tjuvheder) from Swedish director Peter Grönlund.
The social drama centres on street pusher Minna who cheats a few young criminals on a drug deal to pay her rent.
San Sebastian 2015
Official Selection (to date)
21 Nights With Pattie (21 Nuits Avec Pattie)
Jean-Marie Larrieu, Arnaud Larrieu (France)
Amama: When A Tree Falls (Amama)
Asier Altuna (Spain)
The Apostate (El Apóstata)
Federico Veiroj (Spain/Uruguay/France)
Back to the North (Xiang bei fang)
Liu Hao (China)
The Boy And The Beast (Bakemono No Ko)
Mamoru Hosoda (Japan)
The Demons (Les Démons)
Philippe Lesage (Canada)
Un Dia Perfecte Per Volar
Marc Recha (Spain)
Eva No Duerme
Pablo Agüero (Argentina/France/Spain)
Evolution
Lucile Hadzihalilovic (France - Belgium - Spain)
Freeheld
Peter Sollett (US)
High-Rise
Ben Wheatley (UK)
The King of Havana (El Rey De La Habana)
Agustí Villaronga (Spain/Dominican Rep.)
London Road - Closing Night film
Rufus Norris (UK)
Moira
Levan Tutberidze (Georgia)
Sparrows
Rúnar Rúnarsson (Iceland - Denmark - Croatia)
Sunset Song
Terence Davies (UK - Luxembourg)
Truman
Cesc Gay (Spain/Argentina)
The White Knights (Les chevaliers blancs)
Joachim Lafosse (Belgium – France)
Out Of Competition
Mi Gran Noche
Alex De La Iglesia (Spain)
Regression – Opening Night film
Alejandro Amenabar (Spain – Canada)
Special Screenings
Far From The Sea (Lejos Del Mar)
Imanol Uribe (Spain)
No Estamos Solos
Pere Joan Ventura (Spain)