Could his contemporary fairy tale about cloning, starring Eva Green and Matt Smith, push Hungarian director Benedek Fliegauf into the mainstream? Martin Blaney visits the German set of Womb.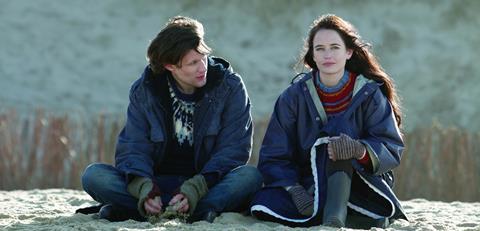 On the day two of the most powerful women in the German film industry visit the Berlin shoot of English-language cloning drama Womb, Benedek Fliegauf is directing lead actress Eva Green in a scene set in a meticulously recreated traditional dwelling on the North Sea coast.
"Womb is a modern fairy tale, but given a fictional twist"

Roman Paul, Razor Film
Regional fund heads Kirsten Niehuus and Eva Hubert of Medienboard Berlin-Brandenburg and FilmFörderung Hamburg Schleswig-Holstein respectively, are visiting the legendary CCC Studios as major financiers of the $5.6m (¤4m) project.

Set in the near future, Womb follows a young woman (Green) as she returns to her grandfather's house on the North Sea coast of Germany. She is reunited with her childhood sweetheart but his sudden death in a car accident pushes her to the edge, and she turns to human cloning to bring him back.

Multinational approach

The Germany-France-Hungary co-production has pulled together backing from throughout Germany and Europe in a multinational approach that is reflected in the talent attached. Hungarian-born Fliegauf is making his English-language debut on the project, working with the Anglo-French Green and rising UK star Matt Smith as her lost love. Roman Paul and Gerhard Meixner of Berlin-based Razor Film, and Cedomir Kolar and Marc Baschet of France's ASAP Films, produce.

"We've spent four years developing this project," recalls Paul, who first became interested in Fliegauf after seeing his film Dealer which won the audience award in the Berlinale's Forum section in 2004. Fliegauf then spent
2005 in Berlin on a scholarship from the Berlin-based Nipkow Programme to develop the Womb screenplay.

"What I liked about Benedek's previous films is that they're so unique and have an almost hypnotic quality," says Paul, whose credits include Paradise Now and Waltz With Bashir. "His films have to be experienced in their entirety. For example, you cannot take the acting or the production design on their own, but have to see everything together as a whole."

Paul says Womb has more of a traditional — and possibly commercial — narrative than his previous films, which have been real arthouse titles with a hypnotic, dreamlike quality.

"[Womb] poses the right questions about the future, about good and bad, and the continuity of life after death," Paul explains.

The producer describes Green and Smith as "the dream cast" and indeed the pairing of a Bond girl with Smith, the new star of BBC TV's Doctor Who, is an enticing concept. Other cast members include Lesley Manville, Peter Wight and UK actor Hannah Murray in her first feature since her breakout in TV series Skins.

"Matt is quite extraordinary because he's an actor who works from the gut rather than the brain," says Fliegauf. "He's really connected with real life somehow, whereas Eva looks one time like Disney's Snow White and then like an actress from a Murnau film. She has no connection with the real world whereas Matt's feet are firmly on the ground.

"I didn't want to choose the classical beauty for the male lead because then it would have been rather weird if she made the decision to clone him because of the physical aspect," he adds of his decision to cast Smith.
"It's more about the soul."

Finance strands

When putting the finance together, Razor Film brought Fliegauf's regular Hungarian producer Andras Muhi of Inforg Studio on board. Muhi had collaborated with the director on Forest, Dealer and Milky Way.
The minority French partner, ASAP Films, joined the production in 2007 when it caught the eye of Paris-based Kolar as he served as an expert on the ScriptEast script development programme for writers from eastern and central Europe.
"Matt is quite extraordinary because he's an actor who works from the gut rather than the brain"

Benedek Fliegauf, director
The script was subsequently awarded the Krzysztof Kieslowski prize for the best Central and Eastern European script at ScriptEast's last session at the Cannes Atelier in 2008. "I was astonished by the script's originality,"
Kolar recalls. "I already knew Roman, so it was easy to get in touch. We brought in the French part of the ARTE 'Groupe Grand Accord' and plan to approach [pay-TV] broadcaster Canal Plus for a presale because this could be attractive for them with the elements of English language, Benedek and Eva Green."

The 37-day shoot began in March on Germany's North Sea coast at Hallig Langeness, Sylt and St Peter-Ording. It moved in April to the CCC Studios in Berlin for interiors. "It took a while to find the locations because the setting for the film is not specific. It's somewhere in the North by the sea," Paul explains. "Womb is a modern fairy tale in the style of, say, [19th century writer] ETA Hoffmann — it's set in our world but given a fictional twist.

While Medienboard Berlin-Brandenburg, Hungary's Motion Picture Public Foundation and the European Union's MEDIA Programme all supported the project during development, the production funding came through later.

Medienboard Berlin-Brandenburg put up $500,000 (¤350,000) and FilmFörderung Hamburg Schleswig-Holstein invested $280,000 (¤200,000) for shooting in the respective regions, recruiting local crew and using post-production facilities. The German Federal Film Board (FFA) contributed $280,000 (¤200,000), with another $620,000 (¤440,000) from Eurimages and $850,000 (¤600,000) from the Motion Picture Public Foundation of Hungary.

Additional funds were also received from ARTE's Groupe Grand Accord. The project also received $775,000 (¤550,000) from the German Federal Film Fund (DFFF) for shooting in Germany.

German theatrical rights to Womb have been acquired by Delphi Film whose recent releases have included Let's Make Money and Il Divo. International sales outfit The Match Factory presented a five-minute trailer of footage at the market in Cannes and at the German Films Previews in Cologne in July.

Kolar is now preparing a second collaboration with Razor Film later this year, Danis Tanovic's Cirkus Columbia.
In Figures
$5.6m
Budget of Womb
$850k
Amount invested by Hungary's Motion Picture Public Foundation
9
Number of international films, including Womb, to receive DFFF funding in 2009