Dir: Davis Guggenheim. US. 2011. 88mins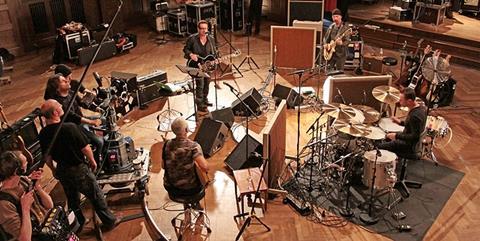 While the Dublin bred U2 have had enviable success and endurance in contemporary music the band's cinematic excursions have been at best spotty. The latest, From The Sky Down, is a confused hash of history and musical philosophy that comes close to jeopardising whatever good will the band have accrued with fans over three decades. Produced for the American cable channel Showtime it served as a curious curtain raiser for the Toronto International Film Festival whose patrons hardly comprise the group's core audience.
From The Sky Down seems more a work in progress rather than a final take.
The film appears destined for a brief window in cable and satellite exploitation and, perhaps, extremely limited specialised big screen engagements.
From The Sky Down begins with U2 about to perform for the first time at the prestigious Brit fest Glastonbury. Subtitles attempt to convey the significance of the event and the opportunity it provides the group to reflect on past material as well as all the things that kept them vital and united.
But the evolving film can't keep on track. The quasi focus is the production of their 1991 recording Achtung Baby and it's certainly implied that it tested the group's mettle. The members provide pieces to the puzzle as well as commentary from the album's producers and others associated with the session. Following initial global success U2 had a reversal of fortune and its members felt they had lost their way artistically. Achtung Baby was their attempt to explore new musical forms and more personal material.
It sounds relatively straightforward and cohesive on paper but that's hardly reflected on screen. There's a wholly arbitrary ping ponging between contemporary rehearsal sessions and archival material that provides a not-so brief band history. Considerable time is spent explaining the band's decision to record Achtung Baby in Germany while the apparently significant breakup of The Edge's marriage at that time is briefly noted as if details were readily familiar.
There's also several animated sequences meant to illuminate specific aspects of the recording that come off as a poor man's Monty Python interlude. It's also difficult to ascertain whose speaking the off camera commentary though one suspects frontman Bono dominates. Regardless the observations on the creative process range from the obscure to the banal.
Fans will also be disappointed by the absence of actual performance. Such songs as One, Mysterious Way and The Fly are heard in pieces or in rough form as the songs were being written and produced. Apparently produced on a breakneck schedule, From The Sky Down seems more a work in progress rather than a final take. Filmmaker Davis Guggenheim would have seemed an apt chronicler having made the daunting guitar elegy It Might Get Loud that also featured The Edge.

Production company: 2011 Documentary Partners
International sales: Mercury Records/Universal Music Group
Producers: Davis Guggenheim, Ted Skillman, Belisa Balaban, Brian Celler
Executive producer: Paul McGuinness
Cinematography: Michael Brook
Editor: Jay Cassidy
Music: Bono, The Edge, Larry Mullen Jr., Adam Clayton, Brian Eno