Dir: Goro Miyazaki. Japan. 2011. 91mins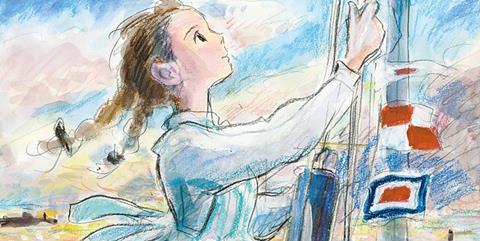 The latest animated classic from Studio Ghibli is a tender story of teenage love set in 1963 Yokohama. Originally conceived by Ghibli master Hayao Miyazaki from a 1980 manga but now realised by his son Goro (Tales From Earthsea), From Up On Poppy Hill is a female-skewed melodrama with less wide family appeal than, say, Ponyo or Arrietty, but its exquisite animation and expert storytelling will ensure it the global following that Ghibli films now routinely command.
It's a gem of classical 2D imagery that stands out in a world turned upside down by the digital revolution.
It opened on July 16 in Japan through Toho and has grossed over $52m to date, compared to $120m in total for Arrietty and $153m for Ponyo. Its international performance should echo that ratio, but it is still a solid theatrical prospect, especially for young girls who would warm to the romantic themes. As usual, its international sales are handled by Wild Bunch.
Set a year before the Tokyo Olympics and reflecting a Japan still caught between the aftermath of World War II and the explosion of its economic growth, the film follows a young girl called Umi whose father died in the Korean War and whose mother is a professor often away from home. She looks after her grandmother, sisters and the boarders in the large former hospital they live in at the top of Poppy Hill.
At her school one day, she becomes enamoured of a young man called Shun who is leading a protest to stop the demolition of the school clubhouse in favour of a new building. The two fall for each other, but a series of circumstances from the past leaves Shun convinced that Umi is actually his sister.
The period detail in From Up On Poppy Hill is as sumptuous as you'd expect - from dockside neighbourhoods in Yokohama to Tokyo in all its pre-Olympic colour. Doused in a lush score with songs performed by Aoi Teshima and Kyu Sakamoto, it's sweetly romantic but Goro Miyazaki never lets the melodrama take over and ultimately it's more about Japan itself than the love story: the passion to save the clubhouse reflects a need to treasure the past while at the same time embracing the future.
The same could be said of the animation here: it's a gem of classical 2D imagery that stands out in a world turned upside down by the digital revolution.
Production company: Studio Ghibli
International sales: Wild Bunch, www.wildbunch.biz
Producer: Toshio Suzuki
Executive producer: Koji Hoshino
Screenplay: Hayao Miyazaki & Keiko Niwa, based on the graphic novel by Chizury Takahashi & Tetsuro Sayama
Music: Satoshi Takebe
Voice cast: Masami Nagasawa, Junichi Okada, Keiko Takeshita, Teruyuki Kagawa