Dir. Ron Howard. US/UK 2008. 122 mins.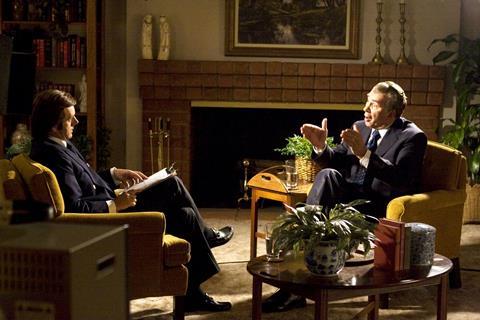 The magnificently-flawedformer US president Richard Milhous Nixon, as embodiedbyFrank Langella, is a magnetic presence in Ron Howard's adaptation of Peter Morgan's stageplay.The nervous man with the chair and whip forced to try and contain him isMichael Sheen as glossy TV interviewer David Frost. It is always an uneven match.
While Frost/Nixon has its problems, attracting awards attention for Frank Langella isn't going to be one of them. Reprising his Tony-winning performance asNixon in a ground-breakingseries of TV interviews which took place in 1977, the actor doesn'tdeliver animpersonation or a caricature - helooks nothing like Nixon, nor does he sound like him. He rightly treats Morgan's script as a gift to an actor and runs with Tricky Dicky as far as he can go.
Commercially, though, it's not clear where Frost/Nixon will find its audience. It zips through the whole of Watergate and Nixon's forced resignation during the opening credits, seemingly targeting a politically-aware, olderaudience, and then gives them a not-terribly-challenging story about the early days of television and how a superficial talent like Frost instinctively grasped the reductive power of an image. YetFrost/Nixon doesn't entirelymake its own case: the Nixon we see on screen is in no way defined by Frost's soundbite. AndSheen is just a shade too flimsy as the gadfly Frost. There's much talk about a great gladiatorial contest between interviewer and disgraced president, but it never feels remotely equal between thetwo onscreen.
Boosted by Langella's undoubted nominations, Frost/Nixon should land in a Last King Of Scotland territory commercially - both were written by Morgan andtake onlarger-than-life characters through a youthful side-figure. The natural audience is the West Wing/Good NightAnd Good Lucksophisticated set, and the fact it's anelection year won't hurt. TheUS and UK are obviousl homes for this - Frost is still aUK TV personality and the story is semi-set there. Outsidethese key markets it may face more of a struggle, however. Ancillary will be an easier fit across the board: this is a good, prestige broadcast buy and a DVD natural.
Opening out Morgan's stageplay enough not to look moribund - although this is not a very cinematic piece - Howard starts proceedings in earnest with Nixon's forced resignation speech (in the face of certain impeachment) and a curious Frost, anchoring game and chat shows in the UK and Australia (but having failed in New York), determined to secure the disgraced US president for a series of interviews which will ultimately take place three years later in 1977 at a price of $600,000 arranged by Frost himself without the backing of a major network.
In canny character-setting moments, we witness Nixon's greed through his dealings with agent Swifty Lazar (Jones), his longing to return to the centre of power in Washington and away from Los Angeles, his reluctance to face up to the actions which brought him low. He is indeed a towering personality, psychologically intimidating to Frost, charming and devious and controlling, if not always controlled.
Opposite him, we have Frost; an under-written figure: the words 'game show host' seem to be a short-cut for his characterisation.The conventions of the film require him to be a dim-bulb presence for most of the movie before having a Damascene conversion to rigorous reportingat the 11th hour. To shore him up until he gets there, his investigative team - Matthew MacFadeyn as producer John Birt, Oliver Platt as reporter Bob Zelnick and Sam Rockwell as James Reston Jr - deliver expository dialogue as he swans around to parties with tokenfemale presence Rebecca Hall.
Not helpful here is the fact that Sheen's squirming performance feels too similar to the Tony Blair he delivered in Morgan'sThe Queen. Over in Nixon's camp, meanwhile, Kevin Bacon plays chief of staff Col. Jack Brennan.
Production design lands us firmly in the 1970s, although Nixon's California home is the only notable exterior location work. Using cinematographer Salvatore Totino, Howard's work is solid and unshowy. A semi-documentary style with the supporting players talking directly to camera gives the earlier segments a choppy feel. But the pacing never lags, even at 122 minutes of often-dense dialogue.
Frost/Nixon does, indeed, intrigue, and leaves the viewer wanting more - from that era, with which we are so fascinated now, from Nixon even, but certainly less about the power of the TV image when so much more was going on in front of that lens.
Production companies
Imagine Entertainment
Working Title Films
Universal Pictures
International distribution
Universal Pictures
Producers
Tim Bevan
Eric Fellner
Brian Grazer
Ron Howard
Screenplay
Peter Morgan, from his stageplay
Cinematographer
Salvatore Totino
Production design
Michael Borenblith
Main cast
Frank Langella
Michael Sheen
Kevin Bacon
Oliver Platt
Sam Rockwell
Rebecca Hall
Toby Jones
Matthew MacFadyen