Dir/scr/cin. Jason Lehel. USA. 2009. 117mins.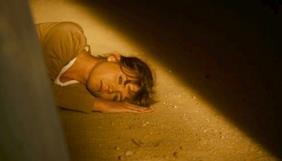 Gaia's visuals, which pull from desert scrub, cacti, and dust a nearly transcendent beauty, are the major draw for this low-budget first feature by Lehel, a professional cinematographer. He has an ear for music as well, overlaying an excellent score by The Angel, a mix of Native American, country, and mellow rock.
A woman is found unconscious under the blazing sun; she would almost certainly have died of exposure had some indigenous hunters not found her. Flashbacks reveal that she is called Em (Lape), and has led a trashy life. Involved in a no-win relationship with a redneck, in large part to forget a childhood of sexual abuse and an adulthood of rape, she slips off when her boyfriend and child are asleep and winds up on the reservation, passed out.
She begins to repeat her past mistakes amidst the Native Americans who have taken her in and nursed her back to health, however. Unable to exorcise her demons herself, the tight-knit reservation community (the film was shot in southeastern Arizona) exorcise them for her.
The plotline is as naïve as it is overly familiar; commercial and even festival prospects are slim, at best. A white "victim" of civilization finds peace of mind in a more "primitive," but purer, social order: It's an update of the myth of the Noble Savage. Another problem is that Em is of limited interest.
The narrative would be much stronger if it focused on some of the residents, particularly Ed (Mendoza), the older man and amateur poet in whose mobile home she stays, or even Fuego (Etsitty), the proud deaf mute with whom she has an unconsummated love affair.
Instead, the viewer only sees these characters in relation to Em; the white girl is the point of entry. The most irritating, and false, scenes, are those in which Em becomes playful, first with Ed's "granddaughter," a young girl, Jerica (Fraijo), who has lived with him ever since her parents were snatched by the border patrol, then with Ed himself. They are usually structured as the kind of montages one sees on TV to sell products (Lehel has directed many commercials).
The Native Americans are Catholic, but indigenous elements are also part of their rituals, among them the climactic exorcism itself. In another, they slaughter a pig (it is not faked). This is the stuff of a fine anthropological documentary, but Lehel, who created the storyline (much of the film is improvised), insists on keeping Em front and centre throughout.
The film's languorous pace would have been fine for a different kind of tale set in this relaxed, well-integrated (if poor) community, but the narrative retread and uninviting central character make this one feel endless.
To sign up for Screen's weekly Reviews Newsletter with all the week's new releases, internationalopenings and full festival reviews delivered free to your mailbox every Friday, please click HERE
Production companies
WAIF
Chutney Starfish Prods. Inc.
International sales
ContentFilm International
+1-310-576-1059
Producers
Jason Lehel
John Gordon
Editor
Jeff Harkavy
Music
The Angel
Main cast
Emily Lape
Ed Mendoza
Jerica Fraijo
Deswood Etsitty
Michael Pierce