Dir: Tate Taylor. US. 2014. 139mins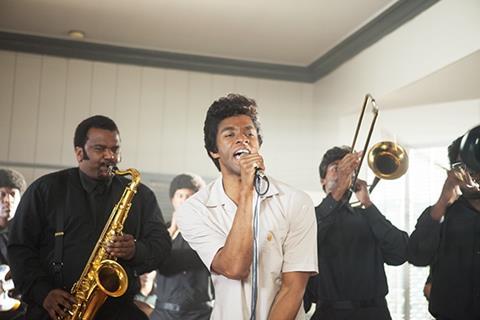 The music is undeniable, the movie a little less so. Still, give Get On Up credit: This biopic devoted to enormously influential soul singer James Brown takes some chances, in the process enlivening the typical rags-to-riches artist portrait. Highlighted by Chadwick Boseman's strutting, assured performance, Get On Up worries less about covering every meaningful moment in Brown's career than in offering an impression of a life touched by genius — including all the associated highs and lows. In his follow-up to The Help, director Tate Taylor can't fully escape biopic conventionality, but his movie shows a level of inquisitiveness and intuition that keeps the story engaging and unpredictable, even for those familiar with Brown's legacy.
Declining to place a verdict on Brown, the movie uses him as a metaphor for any striving talent, investigating how the desire to avenge or forget the past can cause unknown ripple effects down the road.
Set for US theatres on August 1, Get On Up has positioned itself to get a jump on fall's glut of Oscar contenders. Considering that Jamie Foxx won a Best Actor Academy Award a decade ago for playing Ray Charles in Ray — and, shortly thereafter, Reese Witherspoon earned a Best Actress Oscar in Walk The Line, portraying Johnny Cash's musician wife June Carter — there certainly is a precedent for music-themed dramas walking away with major award-season laurels. And as summer winds down, this Universal release could prove to be a welcome sight to grownup viewers tired of blockbusters, following in the footsteps of two other August dramas, The Help and Lee Daniels' The Butler, which scored at the box office.
Rather than following a standard birth-to-death chronology, Get On Up intriguingly bounces around Brown's life, showing how certain moments from childhood connect to his behaviour at different times as an adult. Except for the childhood scenes, Brown is played by Boseman, who last year portrayed another African-American icon, the Brooklyn Dodgers' Jackie Robinson, in 42. But where that performance required a quiet dignity, Brown is a cocky, drawling dynamo, his outlandish talent obvious to anyone. Boseman proves up to the task, nailing not only Brown's galvanic dance moves on stage but also his humorously outsized ego off the stage.
Some biopics try to "solve" their subjects, simplifying a famous individual's achievements to fit inside a cookie-cutter inspirational narrative or by pinning the person's drive to some dark secret from his past. (Another clichéd option: The subject is felled by the familiar excesses of fame, which he must courageously transcend to reassert his greatness.)
To be sure, Get On Up, which was written by Jez Butterworth and John-Henry Butterworth (from a story by Steven Baigelman, Jez Butterworth and John-Henry Butterworth), digs a little into Brown's psyche. But, refreshingly, the results aren't the usual platitudes or dime-store psychology. Rather, Brown remains something of a mystery: an enigmatic, ferociously determined man who had a tough time being close to anyone. And when Get On Up hints at the reasons why Brown behaved this way — for instance, he was abandoned by his parents and forced to live in his aunt's brothel — the filmmakers don't oversell their theories as some grand revelation. Instead, because Get On Up shifts across decades, pursuing thematic connections as opposed to biographical plot points, the movie feels like a meditation on Brown, not a definitive CliffsNotes on why he's regarded as one of pop music's most important artists.
That looseness extends not only to Boseman's performance, which is full of wit and playfulness, but also Taylor's attitude toward the material. Neither a hagiography nor a cautionary tale, Get On Up doesn't editorialize the scenes it chooses to show from Brown's life. A moment where Brown viciously hits his second wife Deedee (Jill Scott) is depicted without adornment or later resolution: It's merely a snapshot of the man's jealousy and anger. (Likewise, unlike other biopics that lament their subjects' cycling through marriages as a great moral failing, Get On Up offers no judgment, presenting Brown's romantic woes as just one aspect of his personality.)
This is not to suggest that the filmmakers don't have a viewpoint on Brown's legacy. But the curiosity and open-minded generosity that Get On Up shows the singer is a welcome acknowledgment that no life can be summed up in a 139-minute biopic. Declining to place a verdict on Brown, the movie uses him as a metaphor for any striving talent, investigating how the desire to avenge or forget the past can cause unknown ripple effects down the road. Get On Up isn't so much about Brown's "demons" as it a reminder of the childhood trauma still dwelling in all of us.
At the same time, Get On Up is also a subtle look at the racism infesting America during Brown's ascension in the 1960s and '70s. In a less heavy-handed way than in The Help, Taylor's new film shows how, for African-Americans, bigotry was as ubiquitous as the air around them, silently imposing itself. Brown's quest for success and fame are, in part, an attempt to rise above that institutional racism he'd experienced since childhood.
But to praise Get On Up, one must also recognize its many shortcomings. As in The Help, Taylor has assembled a large ensemble but doesn't always put them to good use. For as sterling as Viola Davis and Octavia Spencer are in small roles — as Brown's mother and aunt, respectively — Dan Aykroyd is permitted to be far too cutesy as Brown's long-time agent Ben Bart. (And this is to say nothing of poor Allison Janney, whose brief appearance demands that she play a cartoonishly out-of-touch white person who's annoyed then entranced by Brown's funk band.)
Additionally, the movie, despite its jumbled chronology, can't resist plenty of tired biopic staples. For example, we have to sit through pat emotional beats where Brown's character flaws are explained to him (and us) through expository dialogue. And while Get On Up tries to sidestep the obligatory highlight-reel rundown of indelible moments, the stodgy staging of key scenes undercuts the film's dramatic power. Taylor may be trying to rethink the standard biopic, but on the whole he's a rather staid director, resulting in a film that's well meaning and thoughtful without being particularly inspired. (For more proof of Get On Up's hit-or-miss execution, the unpersuasive old-age makeup applied to the characters as they reach their twilight years can be painfully distracting.)
Thankfully, the musical numbers help rescue the proceedings. Drawing from Brown's original recordings, the studio and concert scenes are riveting, observing the artist nicknamed, among other things, "The Hardest Working Man in Show Business" in his natural habitat. Dubbed "The Godfather of Soul," as well as the man whose funky rhythms and insistence on tight beats helped birth hip-hop, Brown was an exacting taskmaster who ran his band like a drill sergeant. Get On Up's musical performances demonstrate why it was worth the effort, and Boseman embodies the singer's nonstop movements and showmanship with fluidity worthy of the man himself.
Indicative of the movie's peculiar path, Brown's great foil proves not to be one of his wives but Bobby Byrd, his long-time sideman. As played by Nelsan Ellis, Byrd is both a punching bag and an unlikely source of calm for the volatile singer. Get On Up doesn't make their friendship a central focus at first, but as they get older and drift apart, Taylor finds a poignancy in their reunion that quietly speaks to themes running throughout the film: the inescapability of the past, the joys and limits of genius, and the search for something of value in a life where so much is taken away. If Boseman is Get On Up's great volcanic centre, Ellis is its soft-spoken conscience, awestruck by Brown but also cognisant of his failings.
Production companies: Imagine Entertainment, Jagged Films, Wyolah Films
US distribution: Universal Pictures, www.universalpictures.com
Producers: Brian Grazer, Mick Jagger, Victoria Pearman, Erica Huggins, Tate Taylor
Executive producers: Peter Afterman, Trish Hofmann, Jez Butterworth, John-Henry Butterworth, John Norris, Anna Culp
Screenplay: Jez Butterworth & John-Henry Butterworth, story by Steven Baigelman and Jez Butterworth & John-Henry Butterworth
Cinematography: Stephen Goldblatt
Editor: Michael McCusker
Production designer: Mark Ricker
Music: Thomas Newman
Website: www.getonupmovie.com
Main Cast: Chadwick Boseman, Nelsan Ellis, Dan Aykroyd, Viola Davis, Lennie James, Fred Melamed, Craig Robinson, Jill Scott, Octavia Spencer