Dir: Neveldine/Taylor. US. 2012. 96mins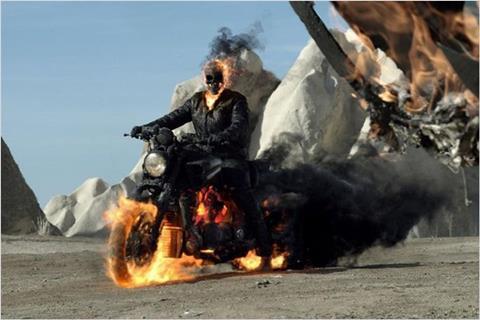 Nicolas Cage's bug-eyed theatrics provide the only spark in Ghost Rider Spirit Of Vengeance, a disappointingly stale sequel from the directing team of Neveldine/Taylor, who are best known for their gonzo Crank films. Coming five years after the original Ghost Rider, this new entry ends up feeling a bit like cinematic road kill, neither exciting nor comic enough to get anyone's motor running.
Neveldine/Taylor peak early with a chase sequence they don't get close to matching the rest of the way.
Opening in the US on February 17 for the long Presidents' Day weekend, Spirit Of Vengeance would love to match the first film's $229m worldwide grosses, which were almost perfectly divided between domestic and international markets. But the question remains whether Cage's fading star power might keep fans of the original away from this sequel, which will have the benefit of inflated 3D prices.
The new film finds former stuntman Johnny Blaze (Cage) hiding out in Eastern Europe as he continues to contend with the curse that turns him into the Ghost Rider in the presence of evil. But Blaze decides to join forces with a monk named Moreau (Idris Elba) who is trying to save a young boy (Fergus Riordan) and his mother (Violante Placido) who are being pursued by the devil (Ciaran Hinds).
Based on the Marvel character, Spirit Of Vengeance (like its predecessor) tries to provide both comic-book action and tongue-in-cheek humour. Not surprisingly then, directors Mark Neveldine and Brian Taylor – known professionally as Neveldine/Taylor – would seem to be a good choice to helm this sequel since their work on Crank and Crank: High Voltage boasted a giddy, over-the-top aesthetic.
Unfortunately, after a sufficiently adrenaline-fuelled opening action sequence, Spirit Of Vengeance quickly turns conventional, providing few pulse-pounding thrills. Just as detrimental, there's little joy to the proceedings, with the filmmakers failing to find much entertaining about the story's inherently ludicrous showdown between Satan and the forces of good, which are represented by a guy with a flaming skull, a leather jacket and a steady stream of dopey quips.
For too long, Cage has seemingly retired from serious acting to deliver one rampaging, unsubtle performance after another – often in forgettable B-movie offerings. That's essentially what's on display in Spirit Of Vengeance as well, although it's worth noting that his high-octane mannerisms do give the movie a sense of playfulness and wink-at-the-audience irony that would have been welcome elsewhere.
The film actually features a decent cast, but Hinds isn't sufficiently compelling in a fire-and-brimstone way as the devil. Likewise, Elba (who also appeared recently in Thor) is a charismatic presence who doesn't have enough interesting to do. In general, the performers take this silliness way too seriously, which proves to be not much fun at all.
On the technical side, the 3D work is solid, and the Ghost Rider's fiery visage is impressively rendered. Sadly, Neveldine/Taylor peak early with a chase sequence they don't get close to matching the rest of the way, although a throwaway gag later about the difficulties of urinating flames at least generates a few chuckles.
Production companies: Columbia Pictures, Hyde Park Entertainment, Imagenation Abu Dhabi, Marvel Entertainment, Crystal Sky Pictures, Ashok Amritraj/Michael De Luca/Arad Productions
Domestic distribution: Sony Pictures, www.sonypictures.com
Producers: Steven Paul, Ashok Amritraj, Michael De Luca, Avi Arad, Ari Arad
Executive producers: E. Bennett Walsh, David S. Goyer, Stan Lee, Mark Steven Johnson
Screenplay: Scott M. Gimple & Seth Hoffman and David S. Goyer, story by David S. Goyer, based on the Marvel Comic
Cinematography: Brandon Trost
Production designer: Kevin Phipps
Editor: Brian Berdan
Music: David Sardy
Website: www.thespiritofvengeance.com
Main cast: Nicolas Cage, Ciaran Hinds, Violante Placido, Fergus Riordan, Johnny Whitworth, Christopher Lambert, Idris Elba