Dir/scr: Celine Sciamma. France. 2014.113mins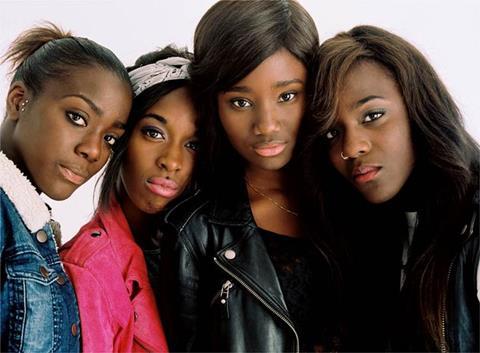 Continuing her exploration of adolescent girl support groups and the insidious pressure on young women to conform to type, Celine Sciamma's third film has all the quiet determination and punchy life force of its magnetic 16-year-old heroine, a girl from the high-rise, low-income 'projects' in the periphery of Paris. Viewers familiar with the director's debut Water Lilies and follow-up Tomboy will recognise some of the themes that recur and combine here, from girls who play against gender conformity to the way an age of infinite dreams can also be an age of extremely limited choices.
The ability to reconcile sensuousness with gender politics has always been a strength of Sciamma's work.
But if Sciamma forfeits some of the delicacy of touch that we have so far associated with her oeuvre, she replaces it with a new sense of confidence and attitude in Girlhood (Bande de Filles), an in-your-face brashness that derives partly from the director's non-judgemental depiction of a black girl gang (brace for all those 'the female La Haine' poster-quotes – though not from this review), partly from the film's good-looking, high-energy weave of sound and image. The enthusiastic audience response at the film's 2014 Cannes debut, where it opened the Quinzaine section, bodes well for the commercial prospects of a title that never loses its sense of humour or sense that things will turn out okay for its harassed and stymied protagonist.
The opening sequence is an eloquent, exhilarating taster of what's to come. We see two padded-out, pumped-up American football teams take the field; they're all girls, we soon realise, and all black. Scored by a driving rock track, the game is like a joyous promotional video for young female empowerment; but as they walk back home afterwards, the endorphin-fuelled chatter dies down as the teammates approach a group of local lads. Soon they are hiving off, singly or in groups, to their apartments, the energy dissipated, careful not to make eye contact with the boys.
Soon we're left following Mariame, played with instinctive naturalism by first-timer Karidja Touré, who at times resembles a black, French Jennifer Lawrence – not least because of her ability to radiate reserve, sex appeal and strength in one bundle. She lives at home with her younger sisters and boorish, violent older brother, her mother out at work most of the day.
Shunned at first by love interest Ismael because he's her brother's best friend, and told by a high school careers officer that having flunked her year again her only opening is vocational training, the angry Mariame – who wants to continue her studies – is soon adopted by a brash, leathered-up girl gang led by formidable what-you-lookin-at bad girl Lady (Sylla). In all these roles, the casting is spot on and the energy that the director coaxes from her young charges lights up the screen.
Black-screen breathing-spaces stand in for the passage of time as Mariame – now re-christened Vic for 'Victory' – morphs from timorous schoolgirl to leather-jacketed gang member, meanwhile consummating her relationship with Ismael – a relationship in which she increasingly takes the upper hand. Carrying knives and organising fights with rival girl gangs is a way for Mariame and her pals to rebel against the roles their environment forces them into; but Sciamma shows – without any hint of Loachian hectoring – that these are just other ways of keeping them down – they're like gladiators fighting for the entertainment of their male masters, who film the fun on smartphones.
The ability to reconcile sensuousness with gender politics has always been a strength of Sciamma's work, and here the camera lingers on the skin, the hair, the hands, the eyes, the dance moves of Mariame and her girlfriends, contrasting their confident beauty and sexuality with the boxy drabness of their home environment. It's girlpower versus the patriarchy, curves versus flatness – a struggle that is distilled in Mariame's third big change of her appearance, from hot gang chick to dumpy, short-haired tomboy in baggy clothes, her breasts bandaged to conceal the bump that channels her, in this male-dominated society, either into slut-dom or early marriage and pregnancy. Too realistic to hold out false hopes, Sciamma nevertheless suggests that sheer determination may yet help Mariame to 'Shine like a Diamond' – a dance song she lip-syncs to in an exuberant musical sequence.
Production companies: A Hold up Films and Lilies Films production in association with ARTE France Cinema
International sales: Films Distribution, www.filmsdistribution.com
Producers: Benedicte Couvreur
Cinematography: Crystel Fournier
Editor: Julien Lacheray
Production designer: Thomas Grezaud
Music: Para One
Main cast: Karidja Toure, Assa Sylla, Lindsay Karamoh, Marietou Toure, Idrissa Diabate, Simina Soumare, Cyril Mendy, Djibril Gueye