Alan Rickman spent his 69th birthday in Glasgow last night to present a screening of A Little Chaos, his second film as a director.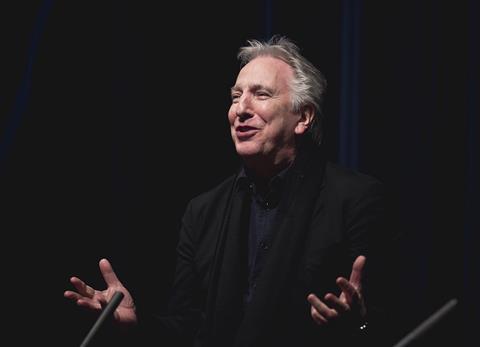 It has been 17 years since he last directed a film, The Winter Guest – "something called Harry Potter got in the way," he joked.
The story is about the court of Louis XIV while the king is building the Palace of Versailles. A widow named Sabine de Barra (Kate Winslet) is an unconventional hire to help architect Andre Le Notre (Matthias Schoenaerts) design the gardens.
Before the screening started, Rickman asked the audience to "put all thoughts of historical accuracy somewhere else." Mostly because it would have been impossible for a woman to be a landscape designer in 1680s France – but that was precisely what drew Kate Winslet to the part, he said. "Here's a woman making a difference."
The big draw for him wasn't the time period or the subject of gardening — "I look at a plant and it's dead," he quipped. "I had no interest in telling a story about this period it was about this relationship."
The film has a fresh feel, not one of those musty corseted dramas stuck in the past. "It's got a kind of heightened quality, but at the same time it feels like now. Kate saw it, and said, 'Wow it sounds like me.'"
A Little Chaos is not meant to be a historical document, the director explained. "This film is deeply historically inaccurate. The narrative is going to be flexible so why not everything else? It's a metaphor, this story, it's a fantasy. It's not a thesis that we're making. We're taking history and looking at it through a prism.
"I said to the costume department, 'They need to be clothes, not costumes.' I said to hair and makeup, 'They shouldn't look like they have come out of a hair and makeup trailer, it needs to feel lived in.'" Those touches of muddy realism are aided by Ellen Kuras' cinematography.
He praised Winslet – who he acted with way back in 1995 on Sense and Sensibility — for her process on set. "She's very, very, very professional but she's also very open. People press the act button but Kate presses the listen button. It's always about NOT acting."
As for Schoenaerts, the Belgian actor shows a much softer side than he did in Bullhead or Rust and Bone. "I saw Rust and Bone and I thought, he's great but I bet he's not a barrel of laughs," Rickman remembers. But at their first meeting, he was wearing a huge smile and brought along his mother. "He'd join the club – of which I'm a paying member — which is don't typecast."
Rickman, who also stars in the film as Louis XIV, said he would like to direct again, "but I don't know what and I don't know when."
Lionsgate UK releases A Little Chaos in the UK from April 17.
Screen interviewed Rickman ahead of A Litlte Chaos' Toronto premiere.