eOne's animation-comedy Gnomeo & Juliet returned to the top of the UK box office over the February 25-27 weekend, grossing $4m (£2.5m).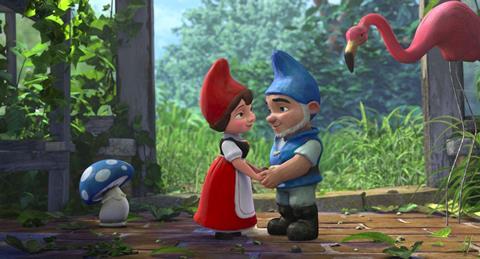 3D-animation Gnomeo & Juliet leapfrogged Universal's Paul to re-claim top spot in the UK. Showing impressive resilience, the comedy grossed $4m (£2.5m) in its third week from 487 locations and a week high location average of $8,282 (£5,139).
Boosted by the half-term break, the U-rated animation musical could draw in a larger demographic than 15-rated Paul and Disney's 12-rated newcomer I Am Number Four.Gnomeo is now the distributor's third biggest film in the territory behind Twilight: Eclipse and Twilight: New Moon.
Gnomeo's running total currently stands at $20.8m (£12.9m), taking it past eOne's 2008 franchise opener Twilight, which grossed $18.3m (£11.2m).
Second-placed sci-fi comedy Paul slipped 62% in its second week, making $3.3m (£2.1m) from 442 locations for a location average of $7,560 (£4,691).
Disney's third-placed action-adventure I Am Number Four was the highest of the week's six new top-20 entries. DJ Caruso's latest, about a high-school teen masking his true identity in order to elude his deadly enemies, made $2.6m (£1.6m) from 393 screens.
In the week it won four Oscars (Best Actor, Best Picture, Best Director and Best Original Screenplay), Momentum's The King's Speech scored a further $1.9m (£1.2m) from a week-high 540 locations (the drama played on 33 more screens than in its seventh week).
The box office sensation has now taken $64.2m (£39.8m) and is hot on the heels of 2001 UK co-production Bridget Jones's Diary ($68.1m/£42m) on the all-time UK chart.
Paramount's romantic-comedy No Strings Attached debuted in eighth, scooping an unremarkable $1.6m (£978,974) from 361 screens. The film is Ivan Reitman's first directorial turn since 2006 comedy My Super Ex-Girlfriend and only his third since 2001 comedy-sci-fi Evolution.
There were further openings for Icon's 10th-placed sequel West Is West, which took $1.2m (£758,226) from 184 screens – original East Is East only opened on $710,111 (£435,627) in 1999 but went on to gross $16.5m (£10.1m), and 11th-placed Lionsgate action-thriller Drive Angry 3D, which made an uninspiring $1m (£651,344) from 365 screens – only a marginal improvement on Cage's previous UK opening of $ 912,709 (£559,769) for Season Of The Witch in January.
Warner's 12th-placed horror The Rite, about an American seminary student who travels to Italy to take an exorcism course, debuted on $1m (£626,159), while Optimum's drama Animal Kingdom opened 17th on $252,518 (£155,081) from 66 screens.
This week sees saturation releases for Optimum's Unknown, Universal's The Adjustment Bureau and Parmount's Rango, while Warner's Ironclad gets a wide launch.