Dir: Christopher Neil. US. 2012. 92mins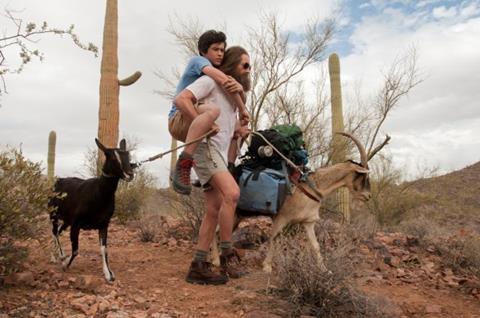 A 15-year-old must decide if he wants his future to more resemble his ditzy, hippie-ish Arizona mother's or his driven, successful East Coast father's in Goats, a coming-of-age comedy/drama that unfortunately doesn't have much new to say on the topic of coming of age. Featuring a starry cast that includes David Duchovny and Vera Farmiga, the feature debut of director Christopher Neil has a few lovely moments – particularly around the film's nicely understated finale – but the overall impression is that too much of this has been done before in better, more striking ways.
There's a poignancy and wisdom in those last few seconds that you only wish could have found its way into the rest of the film.
This Sundance entry, which screened in Premieres, will probably need to take advantage of its marquee actors to help attract audiences. Though reviews may not be particularly glowing, Goats could help get the word out thanks to its familiar genre – not to mention that one of its central characters is a lovable stoner, a reliable comedy staple if ever there was one.
Based on the 2001 novel by Mark Jude Poirier, who also wrote the screenplay, Goats charts the development of Ellis, who lives in Arizona with his mother Wendy (Farmiga) and a man everyone calls Goat Man (Duchovny), a long-time family friend who smokes a lot of pot and has been part father figure, part spiritual mentor to the teen.
But when Ellis goes to the East Coast to enrol in the preppy boarding school his estranged father attended, he begins to rekindle a relationship with his dad Frank (Ty Burrell), which puts him in conflict with his mother, who has never forgiven Frank for leaving.
In its opening stretches, Goats adopts the laid-back vibe of Ellis's open-skied Arizona home. But whether it's Duchovny's clichéd good-time stoner or Farmiga's clichéd New Age goofball, too many of the characters around Ellis feel like cardboard constructions. His Arizona roots are meant to represent an eccentric freedom that's the polar opposite of his dad's more uptight world, but the problem is that Burrell makes for such an inviting character – assisted by Keri Russell as Frank's new wife – that he easily outshines the caricatures Ellis grew up with.
Beyond the surprise that Ellis' father might actually be a better role model for him – despite his mother's protests to the contrary – Goats follows the coming-of-age narrative formula rather predictably. There's the standard love interest (in the form of a game Dakota Johnson), the conventional youthful rebellion, and the expected teen angst. But although it takes far too long to get there, the movie does actually enter some interesting territory near the finale when Ellis returns to see his family in Arizona over the summer.
While some films choose ambiguous endings to suggest an unresolved conclusion, Goats winds down in a seemingly rushed, unexpected way that actually hints at an unspoken choice that Ellis has already made about the course of his life. There's a poignancy and wisdom in those last few seconds that you only wish could have found its way into the rest of the film.
Production companies: Red Crown Productions, Sandia Media, The Arlook Group
International sales: WME, www.wmeentertainment.com, Cinetic, www.cineticmedia.com
Producers: Daniela Taplin Lundberg, Shannon Lail
Executive producers: Daniel Crown, Riva Marker
Screenplay: Mark Jude Poirier, based on his novel
Cinematography: Wyatt Troll
Production designer: Mark Duran
Editors: Jeremiah O'Driscoll, Kevin Tent, Craig McKay
Music: Jason Schwartzman, Woody Jackson
Main cast: David Duchovny, Vera Farmiga, Graham Phillips, Justin Kirk, Ty Burrell, Keri Russell, Dakota Johnson, Anthony Anderson, Adelaide Kane, Nicholas Lobue