Dir/scr: Stuart Murdoch. UK. 2013. 111mins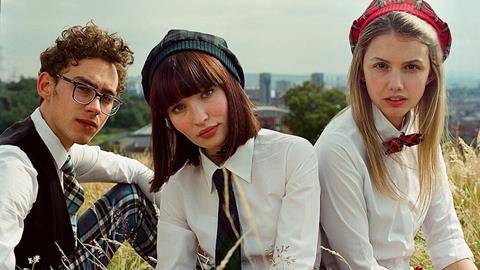 God Help The Girl has a soft whimsy that connects to a time before video clips put editing rhythms into overdrive. As a warmhearted pop musical, its distant ancestor is no less than A Hard Day's Night, and its natural outlet is the crowd of fans of Belle and Sebastian, director Stuart Murdoch's own band.
For a film that begins with depression, God Help The Girl is radiantly blithe. Murdoch is fighting the inner darkness one song at a time.
Its eclectic vintage costuming and production design could also bring in the fashion audience in Europe, North American and Asia. Plus if Emily Browning's career continues to rise, so will the fortunes of this romance.
The film's story brings some welcome local twists to a music-saved-my-life familiarity. Pouty petite Eve (Browning) is a creative girl, a compulsive songwriter who escapes the hospital where she's being treated for depression. At a music performance that could have been in a Noah Baumbach film, she watches nerdy wholesome James (Olly Alexander) as he's tormented by his own band. The two team up with Cassie (Hannah Murray), a friendly blonde whose grooming instincts are stronger than her intellect.
Once bonded by outcast affinity, the trio's goal is to recruit a band, which gives Murdoch the excuse to take them all over parts of Glasgow that are green, historic and tidy. Eve's songs (written by Murdock) observe and celebrate everyday things with innocent literalism. For a film that begins with depression, God Help The Girl is radiantly blithe. Murdoch is fighting the inner darkness one song at a time.
Murdoch may be a first-timer, but his musical instincts, rooted in performance, pay off. (The film was also many years in the making.) He directs the actors in his Peter Pan-ish script with assurance, although never sending them into dramatic heights and depths. The acting challenge here is to measure up to the mythic everyday obstacles that Murdoch's script puts in his post-adolescent characters' paths. By the film's gentle standards, the cast measures up. Just don't expect anything that looks or sounds like an adult, or any music with an edge.
It doesn't hurt God Help The Girl that Emily Browning's soft face seems made for a close-up. Filmed deftly by cinematographer Giles Nuttgens, she brings nuance to dialogue that could easily have fallen flat. Her clothes, an endless ensemble of quirks selected and designed by Denise Coombes, help set a picaresque rhythm for the story's adventures in band-forming.
As James, Olly Alexander stays close to the witty nerd template, but his character does take the two girls in the trio through parks and canals (thanks again to Giles Nuttgens) that soften Glasgow's reputation as a hard-fighting and hard-drinking town. Hannah Murray fills out the softness.
The trio breaks into song in many of these charming locations – celebrating them, of course, with extras dancing in uniform to spoof any Mary Poppins allusions – and the production more than meets the technical logistics of lip-synching pre-recorded songs to the demands of drama. If Murdoch's tunes aren't memorable, the performances can be.
God Help The Girl won't overwhelm you. It's not intended to. Yet it is evidence that Stuart Murdoch has a feel for the craft of cinema and that more meaty subjects are within his reach, should he choose them.
Production companies: Barry Mendel Productions, British Film Company, Zephyr Films, HanWay Films
International sales: HanWay Films, www.hanwayfilms.com
Producer: Barry Mendel
Executive producers: Chris Curling, Phil Robertson
Associate Producer: Beth Allan
Co-Producer: Carole Sheridan
Cinematography: Giles Nuttgens
Editor: David Arthur
Main cast: Emily Browning, Olly Alexander, Hannah Murray, Pierre Boulanger, Cora Bissett