Dir: Gareth Edwards. US. 2014. 123mins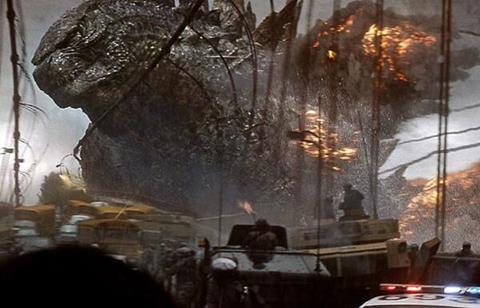 As creature features go, you don't get much bigger than Godzilla. One of the best known of the movie monsters, the skyscraper stomping beast gets a striking new lease of life in Gareth Edwards exciting and entertaining romp that has enough twists and turns – and astute back-story – to keep film lovers happy, and enough city smashing devastation to impress genre fans. Godzilla may have to slug it out with the X-Men and Spider-Man for box office dominance of the early summer, but don't write-off this rather indestructible beastie when it comes to keeping his lycra-suited rivals at bay.
Godzilla turns out to be an enthralling action romp - one that never outstays its welcome, has some stunning 3-D moments and actually leaves you wanting more.
It was back in 1954 that Japan's Toho released Ishiro Honda's monster movie Godzilla in a country still finding its feet after World War II, becoming a massive hit in Japan and spawning a series of sequels and spin-offs. That original was partially re-shot and dubbed and finally released overseas some two years later, setting in motion a substantial fan base for this pop culture anti-hero (of course, played by a man in a monster suit stomping cardboard cities in his early incarnations) to help make Godzilla something of an unlikely iconic figure.
Roland Emmerich's 1998 attempt to kick-start the Godzilla franchise failed, mainly because it treated the monster as just another creature bent on devastation, when in fact the myth of Godzilla is so much more than mere city crunching, with the screeching creature in fact something of a saviour of mankind rather than a villain. Plus, Emmerich's Godzilla was a snarling giant lizard rather then the spiky-backed, broad-legged monster beloved of fans, who can almost look benevolent at times.
In only his second film – a massive leap in scale a budget from his cult debut film, the ultra-low budget fantasy Monsters – British director Gareth Edwards proves to be a phenomenally safe and confident pair of hands, and has come up with an epic adventure – shown in 2-D and 3-D – that balances human determination and courage to fight back against the odds with the traditional monster slugging-it-out dynamics of the original films.
Of course, the 'big' problem with such a monster film is all about scale. Just how do you tell a human story when at its core the film is all about a big old beastie – or beasties - causing havoc around built up areas. But this new version smartly puts a lot of work into its back-story, so when the monster mayhem really kicks in it all makes sense…in an old-fashioned creature feature sort of way.
Over the opening credits, footage points to the fact that nuclear testing in the Pacific in the 1950s was in fact a cover for attacks on monsters from the deep, with the film then switching to a pair of scientists in the 1990s – Dr Ishiro Serizawa (Ken Watanabe) and Dr Vivienne Graham (Sally Hawkins) – from a secretive government organisation visiting a remote mine in the Philippines where a collapse revealed radioactive remains of something very old and rather big.
The story then switches to 1999, where Joe (Bryan Cranston) and Sandra (Juliette Binoche) Brody and their young son Ford live near to the Janjira Nuclear Power Plant, with the pair working as scientists there. When a monster-driven accident rips the facility apart, terrible events tear the family apart. Some 15 years later, Joe is still obsessed with what happened there, while his grown-up son (played by Aaron Taylor-Johnson) – married and with a young son – works for the Navy specialising in disarming bombs, and rarely in touch with his distracted father.
Without giving too much of the story away – and it does have some rather clever twists and surprises – Ford is reunited with his father in Japan just as things get seriously weird as monsters emerge and buildings start to get flattened. The action moves swiftly to Hawaii and finally to San Francisco for a spectacular climax as Godzilla really gets into the action and starts doing his bit to try and save mankind. Despite what trigger-happy humans might think, the big fella is on our side and he can slug it out with the best of them.
Sitting alongside the monster battle plotline is Ford's attempt to make it from Japan to San Francisco to be reunited with his wife (a rather underused Elizabeth Olsen) and son. The only problem is that he seems to be something of a monster magnet, and things get increasingly tense and exciting as he steps up to try and do his bit, culminating in a spectacular HALO (high altitude) parachute jump as he and a team of special forces chappies parachute into a devastated San Francisco to try and bring an end to the monster mayhem.
Aaron Taylor-Johnson is suitably muscled-up and earnest as the Navy man on a mission; Bryan Cranston is nicely loopy as a scientist almost driven mad by his obsession with monsters, and Brit Sally Hawkins is spot-on as a scientist struggling to come to terms with what she is seeing. But in truth, no matter how good they all are, this is a film that comes down to the monster action…and this is where the new Godzilla really delivers.
The special effects are terrific, with the creatures being slowly revealed and getting more and more awesome as they start doing what monsters are supposed to do – destroy things. Beautifully shot by Seamus McGarvey (who oversaw New York getting pulverised in The Avengers) and with stunning production design and an evocative score from Alexandre Desplat, Godzilla turns out to be an enthralling action romp - one that never outstays its welcome, has some stunning 3-D moments and actually leaves you wanting more.
Production companies: Legendary Pictures, Warner Bros
Distribution: Warner Bros
Producers: Thomas Tull, Jon Jashni, Mary Parent, Brian Rogers
Executive producers: Patricia Whitcher, Alex Garcia, Yoshimitsu Banno, Kenji Okuhira
Screenplay: Max Borenstein, based on a story by David Callaham, based on the character Godzilla owned and created by Toho Co.
Cinematography: Seamus McGarvey
Editor: Bob Ducsay
Production designer: Owen Paterson
Music: Alexandre Desplat
Main cast: Aaron Taylor-Johnson, Elizabeth Olsen, Bryan Cranston, Juliette Binoche, Sally Hawkins, David Strathairn, Ken Watanabe