Dir: Nanette Burstein: US. 2010. 102mins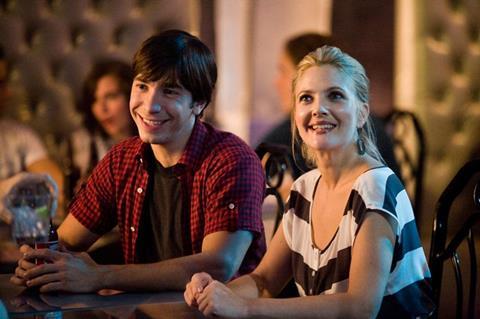 A thoughtful, poignant relationship film lurks at the heart of Going The Distance, but frustratingly the filmmakers are either too timid or too lazy to fully explore their potentially intriguing subject matter: the perils of dating during a time of economic turmoil. Starring on-again/off-again real-life couple Drew Barrymore and Justin Long, documentarian Nanette Burstein's feature debut initially boasts an agreeable sexual frankness and conversational saltiness but too easily resorts to rom-com narrative crutches that betray the movie's bolder thematic undercurrents.
Burstein flirts with a genuinely sobering and bittersweet tone to reflect her characters' competing desires for love and career success.
Going The Distance was only recently pushed back a week to a September 3 release date, a ploy Warner Bros. no doubt hopes will give the film some breathing room against other female-skewing romances, Eat Pray Love and The Switch. Barrymore's star power will have to overcome demographic competition and the normally soft Labor Day weekend frame.
During a summer internship in New York City, aspiring San Francisco journalist Erin (Barrymore) meets Garrett (Long), a record-company employee. They share a blissful six weeks together, but when she has to head home, they agree to remain in a committed relationship, no matter the miles between them and the career obstacles jeopardising their future.
Written by first-time screenwriter Geoff LaTulippe, Going The Distance has a promising premise, bringing together two young professionals in fields severely threatened by both a stagnant economy and the Internet's increasing popularity. In addition, the story takes on the challenge of dramatising a relationship in which the two characters are often on opposite sides of the country.
At first, the sexually graphic dialogue lends Going The Distance a refreshing candour that undercuts the meet-cute preciousness that's typical of most romantic comedies. But soon the tactic loses its charm as Burstein (American Teen) allows the film to become boorish, particularly when Garrett deals with his dully "inappropriate" guy friends. As for the film's topical relevance, Burstein flirts with a genuinely sobering and bittersweet tone to reflect her characters' competing desires for love and career success, but she ultimately settles for genre conventions that keep the story in disappointingly safe emotional terrain.
Barrymore and Long share an easy rapport, but these characters aren't perfect fits for their personalities. Barrymore seems too worldly, self-confident and smart to play this flustered, floundering young woman, and while Long can deliver a punch line he doesn't possess the charisma or dramatic heft to make Garrett's insecurity and anguish compelling.
Production companies: New Line Cinema, Offspring Entertainment
Worldwide distribution: Warner Bros. Pictures, www.warnerbros.com
Producers: Adam Shankman, Jennifer Gibgot, Garrett Grant
Executive producers: Dave Neustadter, Richard Brener, Michael Disco
Screenplay: Geoff LaTulippe
Cinematography: Eric Steelberg
Production designer: Kevin Kavanaugh
Editor: Peter Teschner
Music: Mychael Danna
Website: www.going-the-distance.warnerbros.com
Main cast: Drew Barrymore, Justin Long, Charlie Day, Jason Sudeikis, Christina Applegate, Jim Gaffigan, Ron Livingston