Dir: Brian Perkins. US. 2014. 103mins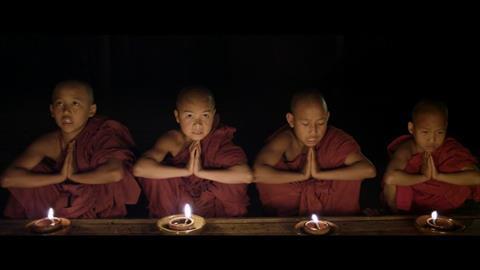 A more spiritual coming-of-age story than most, Burmese-language drama Golden Kingdom is an involving, visually ravishing story about child monks in Myanmar, or Burma, as it's still sometimes known. A remarkably confident debut by Portland-based American director Brian Perkins, it features four young leads, three of them novice Buddhist monks in real life.
Golden Kingdom is compelling and elegantly crafted throughout, and hugely evocative – though never in a falsely idealising way - of an enclosed world with its own lore and beliefs.
Merging fiction with elements of ethnographic documentary, Golden Kingdom is seductively textured both in sound and vision, and its religious dimension, never over-played, could appeal to a wider audience than strictly the art-house sector. It would have some family appeal too – at least, to families of a more adventurous, contemplative nature. Along with its considerable sales potential, it's bound to be a festival staple.
The film is set against the background of Myanmar's long-running civil wars, although the long-closed country has opened up lately. The main locale is a monastery in a hill region, where four young shaven-headed boys – each a ko yin or novice monk – reside under the guidance of their sayadaw or abbot, played by the real–life Sayadaw U Zaw Ti Ka. The boys are seen a number of times going through their morning ritual, waking side by side, then praying to a statue of the Buddha.
These lads, at least some of them orphans, have committed to an ascetic regime – their prayers include a vow to refrain from entertainment - but they still get up to their share of larks, pulling each other over wooden floors on their robes, playing a form of boules, or riding docile buffalo.
Their world begins to change when their Sayadaw travels to the city, leaving the boys alone and placing the oldest, Witizara, in charge; he is played by Shine Htet Zaw, himself not normally a monk, but inducted as one for the duration of filming. The first sign of trouble is when one boy wanders off, and the others worry that he might turn into a tiger; thankfully, help from a neighbour averts that danger.
But before long the boys must venture into the outside world, where signs of war are evident. Singly or collectively, they have various encounters: with a young pregnant woman in search of her husband; with a bullet-wounded soldier; and with a demon figure who challenges Witizara to face a dark night of the soul.
While the film is pitched for the most part in a strictly realist register, the latter sequence is one of two in which Golden Kingdom hits a supernatural note – the other features Witizara's dead mother – but this fantasy element never jars. The only cavil for art cinema purists might be that the film strays into slightly more conventional adventure narrative after so compellingly establishing an leisurely observational tone at the start.
Nevertheless, Golden Kingdom is compelling and elegantly crafted throughout, and hugely evocative – though never in a falsely idealising way - of an enclosed world with its own lore and beliefs. Bella Halben's widescreen photography is subtly beautiful, whether catching details in the boys' small world, or offering more spectacular sights such as a ruined, foliage-covered temple. With its palette dominated by the reds of the boys' robes and other fabrics, the film also features some breathtaking candle-lit chiaroscuro. David C. Hughes provides an atmospheric score heavy on bells, complementing his sound design's insect and bird sounds. The four young leads, whether or not they're simply being themselves, do it very winningly, especially Shine Htet Zaw – effectively the lead player – with his candid, worried features.
Production company: Bank & Shoal
International sales: WideManagement, lm@widemanagement.com
Producers: Brian Perkins, Matt O'Connor
Executive producer: Jessica Ballard
Screenplay: Brian Perkins
Cinematography: Bella Halben
Editor: Sebastien Bonde
Music: David C. Hughes
Main cast: Shine Htet Zaw, Ko Yin Saw Ri, Ko Yin Than Maung, Ko Yin Maung Sein