Dir: Jiang Wen. China-US. 2014. 134mins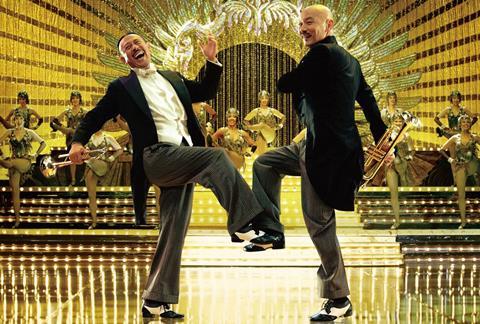 Jiang Wen follows up the incredible success of 2010's Let The Bullets Fly with a suitably ostentatious and convoluted yarn about the violent ramifications of a rigged beauty pageant in 1920s Shanghai. Pulsating with splashy dance numbers, garish visuals and an overzealous desire to hit Western audiences right in their nostalgia pleasure centre, Gone With the Bullets proves an unwieldy, self-indulgent ride.
Gone With The Bullets plays out like a deranged, vaudevillian variety show, an everything-but-the-kitchen-sink attempt to reach an international audience.
Co-produced by Columbia Pictures, in a not-so-subtle attempt to ensnare ever-elusive Western audiences with mainstream Chinese fare, Jiang's film will likely baffle more casual viewers than it baits. But those with the courage and open-mindedness to embrace this Baz Luhrmann-esque barrage of bravado and burlesque should find enough to entertain them within its sprawling 134 minutes. The film screens in competition at Berlin.
At one time conceived to be a sequel of sorts to Let The Bullets Fly, Jiang Wen's 5th feature emerges as very much its own beast. Taking on the lead role himself, Jiang plays Ma Tiao-jih, a Manchurian gangster now settled in Shanghai, during the tumultuous Warlords Era of the 1920s. At his side is partner-in-crime Hsiang Fie-tien (Ge You), who weasels his way into the position of Police Chief of Shanghai's French Concession.
When Wu Qi (Zhang Wu), the errant seventh son of a local General comes to Ma for help launder his father's wealth, Ma agrees by staging an elaborate beauty pageant for the city's most exotic escorts, all filmed by Wu's sister Wu Liu (Zhou Yun). However when Ma's ringer, Ying Wanyan (Shu Qi), wins and offers herself to the highest bidder for 30 days, Ma's fit of jealousy sets in motion a calamitous chain of events.
An established actor in film and TV since the 1980s, Jiang Wen became a festival circuit darling when his 1994 directorial debut In The Heat Of The Sun swept the Taiwan Golden Horse Awards and earned its 15-year-old lead actor Xia Yu the Volpi Cup at Venice. With each successive film, Jiang found success in Europe, while increasingly courting controversy back home.
After entering 2000's Devils On The Doorstep into Cannes - where it won the Grand Prix - without gaining prior approval from the Chinese government, Jiang didn't direct another film for seven years. Many speculated that this was punishment for failing to follow protocol, as well as the film's portrayal of Chinese villagers' benevolent attitude towards Japanese soldiers.
When Let The Bullets Fly opened in December 2010 it quickly became the most successful Chinese language film of all-time at the domestic box office. Just last month, Gone With The Bullets had its Beijing premiere postponed, as Jiang and China's censorship board - the State Administration of Press, Publication, Radio, Film and Television (SAPPRFT) - failed to agree on a final cut in time.
Jiang's tumultuous relationship with the Chinese film industry plays a central role in Gone With The Bullets. The second half of the film sees Ma accused of murder and cajoled by the local authorities into portraying himself in a propaganda film, in which his execution will be faked and spoon-fed to the masses as the real deal. Not only does Jiang here criticise, albeit in a humorous way, how governments can use cinema as a tool for manipulating their people, he portrays himself as a hand-tied puppet, forced to make films he blatantly disagrees with, while being incarcerated without a fair trial.
The ambition in Gone With The Bullets is to tackle these pertinent subjects in a way that will get past SAPPRFT's opaque censors, and also work in the context of his multimedia vaudeville act. Arguably, Jiang fails to keep all of his balls in the air at once, with the sequences dealing with the death of a particular character and his subsequent demonisation sitting uncomfortably alongside the more theatrical showmanship of the rest of the film. In part this is due to Ma and Wanyan - ostensibly the film's heroes - being largely absent from the film's second half, as General Wu (Harrison Liu), Hsiang and Wu Qi plot Ma's downfall. However, there may also have been some last-minute editorial tinkering at play too.
The two halves of the film can be largely distinguished by the women in Ma's life. The first half is all about Shu Qi's Ying Wanyan, the veteran escort now looking to settle down with the right man. In the second half, Wu Liu comes to the forefront, with whom Ma had a possibly chaste flirtation with many years previous. Played by Jiang's real-life wife Zhou Yun, Wu Liu is the filmmaker responsible for the crowdpleaser "The Execution of Ma Tsao-jih", playfully noted to be China's first silent film. It is also one of many opportunities for Jiang to incorporate a variety of different filmmaking styles into his kaleidoscopic epic.
Shot in 3D for a reported RMB300 million ($48 million), Gone With The Bullets is nothing if not incredibly ambitious. If Jiang Wen's pre-Bullets efforts examined the state of the Chinese nation from a realistic perspective, that all makes way here for a highly affected aesthetic that frequently recalls Baz Luhrmann's Moulin Rouge and The Great Gatsby. The lights are bright, the costumes sparkle and the soundtrack trembles with everything from Strauss and Puccini to Maxine Sullivan's "The Bonnie Banks O' Loch Lomond". Every cent of the budget is right up there on screen and slickly displayed, despite the lack cohesion or restraint.
After a quote from Shakespeare, Gone With The Bullets opens with a shot-for-shot reconstruction of the iconic sequence that begins Francis Ford Coppola's The Godfather, complete with Jiang apeing Brando's mannerisms and distain for not being shown the proper respect. Right from the outset Jiang makes it absolutely clear that he wants Western audiences on his side, and that he wants us to rest assured he understands Hollywood cinema.
Over the next two-and-a-quarter hours Jiang presents a procession of jazz, studio musicals, silent era comedies, opera, folk music and every optical effect from the dilated iris to the rear screen projection. The film's finale plays as a clear homage to Cervantes' Don Quixote, as if to say, perhaps, that Jiang already knows his efforts have all been in vain. For what Gone With The Bullets fails to acknowledge, is that Western tastes may include some of the aforementioned styles, but rarely all at once.
Gone With The Bullets plays out like a deranged, vaudevillian variety show, an everything-but-the-kitchen-sink attempt to reach an international audience. As it is, however, that winning formula remains as elusive as ever, not just to Jiang, but Chinese filmmakers in general. Zhang Yimou's casting of Christian Bale in The Flowers of War - a huge budget war movie with incredibly Chinese sensibilities - failed to make an impact overseas, and Jiang's nostalgia-spiked cocktail will likely suffer a similar fate. There are individual moments that work fantastically, not least when Wu and his daughter break into a full-blown opera duet during a climactic wedding party, but as a whole, Gone With The Bullets is a bloated, rambling hotchpotch with a serious identity crisis.
Production Companies: Beijing Buyilehu Film & Culture, Columbia Pictures, Emperor Motion Pictures
International sales: Emperor Motion Pictures, www.emp.hk
Producers: Albert Lee, Yin Hongbo
Executive Producers: Albert Yeung, Ma Ke, Jiang Wen
Screenplay: Jiang Wen, Wang Shuo, Liao Yimei, Shu Ping, Yan Yunfei, Guo Junli, Sun Yue, Sun Rui, Yu Yanlin
Cinematography: Xie Zhengyu
Editors: Jiang Wen, Cao Weijie, Zhang Qi, Zhang Yifan, Jiang Jiashuang, Dalong Cui, Zhou Yue, Zheng Ting
Production designer: Liu Qing
Main cast: Jiang Wen, Ge You, Shu Qi, Zhou Yun, Zhang Wen, Harrison Liu, Wang Zhiwen