Dir: Gianni Di Gregorio. Italy. 2014. 87mins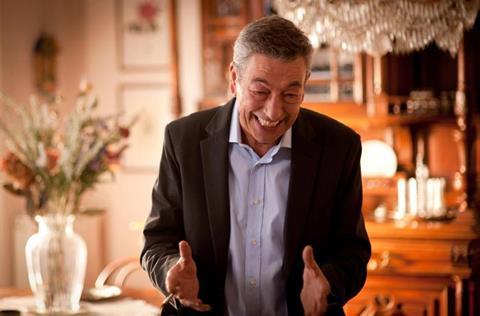 Italian comedy must be one of the most unexportable of all film genres – for good reasons, cruel realists will say. Director Gianni Di Gregorio furnished one of those exceptions that prove the rule back in 2008, when his charming, self-starring geriatric divertissement Mid-August Lunch proved to be a small sleeper hit in several territories. His second, Salt Of The Earth (2011), felt like something of a reprise – and it came without the bevvy of magnificent old ladies that made his debut such a delight – but it still scored a dozen or so mostly European distribution deals. There's no reason why the third 'Gianni the Roman flaneur plays Gianni the Roman flaneur' outing shouldn't continue to plough the furrow with equal success.
The final impression is of a grace and delicacy of touch that refreshes in a territory where comedy is so often laboured and lurid.
Though Good For Nothing (Buoni a Nulla) breaks no new ground, and despite some script wobbles (particularly in the abrupt, over-neat finale), the film displays the same gentle, melancholic humour that is Di Gregorio's stock in trade, and once again pulls off the useful trick of sending Italy up while at the same time selling the pleasures of its lifestyle.
Like Woody Allen, Di Gregorio makes the slightest tweaks to his persona from film to film (and so far, unlike Allen, he's starred in all of them). Once again, he's living a bachelor-like existence in a flat somewhere in Rome's picturesquely crumbling centro storico. All he wants is an easy life, but Gianni is easily railroaded – collared into a long, dull condominium meeting by a nosy neighbour, and playing for time rather than refusing point blank when his shrewish ex-wife tells him that the apartment is too big for a single man when he has a married daughter who's looking for a central perch.
He keeps his head down at his cushy job in some pen-pushing municipal heritage department too, simply clocking in and reading the papers like most of his colleagues. But on the eve of his much-awaited retirement, his boss informs Gianni that following a change in the law he's being kept on for another three years – and moved to departmental HQ, a huge steel-and-glass block beyond Rome's outer ring-road.
It's a good, solid comic premise and one that is riffed on amusingly, with Gianni's dismay at the change masked effectively by the sheer niceness of his persona (in an effective running gag that anyone who has been to Rome will identify with, he is so mild-mannered he can't actually cross busy roads). In his new workspace, he's berated for lateness and given actual work to do – but he soon discovers that here too the regime of efficiency is just a veneer, with most of the work falling on the shoulders of long-suffering Marco (Marzocca), the only one in his office who know how to use a computer. The ever-optimistic Marco is used by buxom colleague Cinzia (Lodovini, a versatile actress who makes the most of the film's broadest comic role), while further up the pecking order, Anna Bonaiuto puts in an enjoyable cameo as the departmental boss whose right-hand man, smarmy Christian (Imparato), doubles as her dog-walker.
It's not long before Gianni realises that if he doesn't start to say no to people, he's going to go the way of poor, put-upon Marco – who in the meantime has become his workplace confidant and footie-watching friend. After an unconvincingly rapid switch from Mr Nice Guy to Mr No – which leads to office promotion and romance – the narrative focus shifts a little from Gianni to Marco, whose attempts to follow his friend's lead ends, briefly, in failure and depression.
This slight darkening of the mood is an interesting departure for Di Gregorio – but it reminds one that there's always been a slight desperation lurking behind the actor-director's affable on-screen persona, the sense of frustration that in certain cultures the meek or just plain polite shall never inherit the earth. But it's a passing cloud: soon we're back on gentler tracks, and if the ending feels as neat and rushed as a comic opera finale, the final impression is of a grace and delicacy of touch that refreshes in a territory where comedy is so often laboured and lurid. The jaunty soundtrack, influenced by Italian folk melodies and Latin American dance rhythms, seals a neat package.
Production companies: Bibi Film, Rai Cinema
International sales: Janine Gold, janinegold13@yahoo.com
Producer: Angelo Barbagallo
Screenplay: Gianni Di Gregorio, Pietro Albinio Di Pasquale
Cinematography: Gogo Bianchi
Editor: Marco Spoletini
Production designer: Susanna Cascella
Music: Enrico Melozzi
Main cast: Gianni Di Gregorio, Marco Marzocca, Valentina Lodovini, Daniela Giordano, Gianfelice Imparato, Marco Messeri, Camilla Filippi, Anna Bonaiuto