Dir/scr: Lucia Carreras. Mexico. 2012. 88mins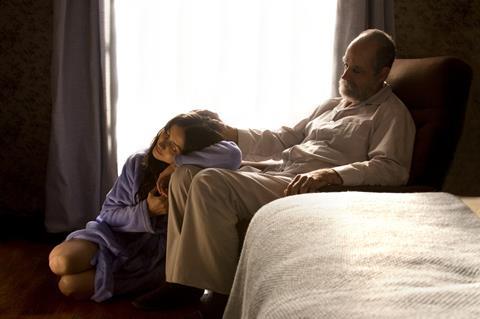 A gentle and delicately thoughtful delve into the state of mind of a young woman after the death of her father - a father with whom she had a near pathological dependence on - Goodbye, Dad (Nos Vemos, Papa) may well be too low-key and thoughtful to break out to international audiences, but it is driven by a moving lead performance by Cecilia Suarez aided by an intelligent script by director Lucia Carreras.
Cecilia Suarez is terrific as the sad and damaged Pilar.
There are hints and clues that Pilar (Suarez) may have had a little bit too close relationship with her father, there Carreras never shows anything explicit, leaving it the audience to come to their own conclusions. In that sense there is a good deal of deftly handled suspense in the film, which screened recently at the Karlovy Vary Film Festival following its world premiere at Mexico's Morelia International Film Festival. Further festivals invites are highly likely.
As the film opens, Pilar, before she heads off to work, lays out the breakfast table for her father. But when she returns home it is untouched and she realises he had died. Traumatised, she withdraws into her own world, imagining moments from her childhood and wandering the house they shared in a virtual daze.
Her family slowly try and get her to think about selling the house and moving on, and while she knows that important decisions have to be made, her emotional link to the memory of her father and the house itself – and the memories it stores for her – make such a decision almost impossible.
A delicately structured psychological suspense story – 'suspense' only in the gradually unveiling of Pilar's story – the film does not resort to violence or sexuality nor does it ever try and rack up the drama, with the talented debut director Lucia Carreras (who co-scripted Cannes 2010 Camera d'Or winner Leap Year) preferring instead to skilfully reveal the truths of Pilar's past, which focus not just on her relationship with her father, but also with her brother and her niece.
Cecilia Suarez is terrific as the sad and damaged Pilar, whose graceful and at times powerful presence as she drifts through the house is the heart and soul of this gently gripping film.
Production company: Machete Producciones
International sales: Bogeydom, www.bogeydomlicensing.com
Producers: Edher Campos, Luis Salinas
Cinematography: German Lammers
Editor: Oscar Figueroa Jara
Music: Christian Basso
Website: http://www.nosvemospapa.com/
Main cast: Cecilia Suarez, Marcelo D'Andrea, Arturo Barba, Gabriela de la Garza, Veronica Langer