Virtual reality and immersive story-telling are all the rage and the Annecy Animation Festival is about to offer a taste when Google premieres a short from its Spotlight Stories series.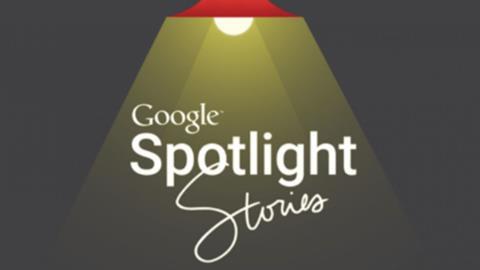 Rain Or Shine directed by Felix Massie and presented in association with London's Nexus Productions, follows a young girl as she walks about a London square followed by a peculiar set of circumstances. A 'linear', non-VR version of the trailer debuts here on Screendaily.
Besides marvelling at the delightful animation, viewers of the short will be able to rotate their iOS or Android device and venture a little deeper into the world before their eyes. Sensors on the device render the story interactive so that when the user moves the device to select scenes it unlocks side stories.
The story previews at Annecy on June 15 and will debut YouTube and on the Google Spotlight Stories App later this summer. Just download the app for iOS devices or enjoy Spotlight Stories on YouTube's Spotlight Stories channel via Android devices. Both avenues are compatible with Google Cardboard and the content can be watched without goggles.
Jan Pinkava, a former Pixar employee who now works as creative director at Google Spotlight Stories, says immersive story-telling offers exciting opportunities for film-makers.
"You're putting the audience inside the story and that's the big difference from watching a movie in a theatre," says Pinkava, who works hard with his team to ensure users do not stray from the central narrative.
"In a 360 degree world it's very easy to lose the thread and one of the things we can do with out technology is have the show interact with the audience.
"You watch the show but the show can wait for you if you don't happen to be looking in the right direction. With things like that we can begin to once again present a coherent narrative with a beginning, middle and end that makes sense."
This is important: some examples of VR content on offer at festivals in the first half of the year have allowed viewers to wander off and literally lose the plot. It's a disconcerting experience to say the least.
"We don't want audience to feel they're doing something wrong or missing an idea," says Pinkava, who directed the first short in the Spotlight Stories series, Windy Day.
Besides Rain Or Shine, visitors to Annecy will get the chance to watch two other Spotlight Stories: Pearl by Patrick Osborne and Special Delivery by Tim Ruffle of Aardman Animations.
Pinkava takes part in an early evening session on June 13 entitled Once Upon A Time In 360° and Spotlight Stories creators will take part in other presentations throughout the week.