Warner Bros.' Green Lantern takes $4.0m (£2.5m) to debut at number one.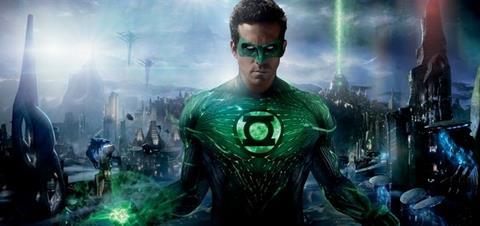 Comic book adaptation Green Lantern's $4.0m (£2.5m) opening was enough to knock Kung Fu Panda 2 off the top spot. Starring Ryan Reynolds as the titular superhero, it garnered a decent average of $8,385 (£5,174) from its 478 locations, but the overall figure is underwhelming in comparison to other superhero launches.
Paramount's Thor, a relatively unknown comic book character like Green Lantern, hammered its way to $8.8m (£5.4m) on its opening weekend, although that did include $3.8m (£2.3m) from previews and from slightly more locations (500); Iron Man also managed to take $8.9m (£5.5m) on debut for Paramount back in 2008.
Animated-comedy Kung Fu Panda 2 grossed a further $3.7m (£2.3m) for $15.0m (£9.2m) overall as it fell to second. Paramount's sequel is currently down on the original's performance, which stood at $19.9m (£12.3m) in its second week on the way to a final haul of $32.9m (£20.3m).
Bad Teacher may not have been top of the class, but Sony can be very pleased with a third-place opening of $3.2m (£2.0m) as it marks the company's biggest in 2011 so far. Jake Kasdan's comedy, starring Cameron Diaz and Justin Timberlake, averaged $7,431 (£4,587) from its 427 locations.
Warner Bros.' The Hangover Part II and 20th Century Fox's X-Men: First Class took $2.4m (£1.5m) and $2.0m (£1.2m) respectively as the top five films all grossed over $1.6m (£1m) for the first time since the May 6-8 weekend.
Senna continued to impress in its third week after expanding to 185 locations as it races towards £2m. Universal's biographical racing documentary now stands at $2.9m (£1.8m) and dropped just 8%, the best holdover performance in the top 20, to stay in seventh.
The week's second highest new entry belonged to Potiche after a strong $326,550 (£201,588) debut saw it come off the shelf and chart ninth. Optimum's comedy is one of the best French openings of recent years, beating the likes of Little White Lies ($203,502 / £125,627 from 58) and Heartbreaker ($193,969 / £119,742 from 59), and achieved the week's second highest location average with a sterling $10,204 (£6,300) from just 32 locations.
A trio of new entries didn't fare quite as well with Metrodome's 11th-placed Stake Land the best of the rest after a ($109,810 / £67,796) debut from 61 locations. Icon's The Beaver ($89,384 / £55,185 from 88) and Scott Free's Life In A Day ($73,812 / £45,572 from 38) followed in 12th and 13th respectively.
In a busy week at the UK box office, there were a further three new entries in the top 20: Ayngaran's Avan Ivan was solid in 15th after grossing $49,915 (£30,818) from only 14 locations; Swinging With The Finkels managed just $41,368 (£25,541) at a woeful average of $350 (£216), marking an inauspicious start for distributor Uno Film.
Finally, IMAX's Born To Be Wild 3D ran free with a highly commendable $28,949 (£17,873) from its only location at the BFI IMAX in Waterloo.
This week's only saturation release belongs to Universal's Bridesmaids, while Dogwoof's Countdown To Zero, Soda's The First Grader and Trinity's Oscar-nominated Incendies all receive limited releases.