The co-director and the co-writer of Skyline talk to Jeremy Kay about working outside the studio system on the upcoming thriller.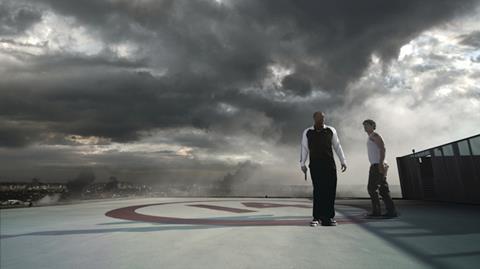 After relocating from Chicago to Hollywood while still in their teens, visual effects masters Greg and Colin Strause found work with some of the biggest names in the business. They worked in commercials, directed music videos, founded the Santa Monica-based world-class effects house Hydraulx, and made their feature directorial debut on AVPR: Aliens Vs Predators – Requiem.
Their follow-up Skyline, the plot of which is a closely guarded secret but essentially involves characters waking up from a party in Los Angeles in time to witness an apocalyptic event, is now in post. CAA packaged the project and IM Global is handling international pre-sales.
How did you catch the film-making bug?
Greg Strause: "Colin and I started making little movies on a Hi-8 camera when we were very young. Our dad bought us this little camera and we would make stop-motion films with our GI Joe figures. We bought this little mini studio for $2,000 and we started emulating the effects from The Mask when we were in our teens. I opened the Yellow Pages and we found work on a commercial. We convinced our parents to loan us the money to buy a bad-ass computer and after Jurassic Park came out we knew we needed whatever computer they used on that. It cost about $30,000 and my dad had just been laid off from IBM, so we convinced him to give us the money and we bought it. It was still so early days in effects. Terminator 2: Judgment Day was the big life-changer for us. When we saw the T-1000 coming out of the flames I knew that was what we wanted to do. Jim Cameron changed our lives."
You started to find regular work in commercials but how did you get the chance to move to Los Angeles?
GS: "We sent a demo reel out on VHS because there was no internet really then. Someone hired us to go out and work on this John Landis film called The Stupids. At 18 and 16 years old we were being offered $5,000 per week if we brought our computers out. After two weeks of being out here I met Edson Williams, with whom I would later work on The Curious Case Of Benjamin Button [Williams would serve as visual effects supervisor on that film.] I moved into the Pacific Palisades next to Edson and we got work on The Nutty Professor. Before we knew it we were driving over to Jim Cameron's place to work on Titanic. We did about a dozen shots like the iceberg coming out of the mist, etc. They were exciting times."
How did you move into features?
GS: "By around 1997 we started diversifying from exclusively doing film to music videos and commercials. We met some people like Jonathan Dayton and Valerie Faris who directed Little Miss Sunshine and we met Francis Lawrence who went on to direct Constantine and I Am Legend. These guys trusted us to shoot effects elements on second unit – that was the next big step. We would work like maniacs all through the night until the work was done.
"People were telling us to direct and we did a few music videos with Vitamin C and Linkin Park just as they were about to become huge. The music video space became our catapult because it's very difficult for someone from effects to parlay that into directing features. If you do music videos, they regard you as a director. We got representation by WMA and started talking about directing a feature. It took a while to get one where everything gelled. We learned the art of the pitch meeting and in spring 2006 we had a great pitch meeting on the AVPR: Aliens Vs Predator – Requiem. Two weeks later Fox hired us to direct our first feature."
On Skyline, you've stepped outside the studio system. Why?
GS: "Sometimes on a studio movie there can be too many cooks in the kitchen and I get it, because there's a lot of money at stake and it matters to a lot of people. It matters to us too and we just felt we wanted more control on our next movie. Last summer we knew we had to take the next step. WMA had been great but they were going through the merger so it seemed like the time to shake things up and we moved to CAA. They have made us be even more ambitious. We'd planned to start making our own movies when we were in our forties but they said now was the time. It was time for us to control it all. They put the movie together and we got a chunk of equity from our friend and producer Kristian James Andresen, and we put in some money and IM Global came on board to do foreign pre-sales. We shot a trailer for the EFM in ten hours and that gives a good idea of how the movie will look."
How did you write the script?
Liam O'Donnell: "We had some very efficient development meetings where everybody was on the same page. Within the first day we had several pitches of the script. Josh [Cordes, co-writer] and I worked at it and meshed them together and about one and a half months later we had a script. It was the first time each of us had worked with someone else. I worked at night and he worked during the day. We would pass each other notes at the end of our respective sessions and we could work on because we had a pretty detailed outline."
O'Donnell: "We wanted to do a story about people in their early thirties. There's not really a market for that – horror and thrillers are for the younger crowd and then there are stories for a couple of generations older than the guys in their thirties but there's nothing in the middle. Our story is about this guy [played by Eric Balfour] who works hard and hasn't got to where he wants to be in life and his girlfriend is pregnant and he's not got the money to make them happy. He's invited to his friend's place in Hollywood and this apocalyptic event takes place and he has to make a decision."