Dir/scr: Tommy Wirkola. US. 2012. 88mins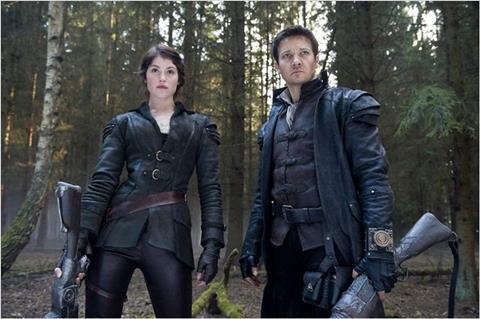 Showing the same irreverent attitude toward 19th century fairy tales as he previously did zombie horror movies, Norwegian writer-director Tommy Wirkola's Hansel & Gretel: Witch Hunters boasts some darkly amusing moments in an otherwise undernourished action-fantasy tale. As a follow-up to his 2009 breakthrough, the cheeky and outlandishly gory Dead Snow, Wirkola's Hollywood debut feels like just another tired attempt at rebooting and refreshing a familiar property, although his anarchic spirit at least keeps things interesting around the edges.
Hansel & Gretel works best as an unapologetic B-movie action flick, particularly with Arterton delivering a nicely stripped-down, badass performance as the confident Gretel.
Opening January 25 in the US, Hansel & Gretel is expected to do solid business in its first weekend, boosted by the star presence of Jeremy Renner and Gemma Arterton. Other action movies will begin muscling in on these Witch Hunters' turf in subsequent weeks, with mid-February's A Good Day To Die Hard its most imposing competition. The flm has already opened in Russia. The film's R rating in the States will keep away teen viewers, but still this looks like a strong mid-range performer (thanks in part to 3D ticket sales) that won't be hurt too badly by negative reviews.
Reimagining the Grimm brothers' fable of two young children tormented by an evil witch, Wirkola's film fast-forwards to adulthood when Hansel (Renner) and Gretel (Arterton) are now bounty hunters paid to rid the land of the loathsome creatures. But when they encounter a powerful witch named Muriel (Famke Janssen), they unexpectedly delve into their past, learning the truth about what happened to the parents they believed abandoned them.
In Dead Snow, Wirkola paid homage to horror-comedies such as Evil Dead, pitting a bunch of pretty young people against a merciless band of Nazi zombies. Hansel & Gretel is nowhere near as gruesome and gross-out as that film, but for a studio picture it does exhibit an enjoyably nasty streak, revelling in its few truly disgusting bloody moments. (Heads get pulverized like watermelons; body parts fly here and there.)
Hansel & Gretel works best as an unapologetic B-movie action flick, particularly with Arterton delivering a nicely stripped-down, badass performance as the confident Gretel. This young lady is just as tough and capable as her brother Hansel, and unlike the more wooden Renner, Arterton has a lightness to her that acknowledges the movie's self-aware silliness. Still, Wirkola stages his fight sequences and chase scenes with a gritty urgency and comic-book boisterousness that, like the gore in Dead Snow, turns their excessiveness into a down-and-dirty virtue.
Despite some superb practical effects, including a kind-hearted troll who befriends Gretel, the movie is much less interesting from a storytelling perspective. Wirkola's well-armed Hansel and Gretel are essentially smart-alecky, gun-slinging cowboys transplanted into a fairy-tale setting, and his attempts to flesh out their backstory through the course of the movie mostly fizzle. Along the same lines, while Janssen lends Muriel a slightly campy bitchiness, she's not all that compelling of a villain.
At under 90 minutes, including credits, Hansel & Gretel feels like a first film in a franchise that's meant to set up the main characters and conflicts, which can then be fleshed out in sequels. (Even the film's ending opens the door for future instalments.) The problem is that there isn't enough here to warrant a return trip to this semi-magical land.
Production companies: Metro-Goldwyn-Mayer Pictures, Gary Sanchez Productions
Domestic distribution: Paramount Pictures, www.paramount.com
Producers: Will Ferrell, Adam McKay, Kevin Messick, Beau Flynn
Executive producers: Denis L. Stewart, Chris Henchy, Tripp Vinson
Cinematography: Michael Bonvillain
Production design: Stephen Scott
Editor: Jim Page
Music: Atli Örvasson
Website: www.hanselandgretelmovie.com
Cast: Jeremy Renner, Gemma Arterton, Famke Janssen, Peter Stormare