Dir. David Yates. US/UK 2009. 153mins.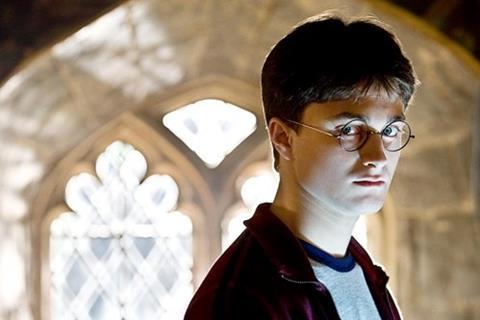 Even with 153 minutes at their disposal, David Yates and his team struggle to whip J.K. Rowling's 608-page tome into a consistently thrilling cinematic experience in Harry Potter And The Half-Blood Prince, the sixth novel in the series and a protracted set-up for the finale, Harry Potter And The Deathly Hallows, which Warner Bros will split into two films.
While individual sequences are undoubtedly the most exciting of this summer's blockbuster season – a dizzying opening, for example, shot from an aerial perspective in which Death Eaters rain their havoc down on London, collapsing the Millennium Bridge – Prince never quite connects the dots into a ripping ride, playing out instead in a series of gentle interludes. Fans will adore it, needless to say; Prince is as well-made as any of the Harry Potter films, if not technically superior. Warner Bros. can certainly expect business to approach the last, which went out in a similar time-slot (Harry Pottter And The Order of the Phoenix, July 11, 2007; worldwide gross of $938m, domestic opening weekend $77.1m).
Most impressive of the team is a hissing Helena Bonham Carter returning as the evil Bellatrix Lestrange.
But the two-year gap between this and the last, plus the sense that there are still two more similar-sized epics to come, could limit Harry Potter And The Half-Blood Prince to more committed audiences. Its darker, more deliberate, scene-setting could make it a slightly awkward fit into blockbuster season, and it is certainly a difficult film for any newcomer to the series. Harry's fans are a stalwart bunch, though, and there's plenty in here to attract returnees and keep the franchise afloat.
There's almost a parental poignancy to Prince; the Harry Potter (Radcliffe) who set out for Hogwarts almost eight years ago with pals Hermione Granger (Watson) and Ron Weasley (Grint) is a child of the past. My, hasn't he grown! Isn't Watson turning into a fine young actress? And Grint has certainly bulked up. Yates, returning from Phoenix with franchise veteran screenwriter Steve Kloves (who sat out Phoenix but adapted the previous four films), replaces much of the old Hogwarts magic (moving pictures, ghosts in the toilets, etc), with sequences of flirting and yearning between the leads and secondary players. This provides light relief from a very dark story, but it can stall momentum for Harry Potter And The Half Blood Prince.
All the series regulars are crammed in here (apart from Ralph Fiennes' adult Voldemort; the character appears instead in two crucial flashbacks as a young boy and a teenager). Some of the support cast – David Thewlis as Remus Lupin and Timothy Spall's Wormtail, for example – barely register. This movie really belongs to Harry and Hogwarts' Professor Dumbledore (Gambon) as they seek to unravel Voldemort's past and find the key to destroying him in the future, although viewers aren't told about the magical "horcruxes" which could halt the Dark Lord's seemingly unstoppable advance until over two hours into the film.
Much play is made of Harry being "the chosen one", although he never seems in real peril here – Dumbledore moves to the fore to take all the risks in Prince. Jim Broadbent is a new addition to the crew as Vodemort's former potions professor Horace Slughorn, while Helen McCrory makes a brief appearance as Draco Malfoy's (Felton) mother. Most impressive of the team is a hissing Helena Bonham Carter returning as the evil Bellatrix. With screentime scarce for supporting actors, she certainly makes the most of what she is given. And Alan Rickman reliably hits the right notes as the sinister Severus Snape, showing his true colours at last.
Stunningly shot by Bruno Delbonnel in metallic hues leavened by buttery tones – his unique vision even brings a fresh perspective to the inevitable Quidditch scenes - this Harry is certainly a technical wizard of a film. While Prince never quite builds up to bone fide set pieces, sequences such as Dumbledore's Moses moment parting the waves, or Bellatrix laying waste to Hogwarts' famed dining halls, are individual classics. The thumping beats of Nicholas Hooper's score bear little resemblance to the original and the overall effect is much less twee, much more grown-up.
Harry Potter And The Half-Blood Prince's tagline is "Once again, I must ask too much of you, Harry", and Yates matches Dumbledore with his demands on the audience (although 153 minutes is no franchise record – that lies with Chamber of Secrets' 161 mins). One gets the sense, however, that the director is creating currency here which he will presumably spend in the last two episodes (Yates is director on both; Deathly Hallows 1 is due out in November 2010 ; the final in July 2011). Let's hope he goes on a spree.
To sign up for Screen's weekly Reviews Newsletter please click HERE
Production companies
Heyday Films
Worldwide distribution
Warner Bros
Producers
David Heyman
David Barron
Screenplay
Steve Kloves, based on the novel by JK Rowling.
Cinematography
Bruno Delbonnel
Editor
Mark Day
Production designer
Stuart Craig
Costume designer
Jany Temime
Main cast
Daniel Radcliffe
Rupert Grint
Emma Watson
Michael Gambon
Jim Broadbent
Helena Bonham Carter
Robbie Coltrane
Warwick Davis
Alan Rickman
Maggie Smith
Timothy Spall
David Thewlis
Julie Walters