Dir: Evelyn Purcell. US. 2013. 92mins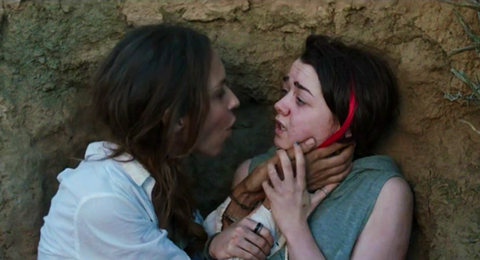 There is a reassuring sense of familiarity to Evelyn Purcell's nicely made though never overly challenging Africa-set thriller. It is an easy-to-watch danger-in-the-desert romp that while never really setting the pulse racing at least offers modestly glossy entertainment that could well appeal when it makes its way to home entertainment.
The film is nicely shot and the locations terrific, but somehow it never really clicks into fully-fledged action.
Of chief interest for Games Of Thrones fans will be seeing young up-and-coming British star Maisie Williams (who plays Arya Stark in the series) switch fantasy heroine to imperiled teen in Heatstroke. Casting of the likes of Stephen Dorff and Peter Stormare may well help on the poster, but for many the main draw will be Williams.
Hyena expert Paul (Dorff) reluctantly takes along his rebellious and permanently grumpy teen daughter Jo (Williams) – we know she is a sulky teen because she a streak of red-dyed hair and cant live without her mobile or iPad – on a trip to Africa to track the snarling/laughing beasties. For Jo, to make matters worse, also along for the ride is her father's new girlfriend Tally (Svetlana Metkina, from Bobby), a straight-talking and lithe Russian who happens (handily as it develops) to be a search and rescue specialist.
Things take a turn for the worst when Paul and Jo come across gunrunners. When they don't return to the camp, Tally sets off in search and find the battered jeep and only a terrified Jo left alive. With no water, they set off across the African desert in a bid to survive. Danger (well, apart from the lack of water, burning sun and wild animals) comes in the form of boss gun-runner (Peter Stormare) who is determined to leave not witness to his business.
The film is nicely shot and the locations terrific, but somehow it never really clicks into fully-fledged action. We know Tally is a tough nut because in an opening scene she seen bloody and battered being chased across the desert by a plane, and while there are a few 'special skill set' moments, the fight scenes are never really thrilling and over far too quickly. Svetlana Metkina has the grace and style for the lead role – the film is essentially a vehicle for her – but not yet the natural charisma, though young Maisie Williams shines in the clichéd stroppy teen role.
Production companies: Bold Films, Film Afrika Worldwide, Apollomovie
International sales: Sierra-Affinity, www.sierra-affinity.com
Producer: David Lancaster, Michel Litvak, David Lancaster
Executive producers: Gary Michael Walters, Evelyn Purcell
Screenplay: Evelyn Purcell, Anne Brooksbank, based on the novel Leave No Trace by Hannah Nyala
Cinematography: Bon Nott
Editor: Ronelle Loots
Production designer: Emilia Roux
Main cast: Stephen Dorff, Svetlana Metkina, Maisie Williams, Peter Stormare, Andrew Roux