Dir: Mona Achache. France. 2009. 99 mins.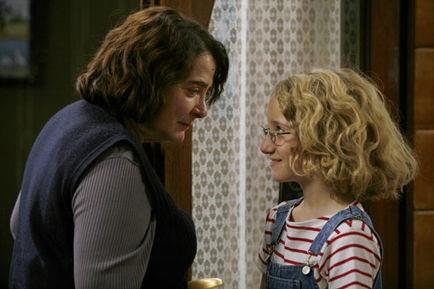 Bittersweet, leisurely and ultimately touching, Hedgehog (Le Herisson) is a well-cast venture with fairy-tale overtones concerning a precocious 11-year-old girl intent on ending her life on her 12th birthday. Based on a popular novel, the result may strike some as being heavy on cultural references (Mozart! Tolstoy! Ozu!) but the film's messages - that art and emotion know no class barriers and that it's possible to be misunderstood or understood at any age - resonate without preaching or pretentiousness.
Already sold in many territories across South America, Europe and Asia as well as Canada and Australia, Hedgehog opened in France on 300 screens on July 3, the last day of the annual Fete du Cinema (a reduced price scheme that boosts attendance) with only Ice Age 3 as direct competition. The film should get off to an encouraging start, thanks to the presence of local fixture Josiane Balasko and the popularity of the source material.
Mature youngsters should enjoy this character although the film itself is not traditional kids fare
Freely inspired by Muriel Barbery's bestselling 2006 novel The Elegance of the Hedgehog, first-time director and screenwriter Mona Achach, working with producer Anne-Dominique Toussaint (The Moustache, Caramel, The French Kissers) has fashioned a film that takes full advantage of the widescreen format, via charming animated passages and the occasional extreme close-up on a pen tip or a drawing, yet still clings to literary conventions and dialogue that's perhaps a tad too eloquent.
Still, pitch-perfect Garance Le Guillermic as young protagonist Paloma convinces as the sort of polymath who might have delivered a discourse on anti-disestablishmentarianism from her crib. Mature youngsters should enjoy this character although the film itself is not traditional kids fare.
Bespectacled Paloma is rarely without her father's Hi-8 video camera with which she's studiously documenting the 165 days until she intends to kill herself to avoid - to use her own metaphor – becoming like a goldfish, pointlessly bumping up against the glass confines of its bowl. (In the book Paloma keeps a written dairy; replacing it with the visual conceit of a slightly grainy video works well.)
Paloma's trenchant voice-over showcases her mordant wit as she tapes what she sees as the futile absurdity of her well-off family: her ineffectual, neurotic mother, Solange (Brochet); her decent but distracted father, Paul (Yordanoff) who does something in the government and her perfectly groomed and spoiled older sister (Le Picard). Paloma also hears competing voices in her head — by her own admission she lacks for nothing, but it's clear she has nobody to really talk to.
Except for a few scenes at a restaurant, hairdresser and dry cleaner, the film takes place in the classy Art Nouveau apartment building where Paloma lives. The concierge, Renée Michel (Balasko, revelling in unadorned dumpiness), is hard working and polite if curt and reserved. There has to be more to her story, and there is. When refined Japanese widower Kakuro Ozu (Igawa) moves into the building as the date of Paloma's suicide approaches, Paloma, Renée and Kakuro make small, interesting inroads into each other's lives.
Balasko is marvellous, dour and withdrawn, while Igawa is unfailingly gracious. It all works surprisingly well, allowing for a pace that does sometimes seem to be spinning its narrative wheels.
Production companies
Les Films des Tournelles
Pathé
France 2 Cinema Eagle Pictures
Topaze Blue
International sales
Pathé International
+ 44 (0) 207 462 4427
Producer
Anne-Dominique Toussaint
Screenplay
Mona Achache, based on the novel The Elegance of the Hedgehog by Muriel Barbery.
Cinematography
Patrick Blossier
Production design
Yves Brover
Editor
Julia Gregory
Music
Gabriel Yared
Animated sequences
Cécile Rousset
Main cast
Josiane Balasko
Garance Le Guillermic
TogoIgawa
Anne Brochet
Ariane Ascaride
Wladimir Yordanoff
Sarah Le Picard